STORY HIGHLIGHTS
Conflict with neighboring Israel compounds misery for many of Gaza's 1.8 million inhabitants
Since Tuesday, residents have been without electricity
Gaza resident Yasmeen El Khoudary, 24: "We only eat when we remember to eat"
Gaza (CNN) -- Nafoz Mohammed is living in a cramped two-room apartment with 16 other people, including several children, who spend the day- and nighttime hours holed up in fear.
"All the children feel so scared when they cut the electricity," said Mohammed, who shares the tight space with others whose homes were hit by artillery. "They just keep holding their mothers."
For the more than 1.8 million people squeezed into a territory about twice the size of Washington, chaos has always infringed on the daily rhythms of life.
But the latest conflict with neighboring Israel has compounded the misery of many.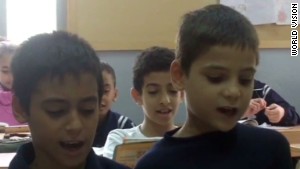 Sponsored children dying in Gaza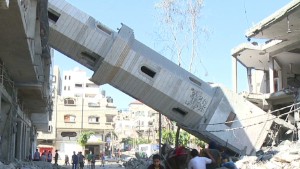 Prayers and dreams in Gaza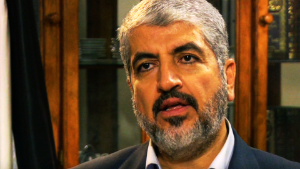 Hamas: We don't use human shields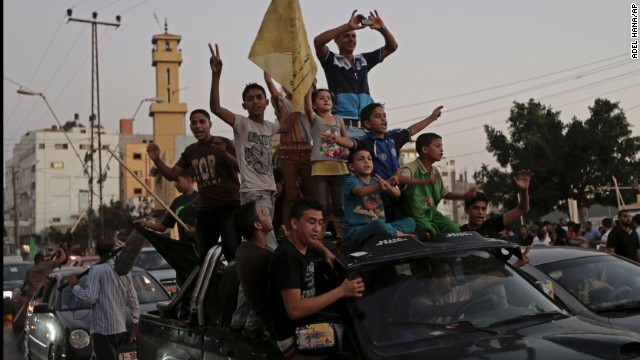 Palestinians in Gaza celebrate a ceasefire between Israel and Hamas on Tuesday, August 26. After more than seven weeks of heavy fighting, Israel and Hamas agreed to an open-ended ceasefire that puts off dealing with core long-term issues.
Palestinians inspect the damage to a residential building following several late night Israeli airstrikes in Gaza City on August 26.
Gila, center, mother of 4-year-old Israeli boy Daniel Tragerman, sits next to his grave during his funeral near the Israel-Gaza border on Sunday, August 24.
Palestinians run away from debris after a bomb from an Israeli airstrike hit a house in Gaza on Saturday, August 23.
An Israeli soldier smokes a cigarette in a large concrete pipe used as shelter at an army deployment point near the Israeli-Gaza border on Wednesday, August 20.
Light trails made by rockets fired from the Gaza Strip stand out against the night sky on Tuesday, August 19. Despite efforts to come to a peaceful agreement, Gaza militants launched rockets into Israel on Tuesday, and Israel responded with its own rockets.
An injured Palestinian man is helped into the Shifa hospital in Gaza City on August 19.
Police examine the remains of a rocket launched from Gaza that landed near the kibbutz of Yad Mordechay on August 19.
Smoke rises after an Israeli airstrike on Gaza City on August 19.
Islam El Masri begins to sort through the rubble of her destroyed home in Beit Hanoun, Gaza, on Thursday, August 14.
Israelis gather in Tel Aviv during a protest August 14 calling on the government and the army to end Palestinian rocket attacks from Gaza once and for all.
Smoke rises in Gaza City after an airstrike on Saturday, August 9.
Israeli soldiers walk past a Merkava tank as they patrol a field near Israel's border with Gaza on August 9.
A Palestinian boy salvages family belongings from the rubble of a four-story building after an airstrike in Gaza City on Friday, August 8.
Israelis flee after a rocket fired from Gaza hit the residential neighborhood of Sderot, Israel, on August 8.
A Palestinian man looks out over destruction in the al-Tufah neighborhood of Gaza City on Wednesday, August 6.
Displaced Palestinians carry their belongings as they leave a United Nations school in Beit Lahiya, Gaza, to return to their homes Tuesday, August 5.
The body of Avrohom Wallis is carried during his funeral in Jerusalem on Monday, August 4. Wallis was killed in what Israeli police spokesman Micky Rosenfeld called a "terror attack," when a man drove an earthmover into a bus in Jerusalem.
Israeli soldiers fire a mortar shell toward Gaza from the Israeli side of the border on August 4.
Palestinians remove rubble from a house hit by an airstrike in the al-Shati refugee camp in Gaza City on August 4.
An Israeli drone circles over Gaza City on Sunday, August 3.
A Palestinian man sits in a hospital in Rafah, Gaza, on August 3.
An honor guard caries the coffin of Israeli Lt. Hadar Goldin during his funeral in Kfar-saba, Israel, on August 3. Goldin was thought to have been captured during fighting in Gaza but was later declared killed in action by the Israel Defense Forces.
A Palestinian boy looks for belongings after an airstrike in Rafah on Saturday, August 2.
Israeli soldiers walk to their tank at a staging area near the border with Gaza on August 2.
A young Palestinian carries damaged copies of the Quran from the rubble of the Imam Al Shafaey mosque in Gaza City on August 2.
Palestinians displaced from their houses return to check their homes in Gaza City on Friday, August 1.
An Israeli soldier carries a shell as he prepares a tank along the Israel-Gaza border on Thursday, July 31. Israel called up 16,000 additional reservists, bolstering forces for its fight against Hamas, the militant group that controls Gaza.
Smoke rises from a building after an airstrike in Rafah on July 31.
The parents and a sister of Israeli soldier Guy Algranati mourn during his funeral in Tel Aviv on July 31.
U.N. workers remove a donkey injured at a U.N.-run school in Gaza on Wednesday, July 30.
Palestinians walk under the collapsed minaret of a destroyed mosque in Gaza City on July 30.
Palestinians gather leaflets that fell from an Israeli plane on July 30. The leaflets warned residents of airstrikes in Gaza City.
Israelis take cover from a Palestinian rocket attack from Gaza during the funeral of Israeli soldier Meidan Maymon Biton, which was held at a cemetery in Netivot, Israel, on Tuesday, July 29.
Smoke and fire rise above Gaza City after an Israeli airstrike on July 29.
An Israeli soldier prays on the Israeli side of the border with Gaza on July 29 as smoke billows from the only power plant supplying electricity to Gaza.
Near the rubble of their home in Rafah, Palestinian men mourn July 29 for people killed during an airstrike.
A Palestinian man places a portrait of Hamas leader Ismail Haniya on the rubble of Haniya's Gaza City home July 29 after it was hit by an overnight airstrike.
Flares from Israeli forces light up the night sky of Gaza City on July 29.
Israeli soldiers carry the coffin of 2nd Lt. Roy Peles, an infantry officer who was killed in combat, during his funeral in Tel Aviv on Sunday, July 27.
During a 12-hour cease-fire in Gaza City's Shijaiyah neighborhood on Saturday, July 26, a Palestinian man sits atop a car filled with belongings that were salvaged from a destroyed home.
Israeli soldiers watch a bomb explode along the border with Gaza before the 12-hour cease-fire on July 26.
As her brother-in-law Mazen Keferna weeps on the ground, Manal Keferna cries upon discovering her family home destroyed by airstrikes in Beit Hanoun on July 26.
Palestinians dig a body out of the rubble of a destroyed house in Gaza during the cease-fire on July 26.
An Israeli soldier mourns at the grave of reserve Master Sgt. Yair Ashkenazy during his funeral at the military cemetery in Rehovot, Israel, on Friday, July 25. Ashkenazy was killed during operations in northern Gaza, the Israel Defense Forces reported.
A Palestinian man cries after bringing a child to the Kamal Adwan hospital in Beit Lahiya on Thursday, July 24. The child was wounded in a strike on a school that was serving as a shelter for families in Gaza. It's unclear who was behind the strike. The Israeli military said it was "reviewing" the incident, telling CNN that a rocket fired from Gaza could have been responsible.
Israeli soldiers carry a wounded soldier to a helicopter near the Israel-Gaza border on July 24.
Israeli soldiers patrol the Israel-Gaza border on July 24.
A trail of blood is seen in the courtyard of the school that was hit July 24 in the Beit Hanoun district of Gaza.
An Israeli tank fires toward Gaza from a position near Israel's border on July 24.
A photograph tweeted by astronaut Alexander Gerst on Wednesday, July 23, shows major cities of Israel and Gaza. Gerst said in his tweet: "My saddest photo yet. From #ISS we can actually see explosions and rockets flying over #Gaza & #Israel."
A woman in Philadelphia passes by a departure board that shows US Airways Flight 796, scheduled to fly to Tel Aviv, has been canceled on Tuesday, July 22. The Federal Aviation Administration told U.S. airlines they were temporarily prohibited from flying to the Tel Aviv airport after a Hamas rocket exploded nearby.
Smoke and fire from the explosion of an Israeli strike rise over Gaza City on July 22.
A relative of Israeli soldier Jordan Ben-Simon mourns over his coffin during his funeral in Ashkelon, Israel, on July 22.
Palestinians inspect destroyed buildings and collect usable items after an Israeli air assault on July 22.
Israeli soldiers weep at the grave of Israeli Sgt. Adar Barsano during his funeral Sunday, July 20, in Nahariya, Israel.
Palestinian medics carry a body in Gaza's Shaja'ia district on July 20.
Israeli soldiers give medical care to soldiers who were wounded during an offensive in Gaza on July 20.
A Palestinian boy injured during an Israeli airstrike is taken to the hospital by his father in Gaza City on July 20.
Palestinians flee their homes as Israeli troops focus their firepower on the Gaza town of Shaja'ia on Sunday, July 20. The shelling and bombing killed at least 60 people and wounded 300, according to the Gaza Health Ministry.
Smoke rises after an Israeli missile hit Shaja'ia on July 20.
A Palestinian child walks on debris from a destroyed house following an overnight Israeli strike in Beit Lahiya on Saturday, July 19.
An explosion rocks a street in Gaza City on Friday, July 18.
Israeli ground forces move to the Gaza border on July 18.
Israeli soldiers patrol near the Israel-Gaza border on July 18.
A relative mourns July 18 during the funeral of Rani Abu Tawila, a Palestinian who was killed in an Israeli attack on Gaza City.
A Palestinian demonstrator, protesting Israel's military operation in Gaza, runs through smoke July 18 during clashes with Israeli soldiers at the entrance of the Ofer prison in the West Bank village of Betunia.
This image, made from video shot through a night-vision scope, was released by the Israeli military on July 18. It shows troops moving through a wall opening during the early hours of the ground offensive in Gaza.
Children stare as Palestinians flee Khan Yunis, Gaza, to safe areas July 18.
An Israeli tank fires a shell into Gaza on July 18.
A Palestinian carries a gas cylinder salvaged from the rubble of an apartment building after it was hit by Israeli fire on July 18.
An Israeli reservist prays July 18 near the Gaza border by Sderot, Israel.
Flare smoke rises into the Gaza City sky on Thursday, July 17.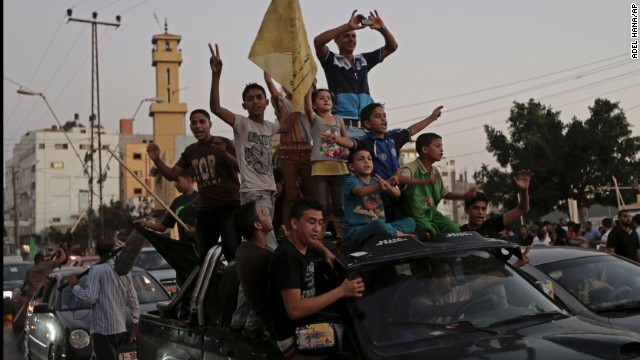 Photos: Israel-Gaza crisis
Since Tuesday, residents have been without electricity. Without television. Without refrigeration. Without water pumps and sewage systems.
For the fortunate few who can afford them, buzzing generators provide some relief.
At the main hospital, already stretched by weeks of fighting that left more than 1,500 people dead and thousands wounded, a pair of mega-generators powered crucial life-support equipment.
Days after Gaza's only power plant was hit, the latest attempt at a cease-fire fell apart Friday after Israel said that one of its soldiers was captured by Palestinian militants.
Gaza residents were left with the anxiety of an uncertain future.
'Killing civilian life in Gaza'
As has happened with so many aspects of the conflict, the principals blamed each for the power plant's demise.
Palestinian officials pointed at an Israeli airstrike. Israel insisted that the power plant was not a target.
By early Tuesday, at least 40% of Gaza's fuel had been burned, according to Fathi al-Sheikh Khalil, deputy chairman of the Palestinian Energy and Natural Resources Authority in Gaza. The plant, which will have to be rebuilt, will not operate as it did for at least a year.
"This is a disaster," he said.
He said a 300,000-liter fuel tank -- which supplied about a day of electricity in Gaza -- was hit and burst into flames. Heavy shelling delayed firefighters from responding, allowing the fire to spread to other fuel tanks.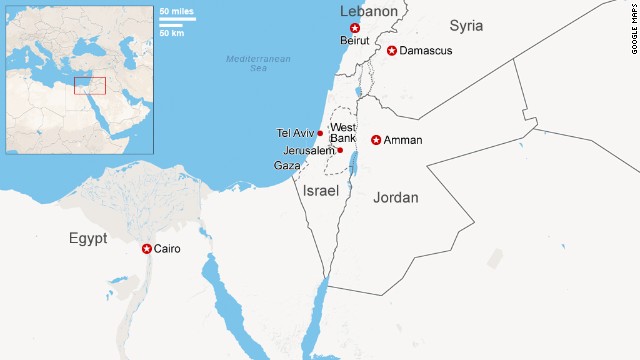 Map: Middle East region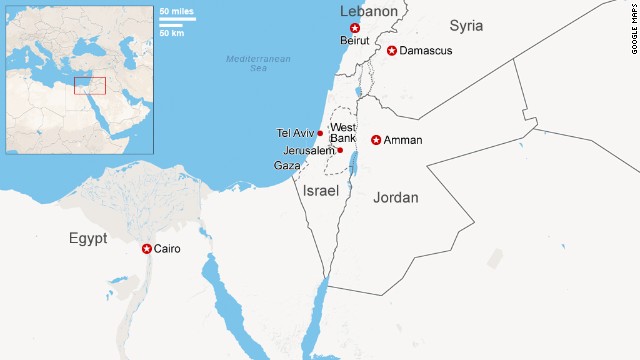 Map: Middle East region
"We cannot supply electricity to hospitals or water pumps or sewage treatment or for domestic use," Khalil said. "People have to pump the water to the residential tanks but don't have electricity."
Jamal Derdsawoi, a representative of Gaza's electric company, also pointed at Israel.
"By attacking the power plant and cutting the electricity, they're killing the civilian life in Gaza," he said.
An Israeli military spokeswoman said after checking with ground, air and naval forces in the area of the power plant that there was "no indication that (Israel Defense Forces) were involved in the strike. ... The area surrounding the plant was also not struck in recent days."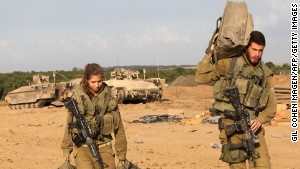 Israel agrees to temporary cease-fire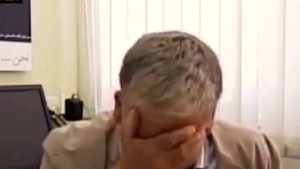 U.N. Official weeps over Gaza bloodshed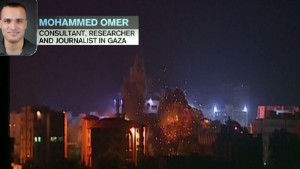 'The situation is horrifying'
Plant workers said the facility took fire for three days before Tuesday's strike. On Sunday, they said, the plant's administration building took a direct hit.
The United Nations has said that a deliberate strike on the plant would be a violation of humanitarian law.
Before the fighting, most of Gaza's power actually came from Israel, but transmission lines on both sides of the border have been damaged by either Israeli missiles or Hamas rockets. Repairs on the lines could take a week, but no agreement has been reached on when that work can begin.
Last month, one Israeli politician called on the government to permanently cut electricity to Gaza, especially since the Palestinians owe tens of millions of dollars in electric bills.
Darkness and isolation of war
Many Gaza residents have seen their neighborhoods hit hard and loved ones killed or wounded since Israel began Operation Protective Edge against Hamas on July 8.
About a quarter of a million people in the small, impoverished territory have been displaced by the conflict, according to the United Nations. That's about 14% of Gaza's population of 1.8 million.
Those killed include 327 children and 166 women, the Gaza health ministry reports. UNICEF said that about two-thirds of the children killed were 12 or younger.
The United Nations estimates that more than 70% of the more than 1,500 Palestinians killed have been civilians. More than 150 were members of armed groups, the U.N. said.
Israel blames Hamas for civilian deaths, saying militants encourage people to stay in their homes despite Israeli warnings that strikes are coming. Militants also use civilian facilities such as houses, schools, mosques and hospitals to launch attacks on Israeli civilians and store weapons.
Three civilians have been killed in Israel since the conflict began, while many more have been forced to take shelter as rockets rained overhead. Sixty-one Israeli soldiers have been killed during the hostilities, with five of those deaths occurring Thursday evening.
Yasmeen El Khoudary, a 24-year-old woman who lives in Gaza City, said she's had no power for two days. She has not left her house in a week.
There is enough food available to residents, El Khoudary said, but safety was a bigger concern.
"We only eat when we remember to eat," she said.
She added, "We have seen that the bombings are not precise."
Her Internet service was restored Thursday, El Khoudary said. In the darkness and isolation of war, she blogs about life.
"My thoughts are interrupted by an Israeli bombing that shakes our two story house like a rattle in the hand of a little baby," she wrote. "To my surprise, my brother is still awake. He comes to wish me a 'good' night before he goes to sleep. Stuck to his ear is a small radio that bewitches his face as he tells me that 20 people from Al Najjar family were collectively murdered in Khan Yonis. Good night, Omar."
She never wants to see that small radio again.
"It bears nothing but news of death and has the ability to bewitch the face of its holder (often holding it like they'd hold a cellphone) to fuming with anger, torn with sadness, ridden with fear, and rarely, filled with hope," she wrote.
READ: CNN exclusive: Inside the mind of Hamas' political leader
READ: How long will it last? Gaza conflict by the numbers
READ: Amanpour blog: Could Israel face war crimes charges?
CNN's Jessica King and Kareem Khadder contributed to this story.