STORY HIGHLIGHTS
The U.N. says it thinks Israeli artillery was behind deadly strike on school
Israel says it is still reviewing what happened during exchange of fire with militants
"It appears that there is nowhere where you can be safe," a U.N. official says
The shelling is the sixth time a U.N. facility has been hit during the Gaza conflict
(CNN) -- Mangled limbs wrapped in blood-stained rags were strewn across rooms in the school.
Run by the United Nations, the building was meant to be a refuge for more than 3,000 civilians fleeing the deadly conflict raging between Israel and Hamas in Gaza.
But shells hit it in the early morning hours as those inside slept, punching huge holes in the roof and killing at least 20 people, according to the Palestinian Health Ministry.
"We saw the shells when they hit and shrapnel was falling like rain," said Sanaa abu Gerard, a woman who witnessed the blasts. "I was so scared and the school filled with smoke. We poured water in our eyes just to see."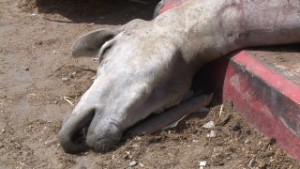 Brutal scene after attack at U.N. school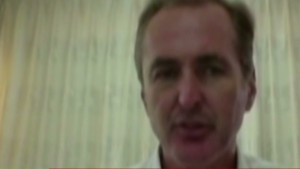 'We're approaching the breaking point'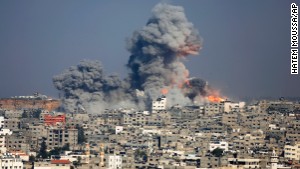 Inside the Israel-Gaza conflict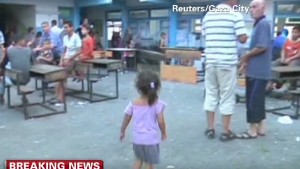 U.N. warned Israel of school's location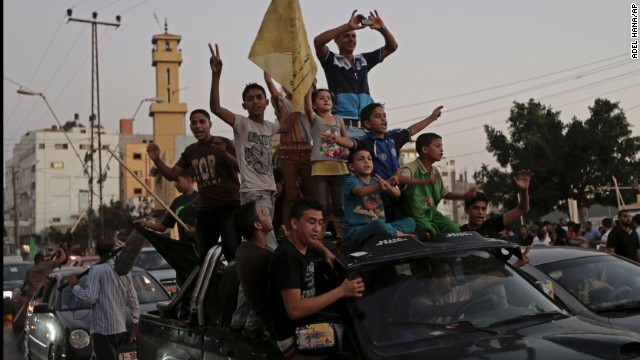 Palestinians in Gaza celebrate a ceasefire between Israel and Hamas on Tuesday, August 26. After more than seven weeks of heavy fighting, Israel and Hamas agreed to an open-ended ceasefire that puts off dealing with core long-term issues.
Palestinians inspect the damage to a residential building following several late night Israeli airstrikes in Gaza City on August 26.
Gila, center, mother of 4-year-old Israeli boy Daniel Tragerman, sits next to his grave during his funeral near the Israel-Gaza border on Sunday, August 24.
Palestinians run away from debris after a bomb from an Israeli airstrike hit a house in Gaza on Saturday, August 23.
An Israeli soldier smokes a cigarette in a large concrete pipe used as shelter at an army deployment point near the Israeli-Gaza border on Wednesday, August 20.
Light trails made by rockets fired from the Gaza Strip stand out against the night sky on Tuesday, August 19. Despite efforts to come to a peaceful agreement, Gaza militants launched rockets into Israel on Tuesday, and Israel responded with its own rockets.
An injured Palestinian man is helped into the Shifa hospital in Gaza City on August 19.
Police examine the remains of a rocket launched from Gaza that landed near the kibbutz of Yad Mordechay on August 19.
Smoke rises after an Israeli airstrike on Gaza City on August 19.
Islam El Masri begins to sort through the rubble of her destroyed home in Beit Hanoun, Gaza, on Thursday, August 14.
Israelis gather in Tel Aviv during a protest August 14 calling on the government and the army to end Palestinian rocket attacks from Gaza once and for all.
Smoke rises in Gaza City after an airstrike on Saturday, August 9.
Israeli soldiers walk past a Merkava tank as they patrol a field near Israel's border with Gaza on August 9.
A Palestinian boy salvages family belongings from the rubble of a four-story building after an airstrike in Gaza City on Friday, August 8.
Israelis flee after a rocket fired from Gaza hit the residential neighborhood of Sderot, Israel, on August 8.
A Palestinian man looks out over destruction in the al-Tufah neighborhood of Gaza City on Wednesday, August 6.
Displaced Palestinians carry their belongings as they leave a United Nations school in Beit Lahiya, Gaza, to return to their homes Tuesday, August 5.
The body of Avrohom Wallis is carried during his funeral in Jerusalem on Monday, August 4. Wallis was killed in what Israeli police spokesman Micky Rosenfeld called a "terror attack," when a man drove an earthmover into a bus in Jerusalem.
Israeli soldiers fire a mortar shell toward Gaza from the Israeli side of the border on August 4.
Palestinians remove rubble from a house hit by an airstrike in the al-Shati refugee camp in Gaza City on August 4.
An Israeli drone circles over Gaza City on Sunday, August 3.
A Palestinian man sits in a hospital in Rafah, Gaza, on August 3.
An honor guard caries the coffin of Israeli Lt. Hadar Goldin during his funeral in Kfar-saba, Israel, on August 3. Goldin was thought to have been captured during fighting in Gaza but was later declared killed in action by the Israel Defense Forces.
A Palestinian boy looks for belongings after an airstrike in Rafah on Saturday, August 2.
Israeli soldiers walk to their tank at a staging area near the border with Gaza on August 2.
A young Palestinian carries damaged copies of the Quran from the rubble of the Imam Al Shafaey mosque in Gaza City on August 2.
Palestinians displaced from their houses return to check their homes in Gaza City on Friday, August 1.
An Israeli soldier carries a shell as he prepares a tank along the Israel-Gaza border on Thursday, July 31. Israel called up 16,000 additional reservists, bolstering forces for its fight against Hamas, the militant group that controls Gaza.
Smoke rises from a building after an airstrike in Rafah on July 31.
The parents and a sister of Israeli soldier Guy Algranati mourn during his funeral in Tel Aviv on July 31.
U.N. workers remove a donkey injured at a U.N.-run school in Gaza on Wednesday, July 30.
Palestinians walk under the collapsed minaret of a destroyed mosque in Gaza City on July 30.
Palestinians gather leaflets that fell from an Israeli plane on July 30. The leaflets warned residents of airstrikes in Gaza City.
Israelis take cover from a Palestinian rocket attack from Gaza during the funeral of Israeli soldier Meidan Maymon Biton, which was held at a cemetery in Netivot, Israel, on Tuesday, July 29.
Smoke and fire rise above Gaza City after an Israeli airstrike on July 29.
An Israeli soldier prays on the Israeli side of the border with Gaza on July 29 as smoke billows from the only power plant supplying electricity to Gaza.
Near the rubble of their home in Rafah, Palestinian men mourn July 29 for people killed during an airstrike.
A Palestinian man places a portrait of Hamas leader Ismail Haniya on the rubble of Haniya's Gaza City home July 29 after it was hit by an overnight airstrike.
Flares from Israeli forces light up the night sky of Gaza City on July 29.
Israeli soldiers carry the coffin of 2nd Lt. Roy Peles, an infantry officer who was killed in combat, during his funeral in Tel Aviv on Sunday, July 27.
During a 12-hour cease-fire in Gaza City's Shijaiyah neighborhood on Saturday, July 26, a Palestinian man sits atop a car filled with belongings that were salvaged from a destroyed home.
Israeli soldiers watch a bomb explode along the border with Gaza before the 12-hour cease-fire on July 26.
As her brother-in-law Mazen Keferna weeps on the ground, Manal Keferna cries upon discovering her family home destroyed by airstrikes in Beit Hanoun on July 26.
Palestinians dig a body out of the rubble of a destroyed house in Gaza during the cease-fire on July 26.
An Israeli soldier mourns at the grave of reserve Master Sgt. Yair Ashkenazy during his funeral at the military cemetery in Rehovot, Israel, on Friday, July 25. Ashkenazy was killed during operations in northern Gaza, the Israel Defense Forces reported.
A Palestinian man cries after bringing a child to the Kamal Adwan hospital in Beit Lahiya on Thursday, July 24. The child was wounded in a strike on a school that was serving as a shelter for families in Gaza. It's unclear who was behind the strike. The Israeli military said it was "reviewing" the incident, telling CNN that a rocket fired from Gaza could have been responsible.
Israeli soldiers carry a wounded soldier to a helicopter near the Israel-Gaza border on July 24.
Israeli soldiers patrol the Israel-Gaza border on July 24.
A trail of blood is seen in the courtyard of the school that was hit July 24 in the Beit Hanoun district of Gaza.
An Israeli tank fires toward Gaza from a position near Israel's border on July 24.
A photograph tweeted by astronaut Alexander Gerst on Wednesday, July 23, shows major cities of Israel and Gaza. Gerst said in his tweet: "My saddest photo yet. From #ISS we can actually see explosions and rockets flying over #Gaza & #Israel."
A woman in Philadelphia passes by a departure board that shows US Airways Flight 796, scheduled to fly to Tel Aviv, has been canceled on Tuesday, July 22. The Federal Aviation Administration told U.S. airlines they were temporarily prohibited from flying to the Tel Aviv airport after a Hamas rocket exploded nearby.
Smoke and fire from the explosion of an Israeli strike rise over Gaza City on July 22.
A relative of Israeli soldier Jordan Ben-Simon mourns over his coffin during his funeral in Ashkelon, Israel, on July 22.
Palestinians inspect destroyed buildings and collect usable items after an Israeli air assault on July 22.
Israeli soldiers weep at the grave of Israeli Sgt. Adar Barsano during his funeral Sunday, July 20, in Nahariya, Israel.
Palestinian medics carry a body in Gaza's Shaja'ia district on July 20.
Israeli soldiers give medical care to soldiers who were wounded during an offensive in Gaza on July 20.
A Palestinian boy injured during an Israeli airstrike is taken to the hospital by his father in Gaza City on July 20.
Palestinians flee their homes as Israeli troops focus their firepower on the Gaza town of Shaja'ia on Sunday, July 20. The shelling and bombing killed at least 60 people and wounded 300, according to the Gaza Health Ministry.
Smoke rises after an Israeli missile hit Shaja'ia on July 20.
A Palestinian child walks on debris from a destroyed house following an overnight Israeli strike in Beit Lahiya on Saturday, July 19.
An explosion rocks a street in Gaza City on Friday, July 18.
Israeli ground forces move to the Gaza border on July 18.
Israeli soldiers patrol near the Israel-Gaza border on July 18.
A relative mourns July 18 during the funeral of Rani Abu Tawila, a Palestinian who was killed in an Israeli attack on Gaza City.
A Palestinian demonstrator, protesting Israel's military operation in Gaza, runs through smoke July 18 during clashes with Israeli soldiers at the entrance of the Ofer prison in the West Bank village of Betunia.
This image, made from video shot through a night-vision scope, was released by the Israeli military on July 18. It shows troops moving through a wall opening during the early hours of the ground offensive in Gaza.
Children stare as Palestinians flee Khan Yunis, Gaza, to safe areas July 18.
An Israeli tank fires a shell into Gaza on July 18.
A Palestinian carries a gas cylinder salvaged from the rubble of an apartment building after it was hit by Israeli fire on July 18.
An Israeli reservist prays July 18 near the Gaza border by Sderot, Israel.
Flare smoke rises into the Gaza City sky on Thursday, July 17.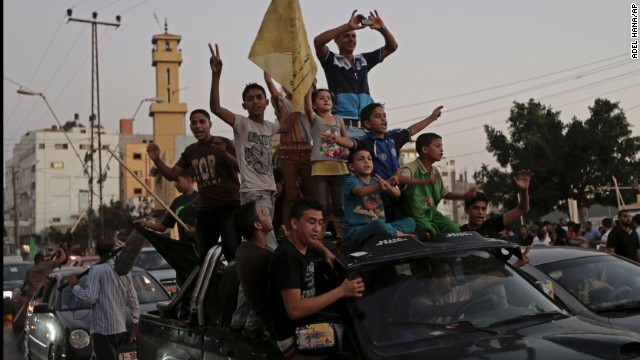 Photos: Israel-Gaza crisis
The deadly strike Wednesday underscores growing concerns that in Gaza, where fighting is taking place in densely populated areas, safe havens appear to be anything but safe.
It's the sixth time a facility run by the United Nations Relief and Works Agency (UNRWA) has been struck in the current conflict, intensifying questions about the tactics being used by both sides in areas crowded with civilians.
"People who go to these places expect that they go there because they will be safe," said Pierre Krahenbuhl, the commissioner-general for UNRWA. "And here is the confirmation that it appears that there is nowhere where you can be safe."
'Such horror'
The United Nations said it thinks the rounds that hit the school, in the Jabalya refugee camp in northern Gaza, were fired by Israeli artillery. The Israeli military said it is reviewing what happened, acknowledging that it exchanged fire with militants in the area.
U.N. Secretary-General Ban Ki-moon condemned the attack.
"Nothing -- nothing -- justifies such horror," he said.
The U.N. Security Council was expected to hold an urgent meeting Thursday morning over the attack on the shelter. Amnesty International called for an independent investigation into what it described as "a possible war crime."
The coordinates of the school had been repeatedly communicated to the Israeli Defense Forces (IDF) -- as recently as 8 hours before it was hit -- the U.N. said.
Lt. Col. Peter Lerner, a spokesman for the IDF, said that the Israelis were aware of the people sheltering at the U.N. building and that "they were in no way or form a target."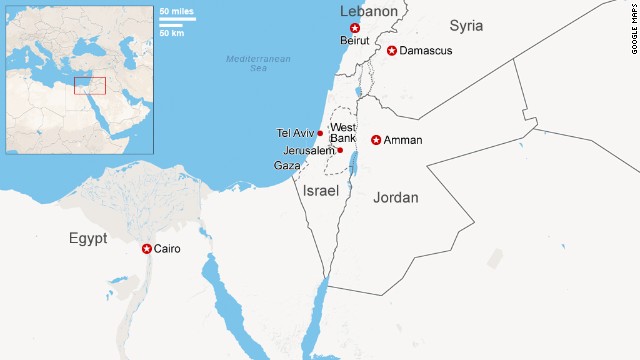 Map: Middle East region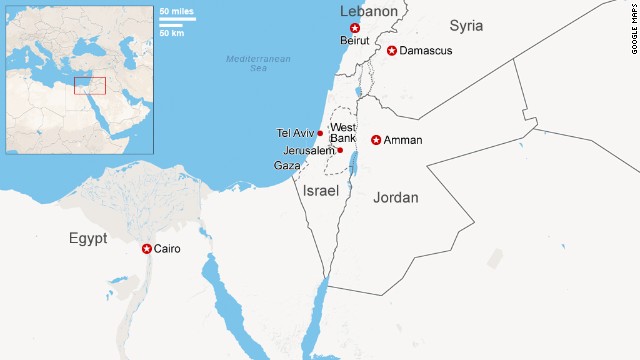 Map: Middle East region
"We haven't ruled out that it was a Hamas mortar that landed in the premises," he said.
But the United Nations pointed the finger at Israel.
"Based on initial elements we have clear indications in the first assessment that three projectiles hit the school, and on analyzing the shrapnel we believe we have all the elements in place to conclude it was Israeli artillery fire," Krahenbuhl said.
Schools hit before
The deaths in the Jabalya school are far from the first time UNRWA facilities have been dragged into the current conflict, which has killed more than 1,300 people in Gaza, most of them civilians.
The organization, which has been helping Palestinian refugees in the region for more than 60 years, says it's currently sheltering around 220,000 people in increasingly cramped conditions in its buildings. That's 12% of Gaza's population of 1.8 million.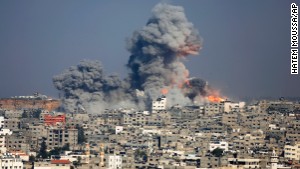 Inside the Israel-Gaza conflict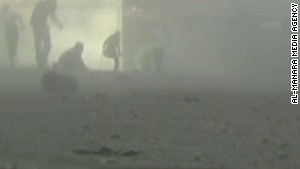 Dramatic video of Gaza market attack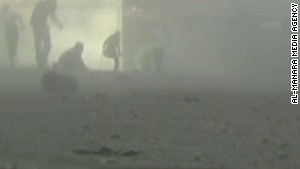 Dramatic video of Gaza market attack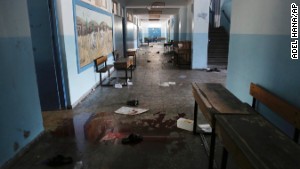 US condemns shelling, gives Israel ammo
Civilians in Gaza have had to flee their homes amid the fighting and airstrikes -- but many of them say they feel they have nowhere to go in the small, impoverished territory. The U.N. facilities have been one of the few places available to seek refuge.
Sixteen people were killed last week at a different U.N. shelter in northern Gaza. The Israeli military admitted misfiring a mortar into the courtyard of that school during clashes with militants, but it said the explosion couldn't have caused deaths because the courtyard was empty.
A CNN team that visited the shelter several hours after the mortar attack saw evidence that people were badly wounded at the courtyard.
UNRWA said seven of its staff members have been killed since July 7, the day before Israel began its operation against Hamas.
U.N. schools were also hit during Israel's previous incursion into Gaza in 2009 -- in one instance, Israeli shells killed more than 40 civilians in the area of one school. Israel said at the time that Hamas was firing from the school grounds, an assertion that the U.N. disputed.
Rockets stored in empty schools
The U.N. has also accused Hamas of violating the rules of war by storing rockets in three other schools in Gaza during the current conflict. The U.N. said it had abandoned the schools concerned because of the intensity of the fighting nearby.
No weapons have been found in U.N. schools that have been sheltering people or that have been under the control of the U.N., according to John Ging, operational director of the U.N. Office for the Coordination of Humanitarian Affairs.
The shelling of the Jabalya school has intensified criticism suggesting Israel isn't doing enough to avoid civilian casualties in its operation aimed at stopping Hamas rocket fire and taking out the militant group's underground tunnel system.
"If the strike on this school was the result of Israeli artillery fire it would constitute an indiscriminate attack and a likely war crime," said Philip Luther, director of the Middle East and North Africa program at Amnesty International. "Artillery should never be used against targets in crowded civilian areas and its use in such a manner would never be considered a 'surgical' strike."
Amnesty also called on Hamas and other armed Palestinian groups "not to endanger civilians by storing ammunition in UN facilities and other civilian buildings."
'Safe zones not combat zones'
Lerner of the IDF accused Hamas of exploiting civilians and humanitarian organizations.
"They are hiding behind the U.N. emblems, they are hiding behind the Red Cross ambulances and utilizing anything they can," he said. "We on the other hand are warning the civilians ... We are trying to limit the impact."
But Israel is coming under increasing pressure to improve its efforts.
While reiterating Israel has a right to defend itself, White House Deputy Press Secretary Eric Schultz said, "We've also been very clear that Israel needs to do more to live up to its own standards to limit civilian casualties."
U.S. State Department spokeswoman Marie Harf backed up the call.
"Hamas is taking steps here that put civilians at risk. But we do believe the Israelis need to do more," she said.
The U.N.'s Ban put it more simply.
"United Nations shelters must be safe zones not combat zones," he said.
READ: Opinion: Why Qatar's intervention won't help end the Gaza crisis
READ: How long will it last? Gaza conflict by the numbers
READ: Anatomy of failure: How Gaza cease-fire never happened
CNN's Karl Penhaul, Tim Lister, Chelsea J. Carter, Richard Roth, Samira Said and Salma Abdelaziz contributed to this report.