Happy campers? A look at North Korea's summer camp
updated 8:18 AM EDT, Thu July 31, 2014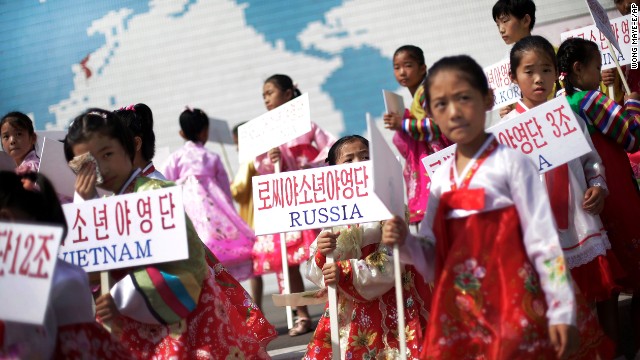 North Korean girls welcome students from participating countries during an opening ceremony at the Songdowon International Children's Camp on July 29, 2014.
North Korean Kim Sun Gun, 12, smiles as Russian student Konstantin Kostya, 10, is buried in the sand. The camp was opened in the 1980s to foster ties with other communist-bloc countries.
Students from the Laureat International School in Tanzania walk past a statue of the late North Korean leaders Kim Il Sung and Kim Jong Il.
Students from different countries relax in front of the camp compound. The camp boasts a private beach and water slides.
This year, over 300 attendees reportedly participated in the camp, for a fee of about $270 each.
Camp attendees live in government-subsidized dorms with special comforts such as air-conditioning and video games.
Send your kid to North Korea
Send your kid to North Korea
Send your kid to North Korea
Send your kid to North Korea
Send your kid to North Korea
Send your kid to North Korea
STORY HIGHLIGHTS
North Korean beachside summer camp reopens this week
Over 300 children and teens from around the world are attending the eight-day trip
Highlights include a private beach, water slides and statues of dictators
(CNN) -- What might be a good way to get your misbehaving kids to pipe down this summer? Tell them you'll ship them off to North Korea.
As a host of American kids spend their summers on the shores of lakes, or at Bible or band camps, over 300 children from around the world have headed off to the Songdowon International Children's Camp in Wonsan, North Korea.
It's an oasis in the benighted country for attendees, who this year come from Russia, China, Vietnam, Tanzania and Ireland.
Heavily subsidized by the government, camp attendees get the benefit of comforts not afforded to regular North Koreans, such as air-conditioned bedrooms with video games.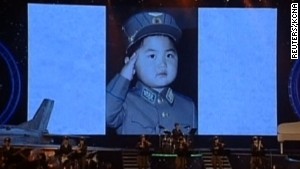 See baby photos of Kim Jong Un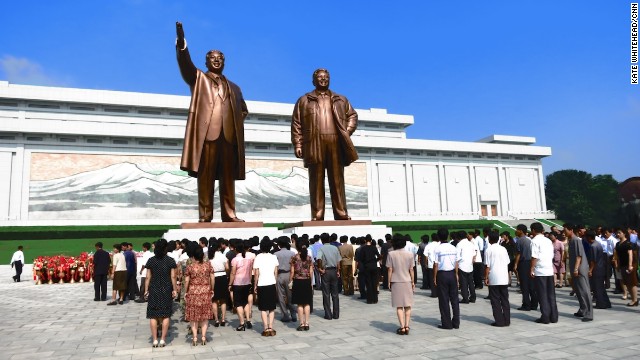 Statues of Kim Il Sung (left) and Kim Jong Il (right) at Mansudae in Pyongyang. North Koreans gather in front of the statues to lay flowers and bow, showing their respect for the late and current leader. Tourists visiting North Korea are expected to do the same.
This year's Victory Day, on July 2, attracted a lot of Western tourists. The highlight of the tour was watching the military parade of tanks, troops and missiles. Many tourists got caught up in the spirit of the event, high-fiving soldiers as they drove past.
Group tours of Pyongyang are often accompanied by a North Korea cameraman, in addition to two or three guides. The cameraman accompanies the group to many of the main tourist sites and then offers tourists a DVD of their trip for about 15 Euro (US$20). Cynical tourists suggest this is a good way to monitor visitors.
A flower vendor beside a Kim Il Sung statue in Pyongyang sells bouquets of flowers to locals and tourists to lay at the foot of the statue.
Tours of North Korea are carefully choreographed affairs so an unexpected mishap, such as the bus breaking down, visibly rattles the guides. Australian tourist Mark Freeman compares such occasional glitches to the "black cat" scene in "The Matrix."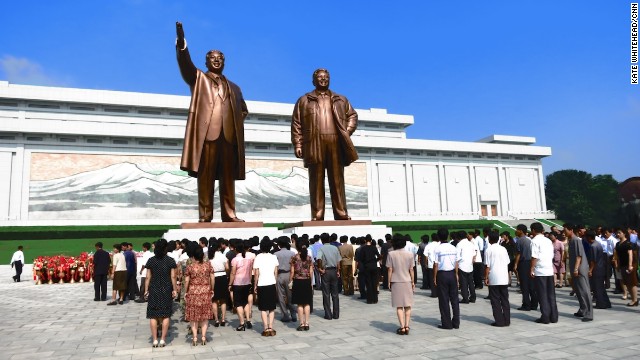 What can tourists expect during a visit to North Korea?
Instead of forming a circle around a campfire, homesick kids at Songdowon can take succor from giant bronze statues of the country's founder, Kim Il Sung and his son and successor, Kim Jong Il, surrounded by admiring children.
The camp also boasts a private beach, volleyball courts and water slides.
Originally opened in the 1960s to foster ties with other communist and non-aligned countries, it was given a major overhaul before reopening this summer.
The revamp included some some personal attention from Kim Jong Un, who "specified instructions for remodeling the camp," according to North Korean state media KCNA.
For the equivalent of $270, happy campers can spend eight days in the country, getting to know their North Korean peers, and officials reportedly would welcome kids from all over the world, including the U.S.
One ex-camper, Russian Valentina Boltacheva, told NKNews.org last year that she remembers "swimming, boating, and doing morning exercises," alongside learning traditional Korean dances and "songs about Korean political leaders."
She also said she came to the conclusion that "Songdowon is a really prestigious camp in North Korea."
The photos released this week stand in stark contrast to the picture of the country painted by a U.N. report in February, which cataloged a brutal state "that does not have any parallel in the contemporary world."
READ MORE: A runner's view of the world's most closed society
READ MORE: The North Korea we rarely see