STORY HIGHLIGHTS
California drought having ramifications beyond the state
Meat and produce prices are on the rise as a result
Mandatory and voluntary conservation water programs being implemented in West
Tourism businesses also are taking a hit
(CNN) -- Just how bad is the drought in California? It's so bad, that in some extreme cases, thieves are stealing water.
A father and daughter living off a water tank in the Central Valley report being ripped off eight times -- 2,500 gallons disappeared. That meant no showers -- and no toilet flushing.
The lack of rain has pushed most of California into extreme or exceptional drought, the two worst levels, according to the U.S. Drought Monitor. In most of California's major reservoirs, the water supplies that sustain many communities are less than half full.
With water sources drying up, farmers are looking for underground springs to support their livelihoods.
Steve Arthur works in California's San Joaquin Valley, drilling for water wells on drought-ravaged farms and ranches.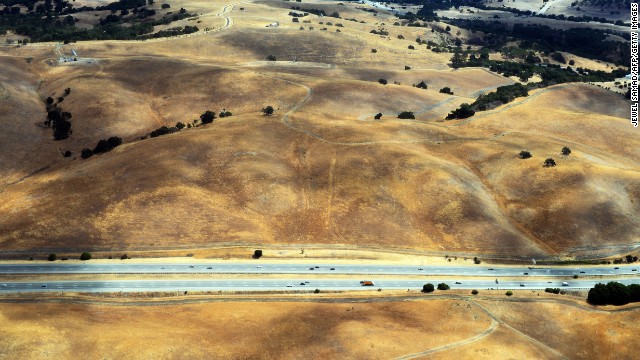 This picture taken from a helicopter shows a drought-affected area near Los Altos Hills, California, on Wednesday, July 23. One of California's worst droughts in decades could cost the state's farmers $1.7 billion, a recent study warned. The drought could leave 14,500 workers without jobs in California's Central Valley, known as America's food basket for providing vast supplies of fruit, vegetables and meat.
A woman walks her dog in San Francisco on Wednesday, July 16. Grappling with severe drought, California officials on Tuesday approved statewide emergency water restrictions.
A worker washes the sidewalk in front of a residential hotel in San Francisco on Tuesday, July 15.
A pedestrian walks by a sign posted in front of the lawn at the California State Capitol in Sacramento on June 18.
Residents photograph the burning ruins of their home that was destroyed in a wildfire in Carlsbad, California, on May 14. Drought conditions have fueled several wildfires across the state, fire officials said.
Volunteers pack bags of oatmeal at the SF-Marin Food Bank in San Francisco on May 1. The longstanding drought has contributed to an increase in food prices.
Fingerling Chinook salmon are dumped into a holding pen as they are transferred from a truck into the Sacramento River in Rio Vista, California, on March 25. Low water levels have forced wildlife officials to truck more than 400,000 fish nearly 300 miles. They usually make the trip on their own.
A tractor plows a field in Firebaugh, California, on February 25. Almond farmer Barry Baker had 1,000 acres -- 20% -- of his almond trees removed because he didn't have access to enough water to keep them alive.
Plumbing technician Todd Snider installs an aerator at a home in Novato, California, on February 5. Residents have been installing water-saving devices in their homes to reduce their consumption.
A worker installs an artificial lawn in front of an apartment building in San Jose, California, on January 30.
A car sits in the dried and cracked earth at the bottom of the Almaden Reservoir in San Jose, California, on January 28.
Rocky shores are exposed by the low waters of Morris Reservoir on the San Gabriel River near Azusa, California, on January 22.
California Gov. Jerry Brown holds a chart showing the statewide average precipitation during a news conference in San Francisco on January 17. The governor declared a drought emergency for the state, saying it is facing "perhaps the worst drought that California has ever seen since records (began) about 100 years ago."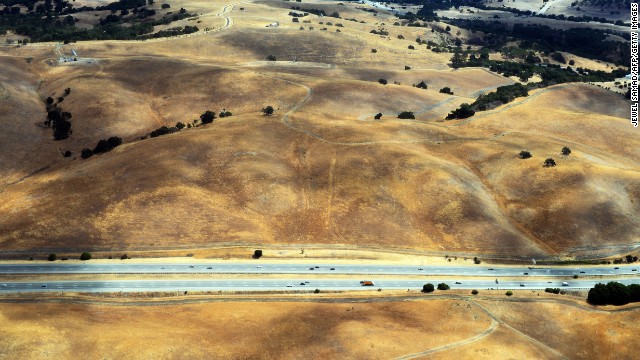 Photos: California's historic drought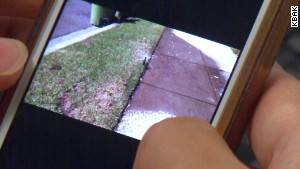 Water-shaming app popular during drought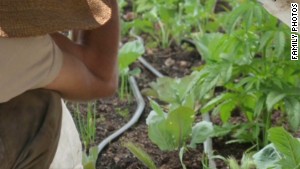 Pot farmers' impact on California drought
"It's just going crazy; people are starting to panic," said Arthur, the owner of Arthur & Orum Well Drilling Inc.
Arthur said he is now drilling three times as many water wells.
"You go to the city, and some people don't know there's a drought," he told CNN. "Then they pay more for their milk, and they realize this drought is making it more expensive for these poor farmers to put food on your table."
It's a problem that extends well beyond agriculturally rich California.
The U.S. Department of Agriculture predicts some meat and produce prices will rise as much as 6% as farmers pay more money to water crops and feed livestock. Earlier this year, beef prices hit a record high, and milk, butter, eggs, fruit and vegetables were also on the rise as the drought continued to ravage farms.
Avocados could increase as much as 35 cents each, lettuce could increase up to 62 cents per head, and tomatoes could jump by 45 cents, up to $2.84 per pound, according to an analysis by professor Timothy Richards of Arizona State University's W.P. Carey School of Business.
The fast-food chains Chipotle and In-N-Out Burger have already raised prices, partly blaming the drought.
Graphic: Breakfast takes a big bite out of your wallet
Mandatory and voluntary water conservation programs have been implemented throughout the West.
Some cities have restricted residential water use, shut off public fountains and even let the grass in parks die. In mid-July, California officials approved statewide emergency water restrictions. The restrictions go into effect Friday, and infractions could bring fines of $500 per day.
In California and beyond, shrinking lakes show just how bad things are.
It's an inverse ripple effect -- the fresh water keeps draining, sucking down with it tourism business.
Kern River Outfitters shut down its entire rafting operation this year because attempting to paddle downstream would have been a dangerous, futile effort over exposed Kern River rocks.
"The California drought has reduced projected Kern River flows to a level that is inadequate to run the top-quality rafting trips our guests expect," the company's website says.
At many lakes, now landlocked boat docks are upward hikes from the water.
Campers Ed and Barbie Perkins sat in lawn chairs just 3 feet from the shore of California's Lake Nacimiento, which has receded to 81% of its capacity.
"Normally we'd be way under water," Barbie Perkins said from their campsite. "You would be able to drive your boat here. You would not be camping down here."
In Nevada, Lake Mead is at its lowest level since the dam was built in the 1930s. The lake supplies water to parts of Nevada, Arizona, Southern California and northern Mexico, and the supply is disappearing.
"I think it's important for people to realize water is a finite resource," said Rose Davis, a spokeswoman for the U.S. Bureau of Reclamation, Lower Colorado Region. "When you turn on the tap, it does not just magically appear. It has to come from the Colorado River."
In Santa Barbara, California, a program to reduce or stop watering in public parks has turned once pool-table green swatches of lawn along the waterfront into patches that look more like burlap.
At Hearst Castle in San Simeon, the iconic Neptune Pool sits empty.
Sparkling blue water has given way to a skateboarders' dreamland and a reminder of horrific drought.
CNN's Dan Simon and Priscilla Riojas contributed to this report from Los Angeles.