9 of the world's best city beaches
updated 3:27 PM EDT, Mon August 4, 2014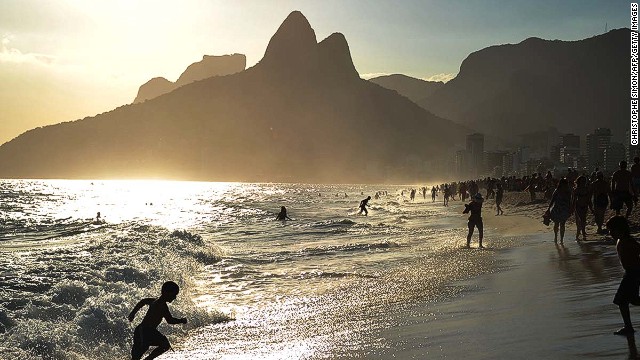 Brazil's Ipanema Beach is beautiful, but the currents can be wild. Just like the nightlife.
Cape Town, South Africa's Clifton Beaches are popular with locals and visitors. (Editor's note -- an earlier version of this gallery incorrectly identified a photo of nearby Camps Bay as Clifton Beaches. The error has been corrected.)
Bondi Beach -- a major cause of Sydney's "sick" days.
Opted for Hawaii's Waikiki Beach for the wedding? You can stay right where you are for the honeymoon.
Peaceful paddling an hour from London at Brighton Beach.
If it's good enough for Shakira, Spain's Barceloneta Beach is good enough for anyone.
No beer, just bronzing at Jumeirah Beach in Dubai.
Serious pampering awaits many who head for Miami Beach.
If Vancouver is one the best cities to live, does that make Kitsilano Beach one of the best beaches to play on?
Ipanema Beach (Rio De Janeiro)
Clifton Beaches (Cape Town)
Bondi Beach (Sydney)
Waikiki Beach (Honolulu)
Brighton Beach (UK)
Barceloneta Beach (Barcelona)
Jumeirah Beach (Dubai)
Miami Beach (Miami)
Kitsilano Beach (Vancouver, B.C.)
STORY HIGHLIGHTS
Crystal waters, awesome local food and great views set these city beaches apart from others
The turquoise waters of Waikiki Beach in Honolulu are good for snorkeling
Ipanema Beach offers great restaurants and a party vibe
(CNN) -- Stressed colleagues, traffic jams, pollution.
We're all familiar with the undesirable qualities of city life.
So thank the gods of urban planning for the occasional sandy edge.
There are some cities where worker drones can strip off the suit and tie, jump into shorts or a bikini and enjoy a day with their toes in the sand without having to leave the urban perimeter.
By talking with our well-traveled friends and colleagues, collating data from tourism authorities and using our own experiences, we've put together a list of what we think make up 9 of the best city beaches in the world.
No doubt you've got your own.
We'd love to hear about them in the comments.
MORE: World's 100 best beaches
1. Ipanema Beach (Rio De Janeiro)
Ipanema was famed long before Vinicius de Moraes and Tom Jobim composed their 1962 ode to one of the "tall and tanned and young and lovely" females that still throng the beach.
"The Girl From Ipanema," however, perfectly encapsulates the eternal allure of the 1,600-meter-long, 90-meter deep stretch of white sand.
Majestic granite peaks create a spectacular backdrop while the Cagarras Islands in the distance offer a counterpoint to the brillian