'Big Bang Theory' contract talks stall production
updated 5:26 PM EDT, Thu July 31, 2014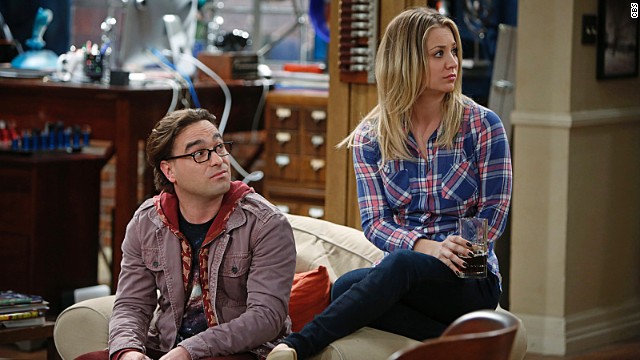 Season 7 of the very popular comedy "The Big Bang Theory" had its finale on May 15. Johnny Galecki and Kaley Cuoco play Leonard and Penny, who just got engaged on the series. Here is a primer on the show's characters:
Simon Helberg plays Howard Wolowitz, an aerospace engineer who started out as a bit of a creeper of women, but these days is happily married.
Jim Parsons has won three Emmys for his portrayal of physicist Sheldon Cooper, who is as clueless about social interaction as he is knowledgeable about science. He is "dating" Amy Farrah Fowler.
Three-time Emmy nominee Mayim Bialik plays Amy Farrah Fowler, a scientist who is involved with Sheldon. She also believes she is best friends with Penny.
Cuoco plays Penny, a waitress who can't quite match wits with her group of friends, but nevertheless hangs out with them. She lives across the hall from Sheldon and her now fiance Leonard.
Melissa Rauch plays Bernadette Rostenkowski-Wolowitz. She is a highly paid scientist who is married to Howard. A frequent joke in the show is how she can be as overbearing as his mother.
"Roseanne" alum Galecki stars as Leonard Hofstadter, Sheldon's long-suffering roommate and Penny's future husband. He is a physicist.
Kunal Nayyar plays Rajesh Ramayan "Raj" Koothrappali, a shy astrophysicist who up until recently could only talk to women after he drank alcohol. He is desperate to find true love and recently, finally found a girlfriend.
'Big Bang Theory' cast
'Big Bang Theory' cast
'Big Bang Theory' cast
Big Bang Theory cast
'Big Bang Theory' cast
'Big Bang Theory' cast
'Big Bang Theory' cast
'Big Bang Theory' cast
STORY HIGHLIGHTS
Contract negotiations have postponed production on "The Big Bang Theory"
WBTV didn't specify how long the delay would last
CBS has "The Big Bang Theory" scheduled to return on September 22
(CNN) -- Brace yourselves, "Big Bang Theory" fans: Production on the CBS comedy has been put on pause.
Warner Bros. Television, which shares a parent company with CNN, has confirmed that because of "ongoing contract negotiations," production on "The Big Bang Theory's" eighth season has been postponed. It was originally scheduled to begin on Wednesday.
In March, CBS renewed "The Big Bang Theory," which has been viewers' No. 1 comedy since the 2010-2011 season, for three more years. But according to The Hollywood Reporter, which first reported on the production holdup, stars Jim Parsons, Kaley Cuoco, Johnny Galecki, Kunal Nayyar and Simon Helberg have yet to reach a new contract deal with WBTV.
THR has heard that Cuoco, Galecki and Parsons are seeking a sizable pay increase that would take them from $325,000 per episode to up to $1 million per episode, in addition to having a piece of backend profits.
Helberg and Nayyar are also said to be negotiating for a pay raise, while stars Mayim Bialik and Melissa Rauch reportedly landed a pay hike last September.
It isn't known how long the production delay will last, but CBS has already scheduled the comedy to return on September 22.
CNN's Carolyn Sung contributed to this report.