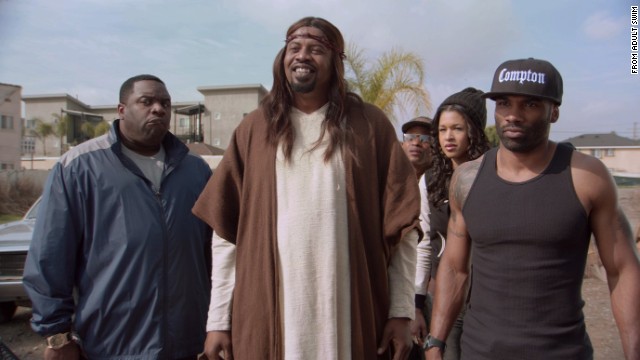 The most talked-about person in Hollywood lately has been Jesus Christ, whether it's movies such as "Son of God" or TV shows such as "Black Jesus," pictured. But 2014 isn't a watershed moment for religion; Jesus has been depicted on the big and small screens many times before.
Turner Classic Movies
, he signed an agreement not to be involved in any sort of scandal -- even divorce -- for a year following the movie's release.
In 1923, Cecil B. DeMille became a believer in the power the Bible held with moviegoing audiences. After finding success with his Old Testament epic "The Ten Commandments," DeMille enlisted H.B. Warner to help him tell "The Greatest Story Ever Told." The result was 1927's "The King of Kings," a film for which Warner was virtuous both on and off the set. According to
When in need of a man to play Jesus in 1959's Oscar-winning "Ben-Hur," the production team turned to opera singer Claude Heater. Although his portrayal of Christ is one of the best known in cinema, he still goes uncredited for the part. The movie was based on the 1880 novel, "Ben-Hur: A Tale of the Christ," which had previously been turned into a silent film in 1925.
Not to be confused with 1927's "The King of Kings," MGM's 1961 New Testament saga "King of Kings" told the story of Jesus from birth to death in grand, technicolor fashion. Jeffrey Hunter portrayed Jesus in this classic, which has become a go-to movie about the Gospels.
One of the most iconic portrayals of Jesus came from Max von Sydow in 1965's "The Greatest Story Ever Told." With a script adapted from a '40s radio series and Fulton Oursler's account by the same name, "The Greatest Story Ever Told" put the "big" in "big screen production," costing $20 million and boasting actors like Sidney Poitier, Charlton Heston and John Wayne.
said last August
, marking the release's 40th anniversary. "It has changed everything for me, continually and in a positive manner. I will be forever thankful for that."
In 1973, actor Ted Neeley had a breakout role as Jesus in the film version of the rock opera "Jesus Christ Superstar," and he couldn't be more grateful for it. "(T)his experience ... has formed my life," Neeley
another religious musical. Victor Garber, now known for his TV work on shows like "Alias" and "Web Therapy," was building what would become a renowned stage career as Jesus Christ in "Godspell." Garber first starred in the production on the stage before it was released as a movie in 1973.
The same year that Neeley was becoming well known as "Jesus Christ Superstar," there was another actor portraying the Big Guy in
Alongside screen legends like Laurence Olivier, Anne Bancroft and Ernest Borgnine was Robert Powell, who played Jesus Christ in the 1977 British miniseries "Jesus of Nazareth." Last year, Powell again helped bring the Biblical story to the small screen as a narrator for the UK release of "The Bible" miniseries.
This 1979 movie starring Brian Deacon was straightforward about its subject with the simple title "Jesus." It's also known as "The Jesus Movie," and was based on the Gospel of St. Luke.
The 1980 TV movie "The Day Christ Died" starred a pre-"Princess Bride" Chris Sarandon as Jesus. While many biblically based films like to explore Jesus' entire life or a large chunk of his adulthood, "The Day Christ Died" only required Sarandon to portray him during the crucial moments of his arrest and crucifixion.
In 1988, Willem Dafoe portrayed Jesus in what's become one of the most controversial movies about the famous Nazarene, Martin Scorsese's "The Last Temptation of Christ." Based on the 1953 novel of the same name, Dafoe's Jesus is one that battles lust, doubt, and a reluctance to fulfill his fate.
In the late '90s, Jeremy Sisto went from "Clueless" and "The Wild Thornberrys" to "Jesus." The actor starred as Christ in the 1999 TV movie that focused on Jesus' work and life.
In 1999, Christian Bale portrayed Jesus of Nazareth in a TV movie that told Christ's story from the point of view of his mother, Mary. We do wonder how the actor, known for totally immersing himself in his roles, prepared for this one.
Molly Shannon's 1999 comedy "Superstar" isn't about religion or Jesus Christ, but Will Ferrell's portrayal of him in a dream sequence is infamous. When Ferrell's hippie, long-haired Jesus appears to Shannon's Mary Katherine Gallagher, they bond over her CD player.
In 2000, a very different look at the life of Jesus arrived in the form of a stop-motion film called "The Miracle Maker." Ralph Fiennes was the voice of Jesus, and everything about the story of Jesus' adult life, from the beginning of his ministry to his resurrection, was told through this unique animation.
"South Park" creators Trey Parker and Matt Stone aren't afraid to blend religious icons with their edgy humor. The creators of the hit Broadway musical "The Book of Mormon" have included a Jesus character on their animated Comedy Central show for years. Their version has his own cable access show, "Jesus and Pals," and often teams up to fight evil with his "Super Best Friends," a group that includes other religious figures like Krishna and Moses.
Before he became Desmond on "Lost," Henry Ian Cusick was Jesus. The actor portrayed the savior in 2003's "The Visual Bible: The Gospel of John." As the title suggests, this was Jesus' life story from the perspective of John the Baptist. Fun fact: Christopher Plummer is the movie's narrator.
Since Mel Gibson's 2004 blockbuster "The Passion of the Christ," when many people envision Jesus they probably think about this guy, Jim Caviezel. A little-known actor at the time, Caviezel was catapulted into the spotlight as the controversial movie brought in $370 million domestically. As Caviezel's gone to other roles, most recently on CBS's "Person of Interest," he's still best known as the actor who withstood Gibson's brutal depiction of Christ's crucifixion.
Seth MacFarlane's better known as the voice behind "Family Guy's" diabolical tot Stewie Griffin and "Ted's" profane teddy bear, but he's also been the voice of "Family Guy's" low-key and affable Jesus. At one point, the Fox comedy imagined that Jesus was really in hiding at a record store.
Portuguese actor Diogo Morgado will probably go down in history as "hot Jesus" thanks to the noticeably attractive spin he's given the character. Morgado's played Christ twice within the past year, in The History Channel's 2013 miniseries "The Bible" and the 2014 theatrical release it spawned, "Son of God."
Jesus on screen
Jesus on screen
Jesus on screen
Jesus on screen
Jesus on screen
Jesus on screen
Jesus on screen
Jesus on screen
Jesus on screen
When Jesus came to Hollywood
Jesus on screen
Jesus on screen
Jesus on screen
Jesus on screen
Jesus on screen
Jesus on screen
Jesus on screen
Jesus on screen
When Jesus came to Hollywood
Jesus on screen
Jesus on screen
Jesus on screen