STORY HIGHLIGHTS
NEW: The Ukrainian Prime Minister and his Cabinet resign but remain in place until elections
More than 400 people have died in eastern Ukraine fighting, government says
Planes carrying the remains of as many as 74 people land in Eindhoven
A rebel leader raises new uncertainty about how Flight 17 was shot down
Send iReport your photos and videos.
Donetsk, Ukraine (CNN) -- The United States said Thursday it has proof that Russia is firing into Ukraine.
Also Thursday, Ukrainian Prime Minister Arseniy Yatsenyuk and his Cabinet announced their resignation in what Ukrainian political experts said was an expected development. Yatsenyuk and his Cabinet will remain in place as an acting government until elections in October.
The Ukrainian government has been battling pro-Russian rebels in eastern Ukraine. More than 400 people have died in the fighting, the government has said.
"We have new evidence that the Russians intend to deliver heavier and more powerful multiple rocket launchers to the separatist forces in Ukraine and have evidence that Russia is firing artillery from within Russia to attack Ukrainian military positions," said State Department spokeswoman Marie Harf.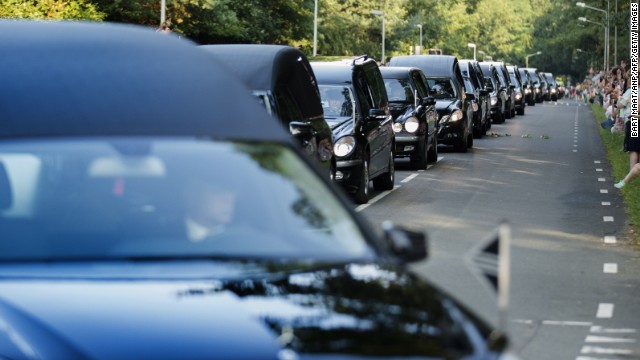 A line of hearses arrives at the Korporaal van Oudheusdenkazerne in Hilversum, Netherlands, on Saturday, July 26, as bodies from the crash of Malaysia Flight 17 are brought to the Netherlands where they will be identified. Flight 17 was shot down over Ukraine, killing all 298 people aboard. Of the people who died, 193 were Dutch citizens.
Hearses carrying the coffins with the remains of the victims leave Eindhoven airbase on July 26
Dutch military personnel carry coffins to a waiting hearse at the Eindhoven airbase on Friday, July 25.
An Australian military cargo plane, carrying some of the victims of Malaysia Airlines Flight 17, leaves Kharkiv, Ukraine, en route to the Netherlands on Friday, July 25.
People watch from a bridge in Boxtel, Netherlands, as hearses carry victims to Hilversum, Netherlands, on Thursday, July 24.
Dutch military personnel carry coffins in Eindhoven, Netherlands, on July 24.
Flowers are thrown from a bridge Wednesday, July 23, as hearses carry victims to Hilversum.
Military personnel in Eindhoven carry a coffin July 23 that holds one of the victims.
Dutch Queen Maxima, center, stands between King Willem-Alexander and Prime Minister Mark Rutte as a minute of silence is observed in Eindhoven on July 23.
Dutch military personnel carry a coffin to a hearse in Eindhoven on July 23.
Flags fly at half-staff as hearses pass by in Eindhoven on July 23.
A transport airplane with the Royal Netherlands Air Force, carrying the bodies of some Flight 17 victims, takes off from Kharkiv on July 23.
A Ukrainian honor guard loads a coffin onto a cargo plane at Kharkiv's airport on July 23.
As they wait for victims' bodies to arrive on July 23, members of the media report in front of a military airport in Eindhoven.
Police officers secure a refrigerated train loaded with bodies as it arrives at a Kharkiv factory on Tuesday, July 22.
A police officer in Kharkiv walks past a refrigerated container car loaded with bodies on July 22.
A man covers his face with a rag as authorities inspect bodies in a refrigerated train Monday, July 21.
An armed pro-Russian rebel stands guard next to a refrigerated train in Torez, Ukraine, on Sunday, July 20.
Emergency workers carry the body of a victim at the crash site in eastern Ukraine on Saturday, July 19.
Workers load bodies of victims onto a truck at the crash site on July 19.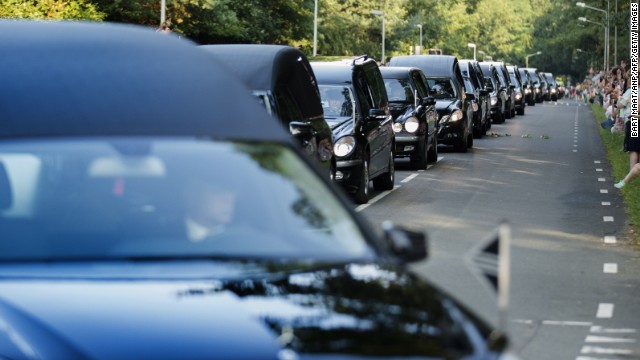 MH17 victims' bodies transported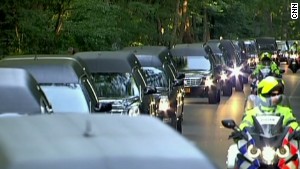 For the Dutch, a day of mourning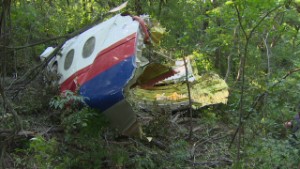 MH17's quiet, abandoned crash site
Two U.S. officials said earlier that Russian troops have broken up into smaller groups and moved closer to the Ukrainian border.
In the political realm, Yatsenyuk told Parliament that he was announcing his resignation after the blocking of government initiatives and the collapse of the coalition.
"At the moment my government does not have the answer" to numerous questions, including how to keep paying government salaries, military expenses and families of flight victims.
A "collapsed coalition has consequences," he said.
The Prime Minister's announcement comes as more bodies from Malaysia Airlines Flight 17 arrived in the Netherlands. The Boeing 777 was shot down by a suspected surface-to-air missile last week over eastern Ukraine, killing all 298 people on board.
Journalist working for CNN detained in Ukraine
Among other developments Thursday:
-- A Ukrainian journalist working as a freelancer for CNN has been detained by pro-Russian rebels.
Armed men from the self-declared Donetsk People's Republic seized Anton Skiba outside a hotel Tuesday in the rebel-controlled city of Donetsk.
An official with the self-declared Donetsk People's Republic initially accused Skiba of "terrorism" and of posting cash rewards for the killing of rebel fighters on his Facebook page. Later the official dropped the accusation about the Facebook posts and said Skiba was being questioned for having multiple forms of identification with different surnames.
On Wednesday, another high-ranking separatist official told CNN that Skiba admitted to being a "Ukrainian agent."
CNN initially chose not to report on Skiba's detention while making efforts to secure his release.
-- Planes bearing the dead from Flight 17 arrived in Netherlands for a second day.
Aircraft carrying the remains of as many as 74 people touched down Thursday at a military base in Eindhoven. Forty wooden caskets were flown in Wednesday and greeted by somber, moving tributes across the country.
Of the citizens from 10 countries who died on Flight 17, the majority, 193, were Dutch.
What happens to the victims' bodies next?
'Black boxes' in the UK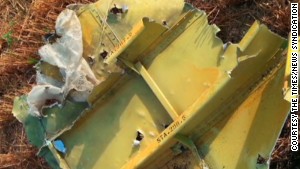 Does debris prove MH17 was shot down?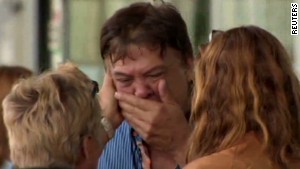 Will victims' families ever get justice?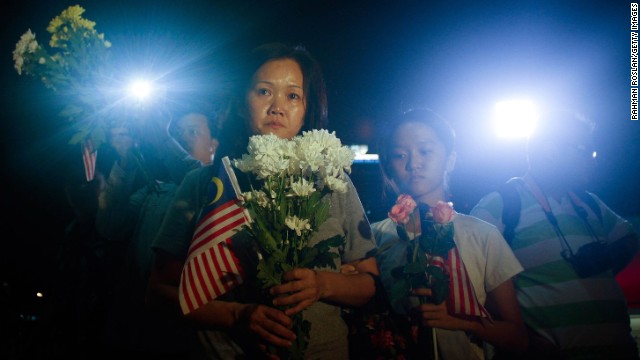 Families of crew members aboard Malaysia Airlines Flight 17 gather for a vigil Tuesday, July 22, in Kuala Lumpur, Malaysia. All 298 people aboard the passenger plane died when it was shot down Thursday, July 17, in a rebel-controlled part of eastern Ukraine.
A woman cries July 22 during a service near the crash site.
People in Melbourne gather to mourn the victims during a candlelight vigil at Federation Square on July 22.
In memory of two Newcastle United fans who died in the crash, two wreaths are placed on seats July 22 at the Forsyth Barr Stadium in Dunedin, New Zealand. The soccer fans were traveling to New Zealand to watch their team play in a preseason tournament.
A KLM employee reaches out into a sea of flowers July 22 at Schiphol Airport in Amsterdam, Netherlands.
A flower and stuffed animal sit near the crash site on Monday, July 21.
A woman in Kuala Lumpur attends a candlelight vigil on July 21.
Ukrainian President Petro Poroshenko attends a flower-laying ceremony at the Dutch Embassy in Kiev, Ukraine, on July 21. Although the passengers came from all over the world, many of them were Dutch because the flight originated in Amsterdam.
A woman places a flower during a candlelight vigil in Kuala Lumpur on July 21.
Mourners in Eynesbury, Australia, attend a memorial service Sunday, July 20, for a family of five killed in the disaster.
Buddhist monks in the Malaysian capital light candles during a special prayer for the victims on July 20.
Wildflowers lie on an engine from the crashed jet on Saturday, July 19.
Friends of Nur Shazana Mohamed, a crew member aboard the flight, take part in a special remembrance prayer at a mosque in Putrajaya, Malaysia, on July 19.
Dutch Prime Minister Mark Rutte signs a condolence register at the Ministry of Safety and Justice in The Hague, Netherlands, on Friday, July 18. "I want to see results in the form of unimpeded access and rapid recovery," Rutte said in a press briefing. "This is now priority number one."
People pray for the victims of Malaysia Airlines Flight 17 at a church outside Kuala Lumpur on July 18.
A woman in Berlin places a candle at a memorial on July 18.
People in Kiev gather to mourn the victims on July 18.
Akmar Binti Mohd Noor, whose sister was aboard Flight 17, cries outside the family holding area at Kuala Lumpur International Airport on July 18.
A man prays at a memorial in front of the Dutch Embassy in Kiev on July 18.
Dutch cyclists wear a black armband in honor of the crash victims during the 13th stage of the Tour de France on July 18.
Dutch Justice Minister Ivo Opstelten observes a moment of silence after signing a condolence book in The Hague on July 18.
Candlelight prayers honor the victims at a church outside Kuala Lumpur on July 18.
Floral tributes adorn the entrance to Schiphol Airport in Amsterdam.
A Dutch flag flies at half-staff in The Hague on July 18.
People place flowers in front of the Dutch Embassy in Moscow on July 18.
Students attend a prayer July 18 in Central Java, Indonesia. Their teacher John Paulissen was a passenger on Flight 17.
Russian President Vladimir Putin, center, and members of his government observe a moment of silence on Thursday, July 17.
People pay tribute to the victims outside the Dutch Embassy in Kiev on July 17.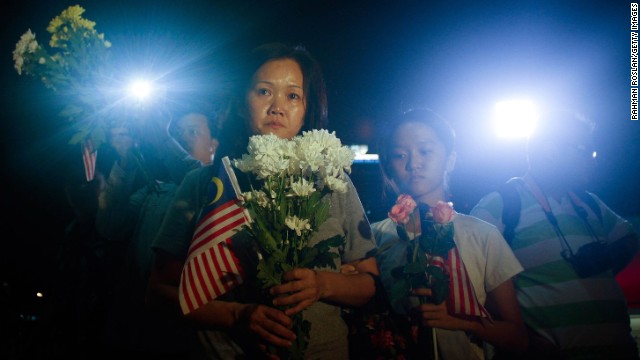 Photos: Reaction to MH17
It took days for Ukrainian rebels who control the area of the crash site to hand over the bodies and the airliner's black boxes to Malaysian officials.
The voice and flight data recorders are now in Britain for what will be a detailed scouring by international analysts that could take weeks. On Wednesday, investigators found that the cockpit voice recorder was damaged, but its memory was intact. There was no sign of tampering.
But Dutch crash investigators leading the inquiry said Wednesday they still don't have everything they need and haven't been able to visit the crash site under safe conditions to carry out their work.
It's happened before: MH17 tragedy was part of a bigger air war
Who are Ukraine's pro-Russian rebels?
Australia has sent 50 police officials to London in advance of their joining a possible international deployment to eastern Ukraine to secure the crash site, Prime Minister Tony Abbott said Thursday.
Did rebels have missile system?
Accusations continue to fly over who was responsible for shooting down Flight 17.
One pro-Russian rebel commander further complicated the picture by appearing to acknowledge that rebels had in their possession the type of surface-to-air missile system that U.S. officials say was used to bring down Flight 17.
Since the crash a week ago, rebel leaders have repeatedly denied that they had an SA-11, or Buk, missile system, at their disposal.
But in an interview with the news agency Reuters, Alexander Khodakovsky, the commander of the Vostok Battalion in Donetsk, said he knew about the missile system.
"I knew that a BUK came from Luhansk. At the time I was told that a BUK was coming from Luhansk under the flag of the LNR," Khodakovsky told Reuters, making a reference to the Luhansk People's Republic, the principal rebel group in Luhansk.
Luhansk is one of two rebel provinces in eastern Ukraine. The other, Donetsk, is where Flight 17 came down.
"I found out about it when I found out that this tragedy happened. Most likely it was brought back in order to conceal the evidence of its presence," Khodakovsky said in the Reuters interview, which took place Tuesday and was published Wednesday.
He accused the Ukrainian government of provoking "usage of this kind of weapon against a plane with civilians which was flying by."
But Russian media later reported that Khodakovsky later denied that he confirmed that rebels had the missile system, saying his comments were taken out of context. He told the news outlet RT that he was only discussing theories with Reuters and that he did not have information on such a weapon. Reuters said it is sticking by its story.
Ukrainian President: The world must choose sides
So much we don't know -- five unanswered questions
Should jet have flown over Ukraine?
CNN's Josh Levs, Michael Pearson, Jethro Mullen, Holly Yan, Nick Paton Walsh, Catherine E. Shoichet, Phil Black, Bharati Naik, Barbara Starr, Brian Todd and Elizabeth Joseph contributed to this report.