Comic-Con: Ben Affleck's 'Batman' makes an appearance
updated 7:29 AM EDT, Fri July 25, 2014
STORY HIGHLIGHTS
A close-up photo of Ben Affleck's Batman was shared at Comic-Con
It was part of a montage celebrating the hero's 75th anniversary
Affleck is playing Batman in "Batman v Superman: Dawn of Justice"
The movie will arrive May 6, 2016
(CNN) -- Attendees at 2014's San Diego Comic-Con have gotten up close and personal with Ben Affleck's Batman.
On Thursday, DC Comics gave the first close-up look at Affleck's caped hero, offering a profile photo of the newest Bruce Wayne as part of a montage honoring Batman's 75th anniversary.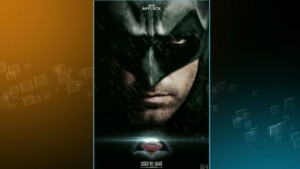 Kevin Smith: Affleck as Batman 'great'
First look at Ben Affleck in 'Batman vs. Superman'
In addition to the close-up photo, Affleck's cape and cowl from the upcoming "Batman v Superman: Dawn of Justice" has been seen on the SDCC floor.
Henry Cavill suits up for 'Batman v Superman'
Affleck himself hasn't been spotted, but he's probably busy with director Zack Snyder's production schedule. Work on "Batman v Superman" is under way, with plans to shoot in Detroit and international locales.
Also starring Henry Cavill as Superman, Gal Gadot as Wonder Woman, Jesse Eisenberg as Lex Luthor and Amy Adams as Lois Lane, Snyder's "Batman v Superman: Dawn of Justice" will open May 6, 2016.
Darth Car unveiled at Comic-Con
Cosplay at Comic-Con: Who wore it best?