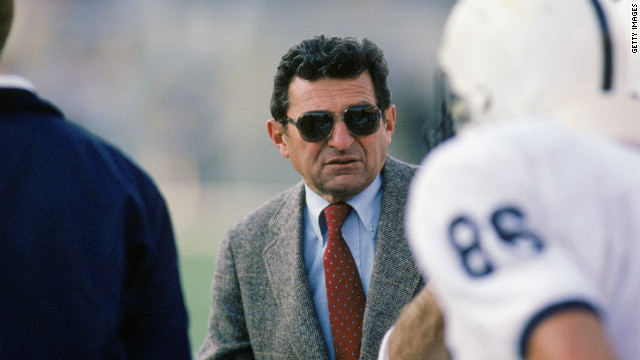 Former Penn State football coach Joe Paterno died on January 22. He was 85. The legendary coach, seen here in 1988, was fired in November 2011 during his 46th season at the helm of the Nittany Lions program.
The statue of Paterno outside Beaver Stadium is among many vestiges of Paterno's years as head coach.
Paterno sprints off the field with his team at halftime in a 1996 game.
Paterno celebrates after winning the Fiesta Bowl against Texas in 1997. Paterno was diagnosed with a treatable form of lung cancer, his son announced in November.
In October 2001, Paterno is honored before a game for having won the most games in Division 1-A. He continued to vie with Florida State's Bobby Bowden for the most all-time major college wins until Bowden retired in 2009.
Paterno and his Nittany Lions look on before facing Iowa at Beaver Stadium in State College, Pennsylvania, in October 2004.
Paterno shakes hands with Lloyd Carr of Michigan before their game in 2005 in Ann Arbor, Michigan.
Paterno celebrates a triple-overtime Orange Bowl win over Florida State in Miami on January 3, 2006. Paterno has guided his teams to more bowl victories than any other college coach.
Paterno speaks at a post-game press conference after winning the Outback Bowl on January 1, 2007, in Tampa, Florida.
Paterno walks the field as his players warm up before their game against the Syracuse Orangemen at Beaver Stadium in September 2009 in Pennsylvania. The coach was fired in November amid the outcry over the handling of accusations against former defensive coordinator Jerry Sandusky.
Paterno gives direction to his players before playing the Crimson Tide in Alabama in 2010.
Paterno walks the sidelines in October 2009 in Evanston, Illinois. In December 2011, he was admitted to a hospital after fracturing his pelvis when he slipped and fell at his home in State College.
Paterno as Penn State coach
Paterno as Penn State coach
Paterno as Penn State coach
Paterno as Penn State coach
Paterno as Penn State coach
Paterno as Penn State coach
Paterno as Penn State coach
Paterno as Penn State coach
Paterno as Penn State coach
Paterno as Penn State coach
Paterno as Penn State coach
Paterno as Penn State coach