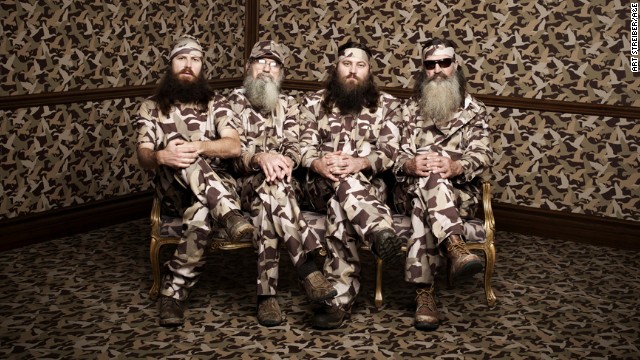 Jase, Si, Willie and Phil Robertson star in the A&E television series "Duck Dynasty." The popular reality show follows a Louisiana family that became rich through Duck Commander, a business making products for duck hunters.
The Duck Commander crew works on transforming their warehouse into a "scarehouse" during a recent Halloween episode. Holding the chainsaw is Si Robertson, who founded the company along with his brother Phil, not pictured.
suspended by A&E
in December after he made controversial remarks about gays and blacks in an interview with GQ magazine.
Phil Robertson cuts meat during a recent "Duck Dynasty" episode. He was
Willie Robertson, one of Phil's sons, does yoga with his wife, Korie, to get ready for their high school reunion. Willie does much of the narrating on the show.
The Robertsons watch as Sadie Robertson, Willie and Korie's daughter, walks in a New York fashion show in September.
Willie attends the Academy of Country Music Awards in April.
Jep Robertson, one of Willie's brothers and Phil's sons, is pushed along by Duck Commander employee Justin Martin.
Willie and Si guest-star in the season premiere of the ABC show "Last Man Standing."
Jase, Si and Willie throw out the ceremonial first pitch before a Major League Baseball game in Detroit in September.
In a "Duck Dynasty" episode where the office air conditioning broke, Si tries to beat the heat by creating a pool in the back of his pickup truck.
Si, Jase and Willie appear on "Late Night With Jimmy Fallon."
Si, appearing on the show as an angry elf, tells children they're not going to get the gifts they ask for. He told one young girl, who asked for art supplies, that there's no money in being an artist.
Phil, Si and Jase go dove hunting.
Si takes one of his daily naps, surrounded by some Robertson family trophies.
Phil takes his place at the head of the table. A family dinner is the typical scene that ends each episode.
The stars of 'Duck Dynasty'
The stars of 'Duck Dynasty'
The stars of 'Duck Dynasty'
The stars of 'Duck Dynasty'
The stars of 'Duck Dynasty'
The stars of 'Duck Dynasty'
The stars of 'Duck Dynasty'
The stars of 'Duck Dynasty'
The stars of 'Duck Dynasty'
The stars of 'Duck Dynasty'
The stars of 'Duck Dynasty'
The stars of 'Duck Dynasty'
The stars of 'Duck Dynasty'
The stars of 'Duck Dynasty'
The stars of 'Duck Dynasty'