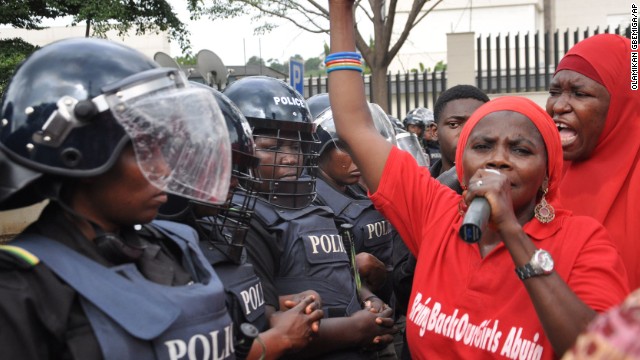 Police in riot gear block a route in Abuja, Nigeria, on Tuesday, October 14, during a demonstration calling on the Nigerian government to rescue schoolgirls kidnapped by the Islamist militant group Boko Haram. In April, more than 200 girls were abducted from their boarding school in northeastern Nigeria, officials and witnesses said.
Women in Abuja hold a candlelight vigil on Wednesday, May 14, one month after the schoolgirls were kidnapped.
People march in Lagos, Nigeria, on Monday, May 12, to demand the release of the kidnapped schoolgirls.
Catholic faithful in Abuja take Holy Communion and pray for the safety of the kidnapped schoolgirls on Sunday, May 11.
Catholic faithful attend a morning Mass in honor of the kidnapped schoolgirls in Abuja on May 11.
Catholics nuns pray in Abuja on May 11.
A woman attends a demonstration Tuesday, May 6, that called for the Nigerian government to rescue the girls.
Community leader Hosea Sambido speaks during a May 6 rally in Abuja.
Brig. Gen. Chris Olukolade, Nigeria's top military spokesman, speaks to people at a demonstration May 6 in Abuja.
Women march Monday, May 5, in Chibok, Nigeria.
People rally in Lagos on Thursday, May 1.
Police stand guard during a demonstration in Lagos on May 1.
Protesters take part in a "million-woman march" Wednesday, April 30, in Abuja.
Obiageli Ezekwesili, former Nigerian education minister and vice president of the World Bank's Africa division, leads a march of women in Abuja on April 30.
A woman cries out during a demonstration in Abuja on Tuesday, April 29, along with other mothers whose daughters have been kidnapped.
A man weeps as he joins parents of the kidnapped girls during a meeting with the Borno state governor in Chibok on Tuesday, April 22.
Mothers weep April 22 during a meeting with the Borno state governor in Chibok.
Four female students who were abducted by gunmen and reunited with their families walk in Chibok on Monday, April 21.
Borno state Gov. Kashim Shettima, center, visits the girls' school in Chibok on April 21.
Nigerians protest over kidnapped schoolgirls
Nigerians protest over kidnapped schoolgirls
Nigerians protest over kidnapped schoolgirls
Nigerians protest over kidnapped schoolgirls
Nigerians protest over kidnapped schoolgirls
Nigerians protest over kidnapped schoolgirls
Nigerians protest over kidnapped schoolgirls
Nigerians protest over kidnapped schoolgirls
Nigerians protest over kidnapped schoolgirls
Nigerians protest over kidnapped schoolgirls
Nigerians protest over kidnapped schoolgirls
Nigerians protest over kidnapped schoolgirls
Nigerians protest over kidnapped schoolgirls
Nigerians protest over kidnapped schoolgirls
Nigerians protest over kidnapped schoolgirls
Nigerians protest over kidnapped schoolgirls
Nigerians protest over kidnapped schoolgirls
Nigerians protest over kidnapped schoolgirls
Nigerians protest over kidnapped schoolgirls