Queen's horse Estimate fails drugs test
updated 3:20 PM EDT, Tue July 22, 2014
STORY HIGHLIGHTS
The Queen's horse Estimate fails a drugs test
Estimate won the 2013 Gold Cup at Ascot in front of Monarch
The five-year-old filly tests positive for morphine
Follow us at @WorldSportCNN and like us on Facebook
(CNN) -- Britain's Queen Elizabeth II cheered Estimate on to success at the Gold Cup in 2013 but now her her five-year old filly is in the dock.
Buckingham Palace confirmed to CNN Tuesday Estimate had tested positive for banned substance morphine.
The Monarch was present at Ascot racecourse last year to see her horse claim glory in one of the world's most prestigious races.
Estimate narrowly missed out on defending that crown last month, after which the positive sample is thought to have been taken.
Read: Queen's horse pipped to Gold Cup
A statement released by the Palace said initial findings showed the positive test came from consumption of a contaminated feed product.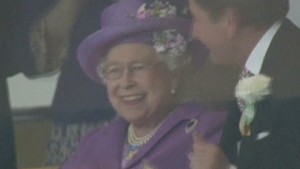 Queen joyous at Royal Ascot win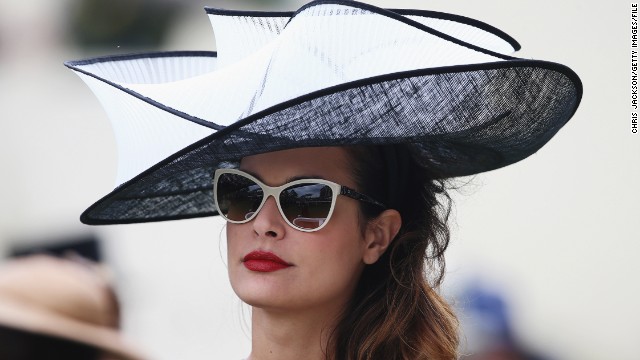 If you thought Royal Ascot was just about horse racing... think again.
The prestigious five-day racing festival opens with Queen Elizabeth II parading around the track in an elegant horse-drawn carriage.
And she's not the only Royal making a grand entrance, with son Prince Andrew, Duke of York, and grandson, Prince Harry, donning top hats for the occasion.
Day Three of the meet is traditionally Ladies' Day, when the designer dresses and millinery masterpieces are just as much a focus as the horse racing. Princess Anne and Princess Beatrice (pictured) show them how it's done.
Hats are an essential part of the race-goer's outfit, from dramatic Hepburn-style sweeping brims, to whacky home-made works of art. This pom pom head piece might not be to everyone's taste, but earns full marks for creativity.
Ascot's plush Royal Enclosure viewing area offers five-day tickets for a whopping $560. Fashion protocol is similarly steep -- women must wear hats, or failing that, a headpiece with a 10-centimeter base. Fascinators -- small ornaments attached to a headband -- are a no-no.
In comparison, the Silver Ring Enclosure, which offers $45 daily tickets, simply requires its racegoers to wear smart clothes, with a reminder that "bare chests are not permitted at any time."
"Horse racing's roots as the 'sport of kings' obviously suggest a pleasure pastime for the elite," Willie Walters, the fashion course director at London's Central Saint Martins college of art and design, told CNN.
"In the past this would have been, depending on the monarch, an opportunity for either ostentatious displays or relatively tasteful, yet expensive, modesty," she added.
Queen Elizabeth II will be present for the entire five-day meeting, but it was her predecessor Queen Anne who founded Ascot racecourse in 1711. The venue's links with high society have remained intact ever since.
Tradition looms large at the 300-year-old horse race. Of the 280,000 people who attend Ascot each year, just 12,000 can be found hobnobbing in the plush Royal Enclosure each day -- but it's not the only place to have fun on the track.
Of course, that's not to dismiss the highlight of Ladies' Day...
... the Gold Cup. This year's race was won by Leading Light, ridden by jockey Joseph O'Brien.
Not everyone will be pleased with the result though. Leading Light narrowly beat the Queen's own horse and reigning champion, Estimate. Still, Her Majesty put on a brave face while awarding the trophy.
One jockey jumping for joy was Italian jockey Frankie Dettori after winning the Norfolk Stakes atop Baitha Alga, earlier in the day.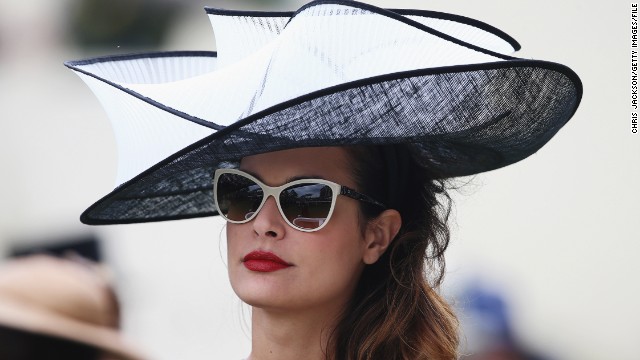 Hats off to Royal Ascot
Her Majesty has been informed of the situation, it said.
Estimate, trained by Sir Michael Stoute, could now be stripped of that second place finish.
A statement by John Warren, the Queen's Bloodstock and Racing Advisor, said the British Horseracing Authority (BHA) had informed the Palace of the result of post-race samples on July 17.
"Five horses, under the care of various trainers, were affected," it continued. "I can confirm that one of those horses was Estimate, the five year-old filly trained by Sir Michael Stoute and owned by The Queen.
"Initial indications are that the positive test resulted from the consumption of a contaminated feed product.
"Sir Michael is working closely with the feed company involved to discover how the product may have become contaminated prior to delivery to his stables.
"As the BHA investigates this matter, including potential links between the different cases, Sir Michael continues to offer his full co-operation.
"There will be no further comment until the BHA announces its considered findings.
"Her Majesty has been informed of the situation."
Read: Queen's horse wins top award
Read: Hats off to British social season