GLAAD: Movies don't represent LGBT community well
updated 4:40 PM EDT, Tue July 22, 2014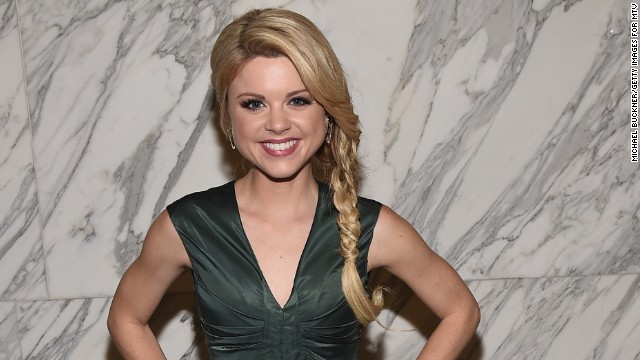 MTV's 'Faking It' is introducing television's first ever intersex character. Lauren , played by actress Bailey De Young, has androgen insensitivity syndrome and is genetically male but has female sex characteristics. The show is one example of the many TV programs featuring lesbian, gay, bisexual and transgender characters. Here's a look at some of TV's most memorable LGBT characters:
On "Soap," Jodie Dallas became one of TV's first LGBT characters. Played by Billy Crystal, Dallas was gay but had relationships with women throughout the ABC show's four seasons, which aired during the late '70s and early '80s. Dallas also fathered a child named Wendy.
Mitchell Pritchett (Jesse Tyler Ferguson) and Cameron Tucker (Eric Stonestreet) adopted a baby girl named Lily on the pilot episode of "Modern Family" in 2009. The pair made plans to adopt another child during the third season of the ABC show.
Dr. Callie Torres (Sarah Ramirez) and Dr. Arizona Robbins (Jessica Capshaw) were married during seventh season of "Grey's Anatomy" in 2011. The pair also have a baby girl they share with her father, Dr. Mark Sloan (Eric Dane).
Lafayette Reynolds, played by Nelsan Ellis, works as a cook and gay prostitute on the HBO series "True Blood."
On "Brothers and Sisters," which aired on ABC from 2006 to 2011, Kevin Walker (Matthew Rhys) proposed to Scotty Wandell (Luke Macfarlane). The pair had two children, Olivia and Daniel.
Wilson Cruz played Rickie Vasquez, a gay 15-year-old, on "My So-Called Life." Despite garnering a cult following, the show only lasted one season on ABC.
After playing bisexual Alex Kelly on "The O.C.," Olivia Wilde played Dr. Remy "Thirteen" Hadley on Fox's "House."
Max Blum, played by Adam Pally, is openly gay. His friends persuade him to come out to his parents during the first season of "Happy Endings."
Calvin Owens, left, played by Paul James, originally struggled to come out to his Omega Chi fraternity brothers on "Greek," which aired on ABC Family from 2007 to 2011.
Gay characters Kurt Hummel (Chris Colfer) and Blaine Anderson (Darren Criss) and lesbian character Santana Lopez (Naya Rivera) are some shining stars on Fox's "Glee." The teens deal with bullies, coming out and dating on the musical dramedy.
"Glee" introduced its first transgendered teen character in 2012. "Unique," shown here singing, is played by actor Alex Newell.
Critics hailed the realistic portrayal of the relationship between David Fisher (Michael C. Hall, left) and Keith Charles (Mathew St. Patrick) on "Six Feet Under."
President Barack Obama told Bill Simmons
that Little is his favorite "Wire" character: "I mean, that guy is unbelievable, right?"
Michael K. Williams played Omar Little, a well-known Baltimore criminal, on "The Wire." In March,
TV's most memorable LGBT characters
Jodie Dallas
Cameron and Mitchell
Callie and Arizona
Lafayette Reynolds
Kevin and Scotty
Rickie Vasquez
Dr. Remy "Thirteen" Hadley
Max Blum
Calvin Owens
Emily Fields
Blaine, Kurt and Santana
Unique
David and Keith
Omar Little
STORY HIGHLIGHTS
GLAAD found that fewer than 20% of last year's films had LGBT characters
Two films were cited for having offensive portrayals
Study notes that TV is more inclusive
(CNN) -- Although the general public may be embracing the LGBT community more these days, it doesn't look like Hollywood is keeping up.
That's the message of GLAAD's 2014 Studio Responsibility Index, which charts the "quantity, quality and diversity of images of LGBT people in films released by the seven largest motion picture studios during the 2013 calendar year."
This year's study found that of the 102 films released by the major studios in 2013, only 17 included characters identified as lesbian, gay or bisexual. And of those 17, the study concluded, most were minor characters, some of which GLAAD characterized as "defamatory representations."
"The lack of substantial LGBT characters in mainstream film, in addition to the outdated humor and stereotypes, suggests large Hollywood studios may be doing more harm than good when it comes to worldwide understanding of the LGBT community," GLAAD CEO and President Sarah Kate Ellis said in a statement. "These studios have the eyes and ears of millions of audience members, and should reflect the true fabric of our society rather than feed into the hatred and prejudice against LGBT people too often seen around the globe."
20th Century Fox, Lionsgate, Universal Pictures and Walt Disney Studios were graded as "adequate" for their portrayal of the community, while both Warner Bros. and Paramount were rated as "failing" for "including only minor and offensive portrayals of LGBT." Warner Bros. is owned by the parent company of CNN.
Sony Pictures was the only studio to receive a "good" score for having several LGBT-inclusive films, including "Mortal Instruments: City of Bones." Two films, "Riddick" and "Pain and Gain," were singled out for having offensive portrayals.
Films were judged by the the organization's "Vito Russo Test," named after the film historian and GLAAD co-founder. In order to pass the test, a film had to meet the following criteria:
• The film must contain a character that is identifiably lesbian, gay, bisexual and/or transgender.
• That character must not be solely or predominantly defined by their sexual orientation or gender identity. i.e. They are made up of the same sort of unique character traits commonly used to differentiate straight characters from one another.
• The LGBT character must be tied into the plot in such a way that their removal would have a significant effect. They are not there to simply provide colorful commentary, paint urban authenticity or (perhaps most commonly) set up a punchline. The character should "matter."
Of the 17 films with LGBT characters, only seven passed the Vito Russo Test.
The study also notes that unlike films, "TV seems to have entered another golden age, where the programming is not only incredibly thematically diverse (and prolific), but is also fertile ground for creators to tell truly unique and innovative stories. Not by accident, it's also the best place in popular culture to find complex and resonant representations of LGBT people that connect with a mainstream audience."
Obama bars federal contractors from LGBT discrimination