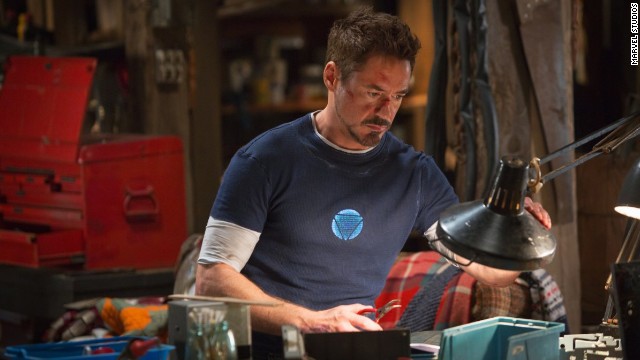 For Robert Downey Jr., it pays to be "Iron Man." Downey has been crowned Hollywood's highest-paid actor by Forbes magazine for the second year in a row, with an estimated haul of $75 million within the past year alone. Find out who else is playing in his league:
Dwayne "The Rock" Johnson is "Hercules" this summer, but he's been pretty busy lately, starring in no less than five films in 2013. For his hard work, Forbes estimates the wrestler-turned-actor earned around $52 million.
Bradley Cooper, center, has earned both the money and critical accolades over the past year. In 2013, he did another installment of the popular "Hangover" franchise (with Ed Helms, left, and Zach Galifianakis), but then he also took on the more acclaimed "American Hustle." Between June 2013 and June 2014, Cooper earned roughly $46 million, enough to debut on Forbes' list.
Leonardo DiCaprio still didn't win an Oscar in 2013, but he has enough money to go "The Wolf of Wall Street" if he wanted. Despite cutting his upfront fee to get "Wolf" made, DiCaprio earned an estimated $39 million over the past 12 months, Forbes reports. Here he plays the title role in "J. Edgar," the 2011 bio of the FBI chief.
Chris Hemsworth's reign as Thor comes with a princely sum. The Australian actor, here with co-star Natalie Portman, is in the top five of Forbes' highest-paid actors list this year, earning an estimated $37 million.
Liam Neeson is taking action movies such as "Taken" all the way to the bank. After releasing "Taken 2" in 2012, Neeson didn't act much in 2013 -- there were "Third Person" and "Khumba" -- but he still saw $36 million between June 2013 and June 2014. And "Taken 3"? It's lined up for 2015.
Ben Affleck splits his time in front of and behind the camera, but he can still command a pretty penny as an actor. Forbes estimates the Oscar winner (here in "Argo") made $35 million in the past year. He's now playing Batman in "Batman v. Superman: Dawn of Justice."
Forbes' highest-paid actors
Forbes' highest-paid actors
Forbes' highest-paid actors
Forbes' highest-paid actors
Forbes' highest-paid actors
Forbes' highest-paid actors
Forbes' highest-paid actors
Forbes' highest-paid actors