STORY HIGHLIGHTS
Author writes about being angry after a guy called her "grandma" at a club
At 43, she says she is becoming aware of how she is perceived at music venues
Author: Why should I let one grandma comment spoil my life?
Editor's note: Amy Chillag is a CNN Writer/Producer.
(CNN) -- I hadn't been to a club in months.
The last time, a guy brushed by me and felt the need to yell, "How's it going grandma!?" I couldn't figure out if this was a pickup line, a display of respect, or just an in-your-face way of saying you're too old to be here.
Now technically, at 43, I could have been a grandmother. But I wasn't even a mother, and it was still a shock.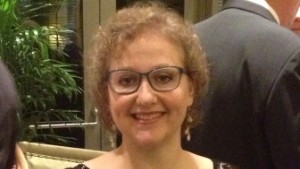 Author Amy Chillag
I tried to grab the guy's T-shirt as he was walking past me, but the fabric pulled out of my hands. I stepped outside to take a breath and forget what happened, but couldn't shake the anger.
I went back in and obsessively surveyed the club until I locked in on my target. He was talking to two pretty blondes. I boldly walked up and said "Hey! It's grandmaaaa!!"
I was trying to disarm them with humor before my verbal assault.
"Why did you call me grandma?"
"Sorry. I'm drunk and acting like an asshole, I guess." I continued to pepper him with questions, anything to provoke a real answer.
I guess I wanted to hear "because you look old." Finally he asked me, somewhat menacingly, "Are we done here?"
That's when I snapped out of my diatribe, realizing he was well-built and over 6 feet tall. He'd also mentioned he was an Iraq war Veteran. It's possible that this may not have ended well.
Despite feeling like a kid most of my life, I began to see how the guy at the club saw me: as middle-aged.
Aging stylishly: online and in the streets
The funny thing is, I don't feel "old" when I go to dance clubs. I have always enjoyed live music: the feeling of the bass drum through my body, seeing the guitarists' faces distort as they play and the singers inspiring the crowd to feel their lyrics.
Plus, being at one with a crowd feels incredible: you just can't get that on an MP3 player.
Most generation X'ers and baby boomer couples are apparently choosing to spend their money attending concerts at large, impersonal arenas. Bon Jovi was the top grossing concert last year, and Bruce Springsteen and The Rolling Stones were in the top 10. I imagine many of my peers attended these concerts.
I suppose there's safety in numbers, but I can't stand watching live music with my binoculars, just to see tiny, flea-like figures jumping on stage.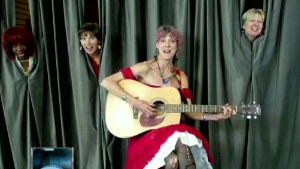 Warning! You cannot un-see this video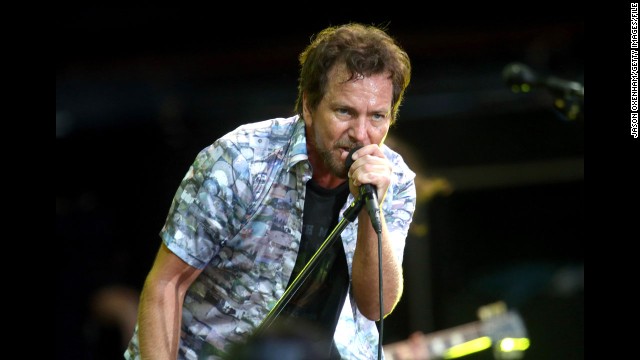 Here's hoping Eddie Vedder of Pearl Jam has a rocking 50th birthday on December 23. He's one of 50 celebrities who celebrated the milestone birthday in 2014:
Fans of "Peggy Sue Got Married" and "Moonstruck" may find it hard to believe, but Nicolas Cage turned 50 in January.
Mariska Hargitay represents her age group well as Sgt. Olivia Benson on "Law & Order: Special Victims Unit."
Matt Dillon continues to stay gold (any fans of "The Outsiders" out there?) at age 50.
Wanda Sykes is probably laughing because she's clearly found the fountain of youth.
How in the world is Rob Lowe even in this gallery? Seriously.
Elle Macpherson is a super model of aging well.
You know you are getting old when Ian Ziering and members of the "Beverly Hills, 90210" cast turn 50.
April 4 marked the 50th birthday of actor/director David Cross.
We haven't seen as much of actor Hank Azaria as we'd like, but we have certainly heard from him a great deal on "The Simpsons." He rang in his 50th year in April.
Russell Crowe turned 50 on April 7. We are sure the "Noah" star was flooded with well wishes.
Oh baby you ... are turning 50! Rapper and DJ Biz Markie celebrated his big day on April 8.
We wonder whether, at this age, Crispin Glover would want to go "Back to the Future." The actor celebrated his 50th birthday on April 20.
Who wants to be ... 50? Comedian and "Who Wants to be a Millionaire" host Cedric the Entertainer turned the big 5-0 on April 24.
Actor Djimon Hounsou, star of "Amistad" and "Guardians of the Galaxy," turned 50 on April 24.
Many fans still think of Melissa Gilbert as young Laura Ingalls on "Little House on the Prairie." But she turned 50 on May 8, and that means Half Pint is all grown up.
Even at 50, Stephen Colbert, right, is young at heart -- as you can see here when the "Late Show" host-to-be posed for a selfie with Jimmy Fallon. Colbert turned 50 on May 13.
"Hunger Games" star and rocker Lenny Kravitz can still pull off the sparkling eye makeup. He celebrated his 50th on May 26.
We hope Adam Carolla will never stop being young at heart with his boyish humor. The comedian/host turned 50 on May 27.
Wynonna Judd turned 50 on May 30. Now there's something to sing about.
Both Darryl McDaniels and Joseph Simmons of Run DMC celebrated their 50th birthdays this year. McDaniels' big day was in May, and Simmons' 50th followed in November.
Courteney Cox is an excellent role model for the cougars on her show, "Cougar Town," and in real life, too. The former "Friends" star celebrated her 50th birthday on June 15.
The kids, nerds, geeks and all still love "Buffy the Vampire Slayer" creator Joss Whedon at any age. The "Avengers" writer-director turned 50 on June 23.
Welcome to the wonderful world of quinquagenarians, Jose Canseco! The former baseball player turned 50 on July 2.
She may be the voice of the decidedly younger Lisa Simpson on "The Simpsons," but Yeardley Smith turned 50 on July 3.
Rock on Courtney Love. The musician/actress turned 50 on July 9.
What we wouldn't give to have had a seat at Wendy Williams' birthday dinner table. The media maven, who turned 50 on July 18, always has the hottest scoop.
Inquiring minds wonder if Dean Winters does his own stunts as "Mayhem" in those Allstate commercials. He's in great shape.
John Leguizamo had a milestone birthday on July 22 as he celebrated turning 50. And the comedic actor is not alone. He also shared his day with another funny man ...
David Spade also celebrated 50 on July 22. From appearing in the movie "Grown Ups" to being an official grown-up, Spade wears it well.
Soundgarden frontman Chris Cornell continues to perform with the vigor of a man half his age. He turned 50 in July.
No matter her age, Sandra Bullock will always be America's sweetheart. July 26 marked her 50th birthday.
Awww! Seems like only yesterday Lori Loughlin was going into labor as Rebecca on "Full House" during Michelle's birthday party. Loughlin celebrated her own b-day on July 28.
Vivica A. Fox is in as good a shape as she was during her "Booty Call" days. She turned 50 on July 30.
Counting Crows frontman Adam Duritz, who turned 50 in August, barely looks his age.
Mary-Louise Parker became a stunning member of the 50 club on August 2.
Breaking news! Hoda Kotb of the "Today" show turned 50 on August 8.
Blair Underwood has remained as youthful as he was in his "L.A. Law" days. But on August 25, the actor hit the big 5-0.
Excellent! Keanu Reeves turned 50 on September 2. Fans would love a new "Bill & Ted" sequel as a gift. We're just saying.
Rosie Perez has clearly decided to "Fight the Power" of aging. The actress and new co-host of "The View" celebrated her 50th birthday on September 6.
Molly Shannon remains believable as Catholic schoolgirl Mary Katherine Gallagher. She's a "Superstar!"
Holly Robinson Peete doesn't appear to have aged much at all from her "21 Jump Street" days.
Country star Trisha Yearwood became a quinquagenarian on September 19.
The eternally youthful Janeane Garofalo turned 50 on September 28, almost 20 years after starring in "The Truth About Cats & Dogs."
With that baby face, it's hard to believe "Extreme Makeover: Home Edition" host Ty Pennington turned 50 on October 19.
It's fun to imagine how Ally McBeal would have reacted to turning 50. The actress who played her, Calista Flockhart, turned 50 on November 11.
Robin Givens exited her 40s in November with a big smile.
Actor Don Cheadle is using these years to get into the superhero game, with roles in the "Iron Man" films, "Avengers" and even "Captain Planet." (Warning: There is language in that clip.)
Marisa Tomei doesn't mind a nude scene, as evidenced in "Before the Devil Knows You're Dead." She's holding it down for actresses in her age group.
Former "Desperate Housewives" star Teri Hatcher turned 50 in December.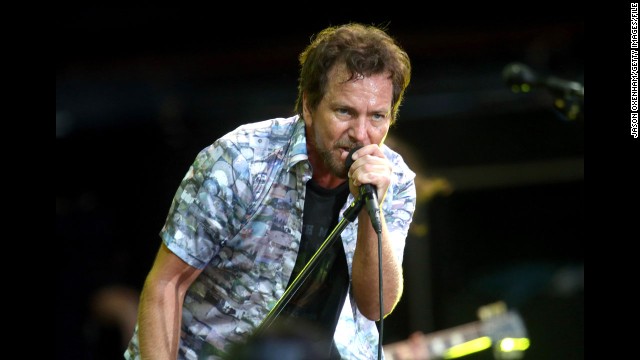 50 people who turned 50 in 2014
I rarely see other 40-somethings rocking out at small clubs.
Does that mean I should throw in the towel and find a more "age-appropriate" place to listen to music? Perhaps those sophisticated jazz dining establishments or a blues club?
I don't like the blues so much.
For months after the grandma insult, I refused to go out. I withdrew to my couch, draped in the comforting warmth of my Boston terriers. My rock 'n' roll-loving companion was kind enough to stay by my side weekend after weekend.
Then, one night, I finally had the nerve to venture out again.
My boyfriend and I rolled up to an Atlanta rock club. Outside, hipsters were barbecuing: a kind of Southern soul fest for white people.
A large, young bodybuilder type with a tree-trunk-sized chest greeted us at the cash register. He delicately placed the "21 and up" band around my wrist.
I walked into the dark underground cavern, my irises adjusting to the low light.
Twenty-year-olds were dressed like it was 1985, and long-haired rockers were wearing ripped jeans and T-shirts with '80s band names.
Was I beamed back to my high school years? Was this retro night for 40-year-olds?
No. These were millennials enjoying the hard-driving Led Zeppelin-inspired band just like me. I was just an OH -- an original hipster, who had enjoyed it the first time it was cool.
One young man stood next to me throwing his fabulous head of hair back and forth to the beat as we stood against the stage. He didn't treat me with any particular respect or say "excuse me ma'am" when his Pert-smelling mane lightly lashed my forehead throughout the night.
Don't miss out on the conversation we're having at CNN Living.
Follow us on Twitter
and
Facebook
for the latest stories and tell us what's influencing your life.
I observed young guys with ZZ Top beards and lumberjack shirts. Standing nearby were nerdy girls with glasses wearing flower-patterned dresses.
I dropped my self-consciousness and enjoyed the scene. I felt invigorated hanging out with this interesting mix of retro and modern youths.
Why should I let one grandma comment spoil my life?
The thing is, we 40-something gen Xers aren't the first to go through what it feels like to see another generation take over the dance floor, or the office space.
And we've all got to lose our self-consciousness, and just try to enjoy the ride.