STORY HIGHLIGHTS
NEW: New recordings are purported to be Russians and rebels discussing missile
The alleged militants talk about shooting down a plane
The voices on the audio say they thought it was a military plane
(CNN) -- "We have just shot down a plane. ... A plume of smoke is visible."
The biggest clue so far into who may have shot down Malaysia Airlines Flight 17 might be what Ukrainian officials say are intercepted communications between pro-Russian rebels operating in eastern Ukraine.
The recordings, translated and distributed by Ukrainian officials, begin with an alleged militant informing others that a plane has been shot down.
The communication picks up later, once the alleged rebels reach the scene of the crash.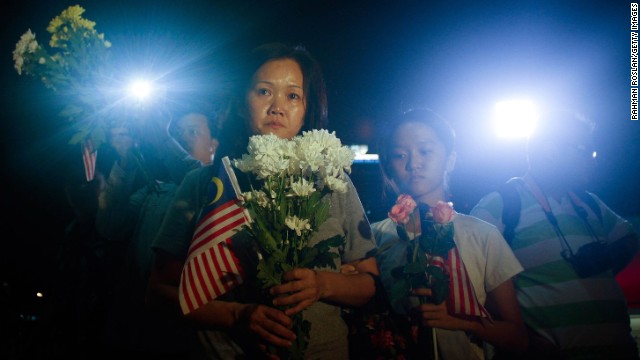 Families of crew members aboard Malaysia Airlines Flight 17 gather for a vigil Tuesday, July 22, in Kuala Lumpur, Malaysia. All 298 people aboard the passenger plane died when it was shot down Thursday, July 17, in a rebel-controlled part of eastern Ukraine.
A woman cries July 22 during a service near the crash site.
People in Melbourne gather to mourn the victims during a candlelight vigil at Federation Square on July 22.
In memory of two Newcastle United fans who died in the crash, two wreaths are placed on seats July 22 at the Forsyth Barr Stadium in Dunedin, New Zealand. The soccer fans were traveling to New Zealand to watch their team play in a preseason tournament.
A KLM employee reaches out into a sea of flowers July 22 at Schiphol Airport in Amsterdam, Netherlands.
A flower and stuffed animal sit near the crash site on Monday, July 21.
A woman in Kuala Lumpur attends a candlelight vigil on July 21.
Ukrainian President Petro Poroshenko attends a flower-laying ceremony at the Dutch Embassy in Kiev, Ukraine, on July 21. Although the passengers came from all over the world, many of them were Dutch because the flight originated in Amsterdam.
A woman places a flower during a candlelight vigil in Kuala Lumpur on July 21.
Mourners in Eynesbury, Australia, attend a memorial service Sunday, July 20, for a family of five killed in the disaster.
Buddhist monks in the Malaysian capital light candles during a special prayer for the victims on July 20.
Wildflowers lie on an engine from the crashed jet on Saturday, July 19.
Friends of Nur Shazana Mohamed, a crew member aboard the flight, take part in a special remembrance prayer at a mosque in Putrajaya, Malaysia, on July 19.
Dutch Prime Minister Mark Rutte signs a condolence register at the Ministry of Safety and Justice in The Hague, Netherlands, on Friday, July 18. "I want to see results in the form of unimpeded access and rapid recovery," Rutte said in a press briefing. "This is now priority number one."
People pray for the victims of Malaysia Airlines Flight 17 at a church outside Kuala Lumpur on July 18.
A woman in Berlin places a candle at a memorial on July 18.
People in Kiev gather to mourn the victims on July 18.
Akmar Binti Mohd Noor, whose sister was aboard Flight 17, cries outside the family holding area at Kuala Lumpur International Airport on July 18.
A man prays at a memorial in front of the Dutch Embassy in Kiev on July 18.
Dutch cyclists wear a black armband in honor of the crash victims during the 13th stage of the Tour de France on July 18.
Dutch Justice Minister Ivo Opstelten observes a moment of silence after signing a condolence book in The Hague on July 18.
Candlelight prayers honor the victims at a church outside Kuala Lumpur on July 18.
Floral tributes adorn the entrance to Schiphol Airport in Amsterdam.
A Dutch flag flies at half-staff in The Hague on July 18.
People place flowers in front of the Dutch Embassy in Moscow on July 18.
Students attend a prayer July 18 in Central Java, Indonesia. Their teacher John Paulissen was a passenger on Flight 17.
Russian President Vladimir Putin, center, and members of his government observe a moment of silence on Thursday, July 17.
People pay tribute to the victims outside the Dutch Embassy in Kiev on July 17.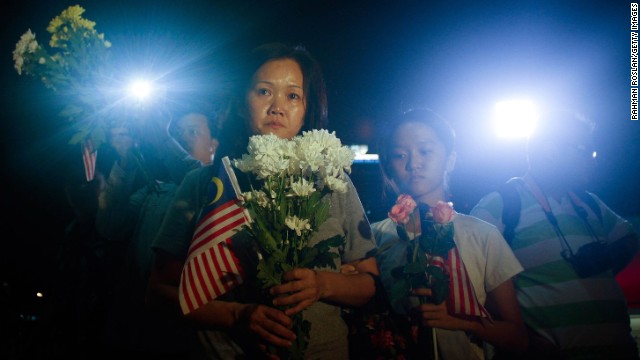 Photos: Reaction to MH17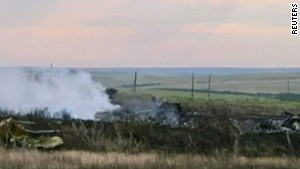 The timeline before MH17 crashed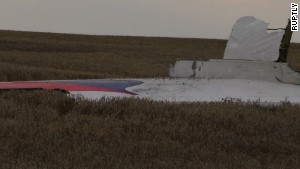 Journalist: Bodies splayed through field
Here's a segment of a conversation between an alleged pro-Russian rebel named Major and another identified as Grek, per Ukrainian authorities:
Major: The plane broke into pieces in the air ... we have found the first 200 (dead). It's a civilian."
Grek: "How are things going there?"
M: "Well, we are 100% sure that it was a civilian plane."
G: "Are there a lot of people?"
M: "F--k! The debris was falling straight into the yards."
M: "Here are remnants of internal brackets, chairs, bodies."
G: "Are there any weapons?"
M: "Nothing at all. Civilian belongings, medical scraps, towels, toilet paper."
Ukrainian Prime Minister Arseniy Yatsenyuk on Friday blasted the "terrorists" he blamed for shooting down the plane a day earlier, with 298 people aboard.
CNN cannot independently verify the authenticity of the phone call, and it is not known if the recordings were edited or when they were made.
But Lt. Col. Rick Francona, a CNN military analyst, said he would not be surprised if Ukrainians were able to monitor the communications of the rebels.
"Ukrainian intelligence, they're pretty good in their own territory," he said Friday on CNN's "New Day."
In a final segment of the alleged intercepted phone calls, an unidentified militant allegedly speaks with a Russian Cossack, Mykola Kozitsyn.
Militant: "On TV, they say like it is a Ukrainian An-26, a transport plane. But the writing says 'Malaysia Airlines.' What was it doing over the territory of Ukraine?"
Kozitsyn: "Well then it was bringing spies. Why the hell were they flying? This is war going on."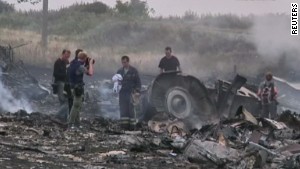 MH17 shot down amid political chaos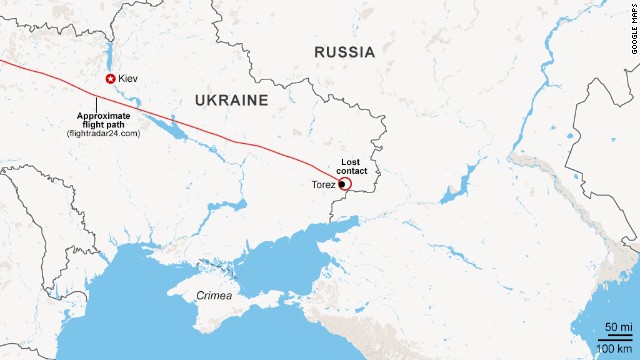 Map: Approximate route of MH17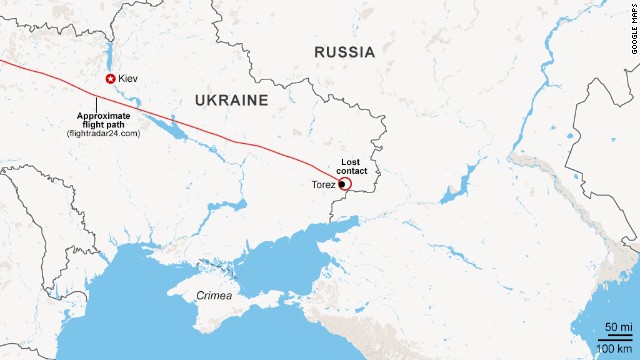 Map: Approximate route of MH17
While these recordings have garnered worldwide attention, they are not the first alleged intercepted calls that Ukrainian officials have released. Others were released earlier this month.
Ukrainian Foreign Minister Pavlo Klimkin told CNN on Friday that the phone calls were intercepted at the same time that the plane was shot down.
Yatsenyuk called for international support "to bring to justice all these bastards who committed this international crime."
Russia has not directly responded to the content of the audio, but President Vladimir Putin has blamed Ukraine for the crash. "This tragedy would not have happened if there had been peace on that land, or in any case, if military operations in southeastern Ukraine had not been renewed," he said.
An additional set of recordings released by Ukrainian intelligence officials Friday is said to link the rebels to the time that the missile allegedly took down the plane.
One recording, purportedly between the military chief of the separatist Lugansk National Republic and a Russian military intelligence officer, discusses the missile system, called a Buk.
The alleged rebel is heard telling the supposed Russian officer that they hold the Buk.
"Yes, I know that," the Russian officer responds.
In a separate audio, another alleged Russian military intelligence officer and another rebel military chief discuss where to unload and hide the Buk.
READ: Malaysia Airlines crash site: 'Everything rained down in bits and pieces'
READ: Did surface-to-air missile take down Flight 17?
MAPS: What route did the flight take?
CNN's Nic Robertson contributed to this report.