STORY HIGHLIGHTS
Signs of MH17 tragedy at Amsterdam's Schiphol Airport, where ill-fated plane took off
Friends and complete strangers among those leaving floral tributes at terminal building
Malaysia Airlines' Flight MH17 to Kuala Lumpur crashed near Ukraine-Russia border
U.S. believes plane was likely shot down by surface-to-air missile
(CNN) -- Deep red roses, waxy white lilies and bright, cheery sunflowers; as single blooms and in large bouquets, they pile up close to desk 29 at Amsterdam's Schiphol Airport.
Twenty-four hours ago this was where Malaysia Airlines' Flight MH17 passengers checked in before boarding their ill-fated plane; bound for Kuala Lumpur, their journey would end far too soon, in a Ukrainian field close to the border with Russia.
On Thursday, Suzan De Wit was chatting to many of those fliers. A customs officer at the airport, she helped them claim back their VAT (sales tax) before leaving the country.
A day later, a crying De Wit was among those leaving floral tributes to the dead, still stunned by the tragedy that had unfolded.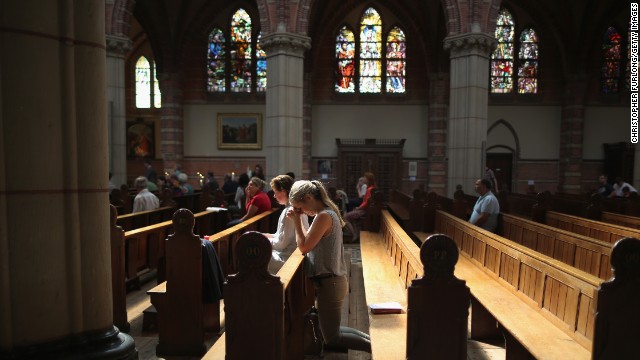 People pray during a special Mass in memory of the victims of Malaysia Airlines Flight 17 on July 20 in St. Vitus Church in Hilversum, Netherlands. The United States says a surface-to-air missile took down the Boeing 777 in eastern Ukraine on July 17 as it was flying from Amsterdam, Netherlands, to Kuala Lumpur, Malaysia, killing all 298 people aboard. At least 192 of the dead were Dutch.
King Willem-Alexander and Queen Maxima of the Netherlands sign a condolence register for relatives and friends of the victims of Malaysia Airlines Flight 17 at the Ministry of Safety and Justice in The Hague on Friday, July 18.
The Dutch flag flies at half-staff July 18 at Amsterdam's Schiphol Airport.
Dutch newspapers feature the crash of a Malaysian plane on Thursday, July 17.
Arthur Laumann holds a floral tribute and photograph of family friend Wayan Sujana, believed to be missing on the flight, at Schiphol Airport on July 18 in Amsterdam.
A woman grieves at a memorial in front of the Dutch Embassy in Kiev, Ukraine, on July 18.
People leave flowers for the victims at the Dutch Embassy in Kiev.
People lay flowers and light candles in front of the Schiphol airport on July 18.
A couple walks through Schiphol Airport to a location where more information will be given regarding the flight on July 17, 2014.
Family members of victims leave Schiphol Airport on July 17 in Amsterdam.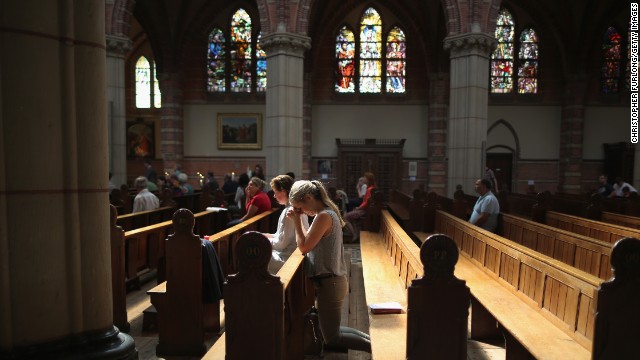 Netherlands mourns MH17 dead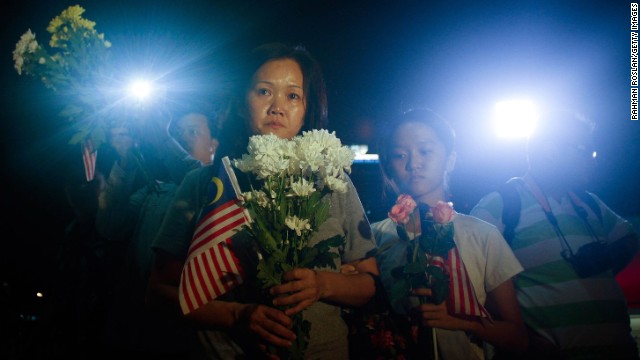 Families of crew members aboard Malaysia Airlines Flight 17 gather for a vigil Tuesday, July 22, in Kuala Lumpur, Malaysia. All 298 people aboard the passenger plane died when it was shot down Thursday, July 17, in a rebel-controlled part of eastern Ukraine.
A woman cries July 22 during a service near the crash site.
People in Melbourne gather to mourn the victims during a candlelight vigil at Federation Square on July 22.
In memory of two Newcastle United fans who died in the crash, two wreaths are placed on seats July 22 at the Forsyth Barr Stadium in Dunedin, New Zealand. The soccer fans were traveling to New Zealand to watch their team play in a preseason tournament.
A KLM employee reaches out into a sea of flowers July 22 at Schiphol Airport in Amsterdam, Netherlands.
A flower and stuffed animal sit near the crash site on Monday, July 21.
A woman in Kuala Lumpur attends a candlelight vigil on July 21.
Ukrainian President Petro Poroshenko attends a flower-laying ceremony at the Dutch Embassy in Kiev, Ukraine, on July 21. Although the passengers came from all over the world, many of them were Dutch because the flight originated in Amsterdam.
A woman places a flower during a candlelight vigil in Kuala Lumpur on July 21.
Mourners in Eynesbury, Australia, attend a memorial service Sunday, July 20, for a family of five killed in the disaster.
Buddhist monks in the Malaysian capital light candles during a special prayer for the victims on July 20.
Wildflowers lie on an engine from the crashed jet on Saturday, July 19.
Friends of Nur Shazana Mohamed, a crew member aboard the flight, take part in a special remembrance prayer at a mosque in Putrajaya, Malaysia, on July 19.
Dutch Prime Minister Mark Rutte signs a condolence register at the Ministry of Safety and Justice in The Hague, Netherlands, on Friday, July 18. "I want to see results in the form of unimpeded access and rapid recovery," Rutte said in a press briefing. "This is now priority number one."
People pray for the victims of Malaysia Airlines Flight 17 at a church outside Kuala Lumpur on July 18.
A woman in Berlin places a candle at a memorial on July 18.
People in Kiev gather to mourn the victims on July 18.
Akmar Binti Mohd Noor, whose sister was aboard Flight 17, cries outside the family holding area at Kuala Lumpur International Airport on July 18.
A man prays at a memorial in front of the Dutch Embassy in Kiev on July 18.
Dutch cyclists wear a black armband in honor of the crash victims during the 13th stage of the Tour de France on July 18.
Dutch Justice Minister Ivo Opstelten observes a moment of silence after signing a condolence book in The Hague on July 18.
Candlelight prayers honor the victims at a church outside Kuala Lumpur on July 18.
Floral tributes adorn the entrance to Schiphol Airport in Amsterdam.
A Dutch flag flies at half-staff in The Hague on July 18.
People place flowers in front of the Dutch Embassy in Moscow on July 18.
Students attend a prayer July 18 in Central Java, Indonesia. Their teacher John Paulissen was a passenger on Flight 17.
Russian President Vladimir Putin, center, and members of his government observe a moment of silence on Thursday, July 17.
People pay tribute to the victims outside the Dutch Embassy in Kiev on July 17.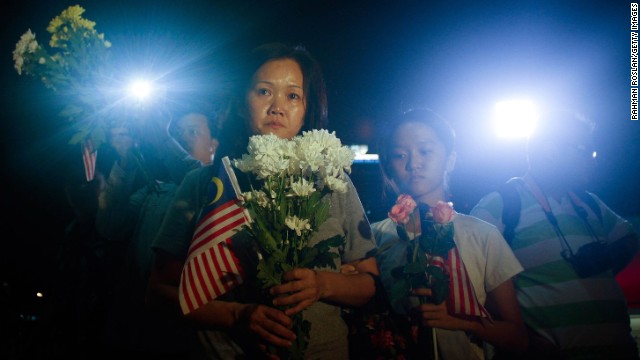 Photos: Reaction to MH17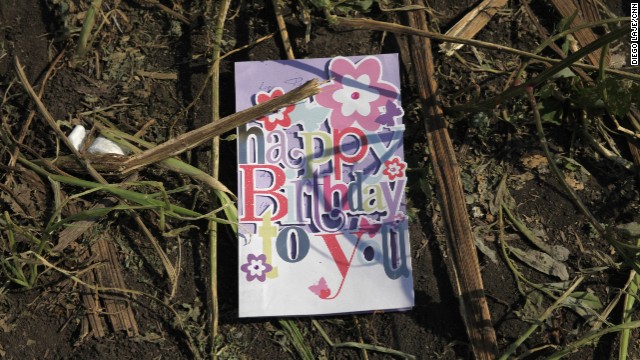 A birthday card found in a sunflower field near the crash site of Malaysia Airlines Flight 17 in eastern Ukraine, on Thursday, July 24. The passenger plane was shot down July 17 above Ukraine. All 298 people aboard were killed, and much of what they left behind was scattered in a vast field of debris.
A classical music record is seen among the sunflowers on July 24.
A shoe, appearing to be brand new, sits under foliage at the crash site.
Two Dutch passports belonging to passengers lie in a field at the site of the crash on Tuesday, July 22.
Clothing, sunglasses and chocolate are seen on July 22.
More sunglasses and a travel guide lie in the field on July 22.
A doll is seen on the ground on Saturday, July 19.
A single shoe is seen among the debris and wreckage on July 19. There has been concern that the site has not been sealed off properly and that vital evidence is being tampered with.
Pieces of a wristwatch lie on a plastic cover at the crash site.
Books, bags, a tourist T-shirt. Ukraine's government said it had received reports of looting, and it urged relatives to cancel the victims' credit cards. But a CNN crew at the scene July 19 said it did not see any signs of looting.
Passports were scattered across the large field.
Playing cards and euros are seen at the crash site.
A travel guide and toiletries.
Luggage on Friday, July 18.
An empty suitcase is cordoned off near the plane's impact site on Thursday, July 17.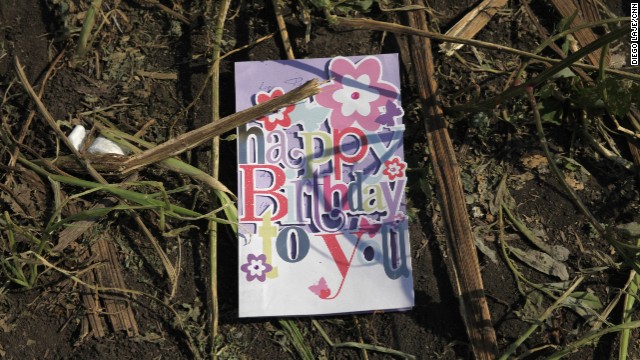 MH17: What they left behind

Man loses four family members on flight
"We saw a lot of the people that are on the plane and it's just really weird to me to imagine that they are gone," she explained tearfully.
Like De Wit, many of the others bringing flowers had little connection to those on the plane.
Here to catch flights of their own, they dash inside, stopping at the airport florist -- more used to creating "welcome home" bouquets than funereal arrangements -- before walking back out onto the sidewalk to lay their offerings on the concrete.
Outside the terminal, there are plenty of signs that this is no ordinary day at Schiphol, one of the world's busiest airports: The growing pile of flowers, the condolence book rapidly filling with messages of grief and support and, across the road, past the lines of cars pulling up to drop travelers off, huge numbers of film crews from across the world.
But step inside the building, and it is business as usual: passengers looking forward to long-awaited holidays or arriving in the city for business meetings wheel suitcases across the concourse, shops and cafes are busy, and flights take off and land as usual.
This extreme normality caused difficulties for at least one man, distressed and desperate to find out what had happened to his business partner, who he feared was on Flight MH17, and who was not answering his increasingly frantic calls.
With no signs offering advice to those trying to check up on possible passengers, he was left wandering the airport, shuttling from one information desk to another, clutching one mobile phone to his ear and another in his hand as he tried to reach someone, anyone, who could tell him if his friend was on board.
Sadly, there was to be no good news; after one call, crying "I knew it, I knew he was on the plane!" he hurried away.
Many of the relatives of those on the plane are being cared for at a local hotel while they work out what to do next.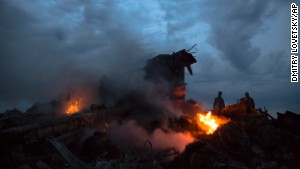 U.S. official: Flight MH17 shot down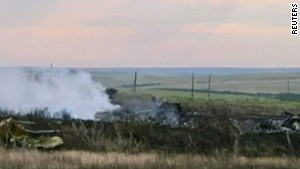 The timeline before MH17 crashed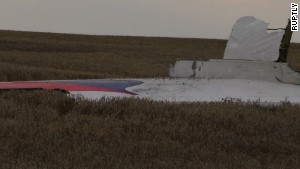 Journalist: Bodies splayed through field

Separatists recorded admitting fatal error?
The airline has offered them $5,000 compensation to cover their immediate expenses, and has said it will try and find a way of getting them to the crash site if they want to see it.
It says visiting the site where a plane came down has proved helpful to relatives in some previous cases, but the location of MH17's final resting place -- in the middle of a conflict zone -- makes this problematic, to say the least.
As the arguments and investigations over what brought down the plane go on, elsewhere in the Netherlands, other makeshift shrines are popping up.
In the North Holland fishing village of Volendam, bouquets have been laid outside a flower shop owned by Neeltje Tol, who is believed to have been on the downed plane.
Tol's boyfriend, Cor Schilder, apparently posted a jokey picture of the Malaysia Airlines plane on Facebook shortly before take-off: "In case it goes missing, this is what the plane looks like."
On Friday, stunned customers and friends stopped by to sign a book of condolence and pay tribute to the florist; one weeping woman, a regular visitor to the store, said Tol was "a very nice girl" who would be sadly missed.
As word spreads of those caught up in the tragedy, the number of mourners is only likely to increase in the coming days.
CNN's Saima Mohsin, Erin McLaughlin, Alex Felton and Antonia Mortensen contributed to this report.