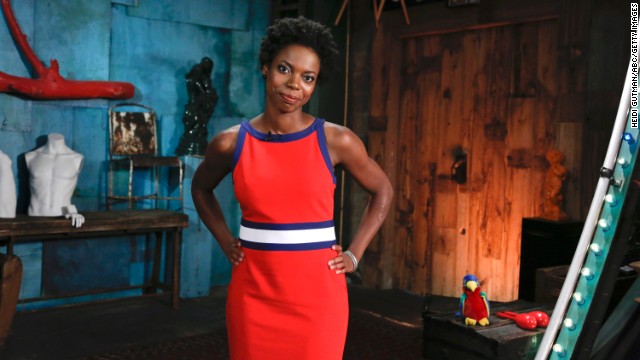 The year is half over, but there have already been some groundbreaking moments in pop culture, such as
"Saturday Night Live" hiring its first black female cast member in six years
. It feels like that happened years ago, right? Nope. Sasheer Zamata's debut was January 18. With time flying so quickly, let's take a look at the best and worst pop culture moments of 2014 so far:
Best: Jimmy Fallon may have earned an Emmy nod for "The Tonight Show," but remember the guy's still new on the job. The former "SNL" star took over for a retiring Jay Leno in March, part of one of the many changes on late-night TV -- including Seth Meyers leaving "SNL" to join "Late Night."
Worst: David Letterman announces his retirement in April, breaking fans' hearts and upsetting many late-night viewing habits.
Best: CBS somehow must have known the only way the masses would accept Letterman's departure would be to bring in Stephen Colbert as a replacement. We're sad to see Dave go but intrigued by what Colbert will do in the host's chair.
Best: During awards season, Lupita Nyong'o won moviegoers' hearts, dazzled on the red carpet and took home a bunch of acting awards, including the best supporting actress Oscar for "12 Years a Slave." The gifted actress was also People magazine's "Most Beautiful" person, plus she's been cast in "Star Wars: Episode VII." Nyong'o's only worry may be that no other year can compare with 2014.
Best:
Jared Leto's #HotJesus hair and
the memes
it spawned has indisputably been one of the best parts of 2014, with
his hugs
being a close second.
Best:
One day, you can tell someone that you lived to see
The McConaissance
. Once known as the bongo-playing guy with an aversion to wearing shirts,
Matthew
McConaughey has had the last laugh in 2014 by lining up projects that have officially deemed him a Serious and Talented Actor. With an Oscar already in the bag for "Dallas Buyers Club," McConaughey may become the first actor ever also to win an Emmy in the same year thanks to his work in HBO's "True Detective."
Best:
Miley Cyrus has come undone, and it may be the best thing that could've happened to her career. Everyone initially was flabbergasted by the ex-Disney star's uninhibited debauchery. But her "Bangerz" tour, which has
admittedly had a bumpy ride
, has helped to cement her new identity and acclimate audiences to her new vibe. Cyrus isn't wearing any clothes? Oh, it must be Tuesday.
Best:
"The Fault in Our Stars" was made into a movie, and the movie people got it right. That's not a guarantee with a book adaptation -- especially one as adored as "TFIOS" -- so we cherish the times when it does happen. (The movie, starring Ansel Elsgort and Shailene Woodley, was so awesome
someone might have tried to steal this bench
in Amsterdam that appeared in a scene.)
Worst:
We know some fans liked the "How I Met Your Mother" series finale in March. We know the creators, cast and crew all worked hard to end a long-running show with the dignity it deserved, and we commend them for it. We appreciate
Neil Patrick Harris
and
Josh Radnor
coming up with thoughtful, reasonable defenses. But when we start talking about the
best finales of all time
, gotta say, this one doesn't make the cut.
Worst: Shia LaBeouf's strange detour into performance art earlier this year was entertaining for some, but it was an unnecessary distraction and did nothing to help his troubled reputation. We're hoping for a future of fewer paper bags and magic markers and more focus on the career.
Worst:
We remember when Robin Thicke was just a happy-go-lucky singer of love songs with long hair and a bike he rode around the city. To see him now as an
obsessive and lovesick
artist makes us sad.
Best:
When Mark Wahlberg accepted the MTV Movie Awards' Generation trophy, he said what everyone who remembers him as Marky Mark probably was thinking: what the award
really
means is we're all way too old for MTV. It was a moment that perfectly captured how members of a certain generation are feeling in 2014, as Wahlberg gets such awards and "Ghostbusters"
has its 30th anniversary
.
Best:
The guiding light for sartorial iconoclasts everywhere, Pharrell Williams proved in 2014 he doesn't give a fig what you think about his fashion. Why should he? He makes pretty much every song you want to dance to. He even made you "Happy." So if he feels like wearing Smokey the Bear's hat, he will. Also? He can wear
Uggs to the BET Awards
and
short pants to the Oscars.
Because he is Pharrell, and you will deal with it.
Best: When "House of Cards" returned in February, this is no lie: Our lives ceased for about a week as we devoured every single episode. Never quit being you, Kevin Spacey.
Worst:
No grudge against Justin Bieber -- or this mug shot,
which is one of the better ones
-- but 2014 didn't need another story of a mega-popular young star felled by a wild night and bad decisions. Worse,
his DUI arrest
in January was by no means
the end of his spiral
. There was an
assault charge
,
an egging case
, and
do we need to mention those racist videos, again?
Didn't think so.
Best: The fourth season of "Game of Thrones" had some questionable scenes, but taken as a whole, it was stellar, as usual. It's HBO's most-watched show of all time, even surpassing "The Sopranos."
Best and worst: We don't know what's going on in Jay Z's and Beyonce's personal lives, and we'll likely never know, because the couple are just that untouchable. After unveiling her surprise, self-titled visual album at the end of 2013, Beyonce teamed up with the hubby on an entertainment takeover, going from stadium to arena proclaiming how "Drunk in Love" they are. That video of the elevator fight between Jay Z and Bey's sister Solange was disturbing, but the family has glossed over it, and the couple are now "On the Run" like it never even happened.
Best: Angelina Jolie lately has become better known as a humanitarian and a mom than a blockbuster star. But with the release of "Maleficent" in May, the actress reminded everyone she's still one of Hollywood's few women who can draw big audiences. "Maleficent" adds another feather to Jolie's cap, becoming her top-grossing movie to date.
Best:
The insane amount of attention paid to the grandiose wedding of Kim Kardashian and Kanye West in May was off-putting, no argument here. And we're still not so sure about the couple landing on the cover of Vogue. But these two looked as happy as top-shelf clams
in their wedding photos
, and c'mon, they're the parents of North!
North is always
the best.
Pop culture's best and worst moments
Pop culture's best and worst moments
Pop culture's best and worst moments
Pop culture's best and worst moments
Pop culture's best and worst moments
Pop culture's best and worst moments
Pop culture's best and worst moments
Pop culture's best and worst moments
Pop culture's best and worst moments
Pop culture's best and worst moments
Pop culture's best and worst of 2014 (so far)
Pop culture's best and worst moments
Pop culture's best and worst moments
Pop culture's best and worst moments
Pop culture's best and worst moments
Pop culture's best and worst moments
Pop culture's best and worst moments
Pop culture's best and worst moments
Pop culture's best and worst moments
Pop culture's best and worst moments