Casey Kasem's body is missing, daughter says
updated 11:07 AM EDT, Sat July 19, 2014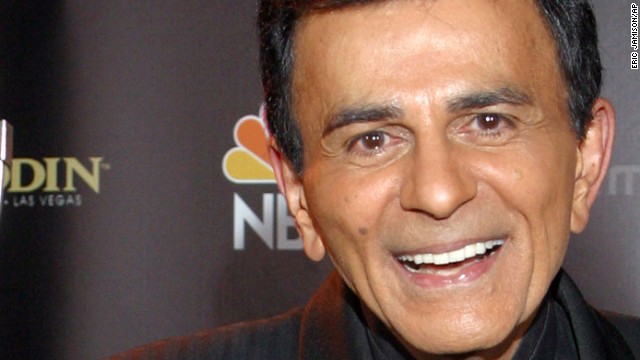 Casey Kasem, who entertained radio listeners for almost four decades as the host of countdown shows such as "American Top 40" and "Casey's Top 40," died early Sunday, June 15, according to a Facebook post from his daughter Kerri Kasem.
Kasem, the legendary DJ, host and voice-over talent, was born in Detroit and got his start at Michigan radio stations. Here he is in the DJ booth at Detroit's WJBK in 1957.
Kasem moved to the West Coast in the early '60s. He hosted the KTLA music show "Shebang!" in Los Angeles in 1965.
Kasem was also an actor, though his films weren't necessarily Oscar material. In 1971, he starred in "The Incredible 2-Headed Transplant" with Berry Kroeger, left, and Bruce Dern.
He made occasional TV guest appearances as well. "The Mystery of the Hollywood Phantom," an episode of "The Hardy Boys Mysteries" in which Kasem affected a Columbo-like persona, also starred Pamela Sue Martin (as Nancy Drew) and Parker Stevenson (as Frank Hardy).
Kasem married Jean Thompson in 1980.
Casey and Jean Kasem attend the 21st Annual International Broadcasting Awards in Century City, California, in 1981.
Casey and Jean Kasem are shown with children Kerri Kasem, Michael Kasem and Julie Kasem at the Lebanon-Syrian American Society of Greater Los Angeles Man of the Year Awards in Beverly Hills, California, in 1985. The children are all from Casey Kasem's first marriage, to Linda Myers.
Casey and Jean Kasem were frequent participants in the Hollywood social circuit. Here, they attend the Stars 'N Hearts Benefit Fund-raiser for Animals in 1982.
Kasem was an in-demand voice-over artist. He's probably best known for supplying the voice of Shaggy in the "Scooby-Doo" cartoon series.
Kasem hosted a number of countdown shows, including "American Top 40," "Casey's Top 40" and "America's Top 10." He handed off "AT40" to Ryan Seacrest in 2004.
Casey and Jean Kasem ride in the 2007 Hollywood's Santa Parade in Hollywood, California, on November 25, 2007.
Even after leaving his long-running radio shows, Kasem stayed active. He attended Fred Segal's birthday charity event and auction at a private residence in Malibu, California, on August 29, 2009.
Legendary DJ Casey Kasem
Legendary DJ Casey Kasem
Legendary DJ Casey Kasem
Legendary DJ Casey Kasem
Legendary DJ Casey Kasem
Legendary DJ Casey Kasem
Legendary DJ Casey Kasem
Legendary DJ Casey Kasem
Legendary DJ Casey Kasem
Legendary DJ Casey Kasem
Legendary DJ Casey Kasem
Legendary DJ Casey Kasem
Legendary DJ Casey Kasem
STORY HIGHLIGHTS
Casey Kasem died last month, but has yet to be buried
Even before his death, his family was battling over his care
Kasem's daughter says she doesn't know where the body is; his wife says it's not missing
(CNN) -- The family battle that surrounded radio host Casey Kasem during his final days continues to rage on after his death.
Although the 82-year-old passed away on June 15, his body has yet to be buried. Now, according to Danny Deraney, the publicist for Kasem's daughter Kerri Kasem, the family doesn't know where his body is.
"We are not surprised," Kerri Kasem told to CNN. "We expected something like this to happen."
Discord between Kasem's wife of more than 30 years, Jean Kasem, and his adult children from his first marriage led to multiple legal clashes and court hearings in the months before to Kasem died.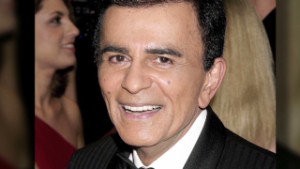 Casey Kasem: A legendary voice in radio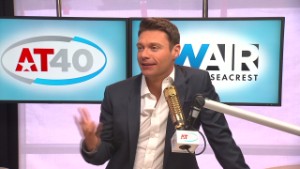 Ryan Seacrest remembers Casey Kasem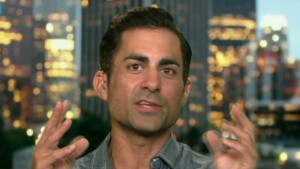 Casey Kasem's son speaks out
Kerri Kasem was given a conservatorship over her father's health, which Jean Kasem subsequently fought in court, claiming his children were prematurely ending their father's life.
Deraney says Jean Kasem has now removed her husband's body from a funeral home in Washington state.
Casey Kasem tributes: 'Keep reaching for the stars'
Before Kasem's passing, Jean Kasem removed her ailing husband from a care facility in Santa Monica and took him on a cross-country car journey to stay at a home of family friends in Washington.
Sgt. Rudy Camarena with the Santa Monica Police Department declined to comment, telling CNN, "Mr. Kasem's matter is an open and ongoing investigation."
Meanwhile, Jean Kasem denies that her late husband's body is missing.
"It's not," she told CNN. "Would you leave us to grieve in peace?"
Candace Corkum at the Gaffney Funeral Home in Tacoma, Washington, confirmed that the facility had been in possession of Casey Kasem's body, but said that it was no longer in their care.
She could not provide information about the circumstances in which his body was removed from the funeral home.
Casey Kasem and a lesson about end-of-life care
Opinion: Casey Kasem: Pop's 'gateway drug'