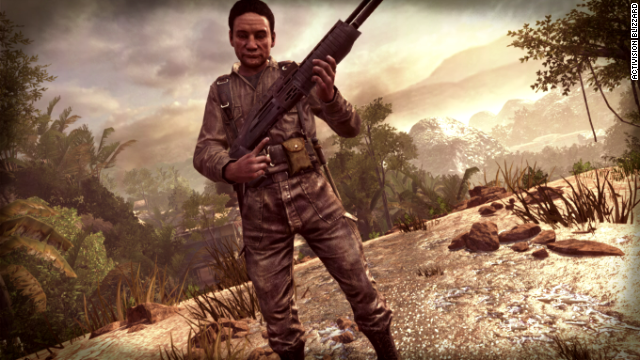 Former Panamanian strongman Manuel Noriega has filed a lawsuit against the makers of "Call of Duty: Black Ops II," saying his portrayal in the game hurts his reputation. But he's far from the first real person to appear in a video game -- and it's not the first controversy, either.
"Moonwalker" is the title of a series of Michael Jackson games based on the pop icon's 1988 movie of the same name. Although expansive soundtracks and pop-culture tie-ins are standard today, the series was groundbreaking in the gaming world, and images from the games can still be found in nostalgic corners of the Web.
"Punch-Out!!" and "Super Punch-Out!!" were arcade games first. But when they hit Nintendo home systems in 1987, the then-heavyweight champ's name and image were added. Players who beat a list of fictional characters could take on Tyson in a super-challenging bout. After Nintendo's license to use Tyson's image ended -- and he'd lost the title to James "Buster" Douglas -- the final opponent became "Mr. Dream."
"Revolution X" is early '90s arcade gaming in all its cheesy glory. The corrupt government of a dystopian near-future kidnaps Aerosmith during a concert because ... well ... we assume they had their reasons. The player then goes about trying to rescue all five band members. The soundtrack by the classic rockers may be the game's best feature -- particularly a Muzak version of "Love in an Elevator" that plays, you guessed it, on an elevator.
"Tony Hawk's Pro Skater" revolutionized sports games, and since it launched in 1999, no shortage of famous folks have appeared to take a turn in the half-pipe. Tattoo artist Kat Von D, Green Day frontman Billy Joe Armstrong and rapper Lil Jon are just a few who have appeared -- in addition, of course, to Hawk himself.
In 2000, what better villain was there for your violent first-person shooter than Saddam Hussein? "Soldier of Fortune" featured the former Iraqi dictator as well as fictional villains. It's not the only game to include Saddam. He's playable in 2000's "South Park Rally" alongside the likes of Stan, Cartman, Jesus and Satan.
The popular street-crime series "Grand Theft Auto" has featured the images and voices of a host of real celebrities. But singer/musician Phil Collins was the first. In 2006's "Vice City Stories," Collins played himself in a story in which the player tries to protect him from a mob hit. After completing the mission, the player can attend a concert at which Collins performs his hit "In the Air Tonight." It makes sense: Collins appeared on the '80s TV series "Miami Vice," which inspired the game.
"The Beatles: Rock Band" was released September 9, 2009. Or 9/9/9. Number nine. Number nine. Number nine. Closely supervised by the Beatles and their estates, the game lets players sing and strum along on a huge list of Beatles classics over scenes ranging from Liverpool's Cavern Club to their final performance on a London rooftop.
Released this year, "Sniper Elite III" is a tactical shooter set during World War II in which players, like in Quentin Tarantino's "Inglourious Basterds," do one thing and one thing only: kill Nazis. And with downloadable content, they can go after history's most-hated man, Adolf Hitler. Hitler's thankfully not around to sue over a game in which he can be snuffed in a variety of brutal ways.
Like Noriega, former CIA director and four-star Gen. David Petraeus also appears in fictional form in "Call of Duty: Black Ops II." The year is 2025, and Petraeus is serving as secretary of defense under President Marion Bosworth. Petraeus was not involved in the making of the game. Things got awkward when a week before the game's release, Petraeus stepped down from the CIA amidst scandal over an extramarital affair.
OK, as far as we know, there's not a real Bruno Delinger. But take a look at that photo, from last year's "Project X Zone," and follow along. Bruno, like "Project X Zone's" other characters, first appeared in another game, the lesser-known "Dynamite Cop." But that game was originally supposed to be "Die Hard," before Sega had trouble securing the rights to the 1988 movie starring, yep, Bruce Willis. (Note: Willis' 1987 blues album was called "The Return of Bruno.")
"Band Hero" is a more kid-friendly spinoff of Activision's classic "Guitar Hero" series. Pop-country singer Taylor Swift and Maroon 5's Adam Levine are just a couple of the real-world artists whose images are used in the 2009 game.
Not all artists were so thrilled with "Band Hero," though. No Doubt and lead singer Gwen Stefani filed a lawsuit, saying they'd agreed to their likenesses being used with only three of their own songs. Instead, players could perform songs by other artists using a Stefani avatar. That included "Honky Tonk Women" by the Rolling Stones, which, the lawsuit claimed, amounted to "an unauthorised performance by the Gwen Stefani avatar in a male voice boasting about having sex with prostitutes." The suit was settled out of court.
Real people in video games
Michael Jackson
Mike Tyson
Aerosmith
Tony Hawk
Saddam Hussein
Phil Collins
The Beatles
Adolf Hitler
David Petraeus
'Bruce Willis'
Taylor Swift
No Doubt