'Saturday Night Live': Noel Wells and John Milhiser are also out
updated 5:26 AM EDT, Thu July 17, 2014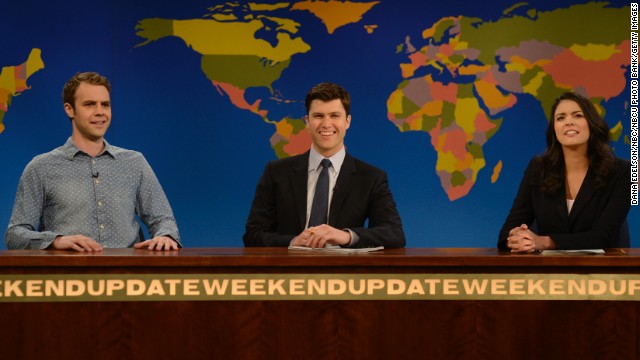 Brooks Wheelan, left, appearing with Colin Jost and Cecily Strong on "Saturday Night Live," recently tweeted that he was "fired" after one season on the show. He's not the first to be dumped from the late-night series.
According to Deadline,
John Milhiser (in the bra) has also been let go from "SNL" and will not be returning in the fall of 2014. His contract was reportedly not renewed after one season.
Deadline also reported that Noel Wells -- who garnered some buzz for her portrayal of HLN's Nancy Grace -- will not be returning after her single season from 2013 to 2014.
dubious honor of having been fired twice from "SNL."
He was fired in 2001 after budget cuts, only to return in 2002. He was let go again in 2006.
Chris Parnell has the
fired for being curvy, telling People
magazine, "And to clarify, the issue isn't that I'm too fat, it's that I'm too phat. Can I get a WHAT-WHAT!"
Casey Wilson, right, doing a skit with Amy Poehler, was let go in 2009 after only one season. She laughed off reports she was
Michaela Watkins, left, played Hoda Kotb to Kristen Wiig's Kathie Lee Gifford during "Today" skits. But that didn't stop Watkins from getting the boot in 2009.
Gilbert Gottfried appeared on "SNL" from 1980 to 1981 before he was let go.
Damon Wayans, left, and Anthony Michael Hall were players on "SNL" from 1985 to 1986 before being let go. They've since found fame in film.
She later said
, "I was so used to being a standup comedian, and I had written that sketch. I never thought of it as something I could make a mistake at. I knew all the rules and everything. It just it never crossed my mind that I would make a mistake."
Jenny Slate spent 2009 to 2010 on the show but was let go after dropping an f-bomb live on air.
The Huffington Post in 2013
. "I was that last year of the old guard, and they started anew. And by the way, I wrote not a single funny sketch, so that might have something to do with it, too."
Sarah Silverman was virtually a blip on "SNL's" radar. Seen here with Kevin Nealon on the "SNL" set in 1993, Silverman was gone by the start of the 1994-95 season. "It wasn't like I did something wrong," the comedian told
Fired from 'SNL'
Fired from 'SNL'
Fired from 'SNL'
Fired from 'SNL'
Fired from 'SNL'
Fired from 'SNL'
Fired from 'SNL'
Fired from 'SNL'
Fired from 'SNL'
Fired from 'SNL'
Fired from 'SNL'
Fired from 'SNL'
STORY HIGHLIGHTS
The pair's contract was not renewed
The news comes the day after Wheelan announced he was fired
They were three of eight featured players
(EW.com ) -- And two more bite the dust: A source confirms to EW that "Saturday Night Live" has elected not to renew the contracts of Noël Wells and John Milhiser, both of whom joined the sketch show last fall as featured players. Deadline first reported the news.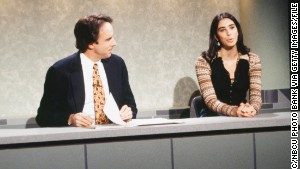 SNL cast members who didn't make the cut
Word of Wells and Milhiser's oustings comes one day after another former featured player, Brooks Wheelan, announced his own exit from the show in an irreverent tweet ("Fired from New York, it's Saturday Night!").
Milhiser's booting shouldn't come as a surprise to anyone who kept up with "SNL" last season; the New Jersey-born comedian got a minimal amount of screen time throughout the year, performing just a handful of impressions (including Jon Cryer and Matthew McConaughey) and a single recurring character (if "student in two Shallon sketches" even counts). The departure of Wells, the only new female cast member to join the show last fall, is slightly more surprising (Sasheer Zamata didn't join the show until January). Since SNL will presumably lose Nasim Pedrad to the Fox sitcom Mulaney in September, it seemed as though Wells, who specializes in impressions (Zooey Deschanel, Kristen Stewart, Lena Dunham), may have been kept around to help fill Pedrad's old spot.
Milhiser, Wells, and Wheelan were just three of the eight new featured players added to "SNL" during the rebuilding year that was season 39. The futures of Beck Bennett, Colin Jost (the show's head writer as well as its new Weekend Update co-anchor), Kyle Mooney, Mike O'Brien (a longtime writer and first-time featured player last year), and Zamata remain unclear—though Deadline writes that O'Brien could return to the writers' room full-time come September.
See the original story at EW.com.
CLICK HERE to Try 2 RISK FREE issues of Entertainment Weekly
© 2011 Entertainment Weekly and Time Inc. All rights reserved.