STORY HIGHLIGHTS
NEW: Vladimir Putin says U.S. sanctions are pushing Russia-U.S. relations into a stalemate
President Barack Obama says Russia failed to take steps to end Ukraine conflict
New sanctions target Russian banks, energy, defense firms, as well as Ukraine separatists
The Pentagon says Russia has increased troops at Ukraine's border
Washington (CNN) -- Russia has failed to take steps to end the Ukraine conflict, President Barack Obama said Wednesday in announcing expanded sanctions targeting two banks, two energy companies, Ukraine separatists and defense companies.
European Union leaders also said they intended to increase sanctions, signaling growing Western concern over Russia's continued support for separatists battling the Ukrainian military in the country's eastern region.
"We have to see concrete actions, and not just words that Russia in fact is committed to trying to end this conflict along the Russia-Ukraine border," Obama told reporters at the White House.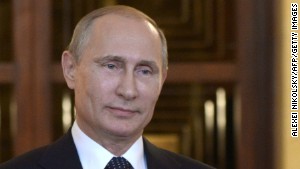 Lithuania: Sanctions invite Putin aggression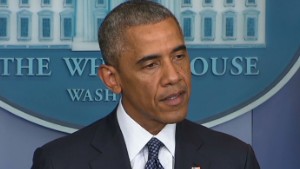 New sanctions on Russia over Ukraine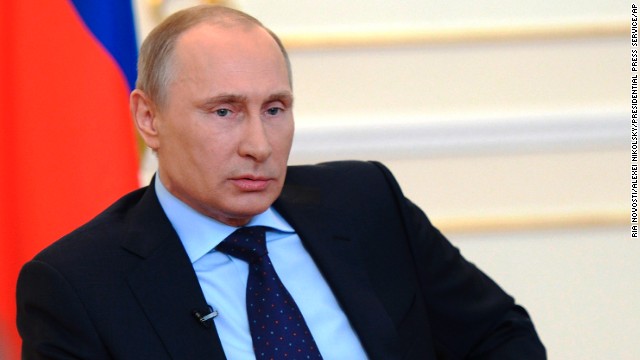 Russian President Vladimir Putin: Russian forces are in a tense standoff with Ukrainian forces in Crimea, an autonomous region of eastern Ukraine with strong loyalty to neighboring Russia. Putin has denied that Russian troops are in Crimea, but he told U.S. President Barack Obama that Russia's Parliament approved military action in Ukraine because it "reserves the right to defend its interests and the Russian-speaking people who live there."
Former Ukrainian President Viktor Yanukovych: Ukraine has been in chaos since February, when Yanukovych was ousted after anti-government protests turned deadly in the capital of Kiev. The demonstrations started in late November, when Yanukovych spurned a deal with the European Union, favoring closer ties with Russia instead. The Ukraine Parliament voted Yanukovych out of power on February 22, and he fled to Russia. But in a recent news conference, the former President insisted he was still the boss and that he wants nothing more than to lead his country to peace, harmony and prosperity.
Ukrainian Prime Minister Arseniy Yatsenyuk: Ukraine's interim prime minister has urged Russia to pull back its military, warning that the two countries were "on the brink of disaster." The comments came as a convoy of Russian troops rolled toward Simferopol, the capital of Crimea, a day after they took over the strategic Black Sea peninsula without firing a shot. "There are no grounds for the use of force against civilians and Ukrainians, and for the entry of the Russian military contingent," Yatsenyuk said. "Russia never had any grounds and never will."
U.S. President Barack Obama: Obama has said any violation of Ukraine's sovereignty and territorial integrity would be "deeply destabilizing," and he warned "the United States will stand with the international community in affirming that there will be costs for any military intervention in Ukraine."
Crimean Prime Minister Sergey Aksyonov: Aksyonov was installed as the prime minister of Crimea after armed men took over the Crimean Parliament building in late February. The pro-Russian leader asked Putin for help in maintaining peace on the Black Sea peninsula where Russia's fleet is based. Security forces "are unable to efficiently control the situation in the republic," he said in comments broadcast on Russian state channel Russia 24.
Russian Foreign Minister Sergei Lavrov: At a U.N. human rights meeting in Geneva, Switzerland, Lavrov brushed aside claims that Russia's troop movements were an act of aggression. "I repeat: This is a matter of defending our citizens and our compatriots, of defending the most important human right -- the right to life," he said.
U.N. Secretary-General Ban Ki-moon: Ban dispatched a special envoy to Ukraine on Sunday, March 2, a spokesman for his office said. The United Nations has warned Russia against military action, while Ban told Putin "dialogue must be the only tool in ending the crisis."
U.S. Secretary of State John Kerry: America's top diplomat has condemned what he called Russia's "incredible act of aggression." Speaking on the CBS program "Face The Nation," Kerry said several foreign powers are looking at economic sanctions against Russia if Russia does not withdraw its forces.
Ukrainian President Olexander Turchynov: Turchynov became acting president of Ukraine after Yanukovych's ouster. Like Prime Minister Arseniy Yatsenyuk, he has warned that any Russian military intervention would lead to war.
Ukrainian opposition leader Vitali Klitschko: The former heavyweight boxing champion -- and brother of current champion Wladimir -- is probably the most well-known figure representing the Ukrainian opposition to Yanukovych. He heads the Ukrainian Democratic Alliance for Reforms party, but the opposition bloc goes well beyond Klitschko and that party.
Former Ukrainian Prime Minister Yulia Tymoshenko: Tymoshenko, considered a hero of a 2004 revolution against Yanukovych, was released in late February after 2½ years behind bars. In an exclusive interview with CNN, Tymoshenko called on the world to help Ukraine: "If Ukraine is left on its own and is given to Russia, then the world will change. Not only politics and life in Ukraine will change -- the politics and life will change practically everywhere in the world."
Russian Prime Minister Dmitry Medvedev: In a post on his official Facebook page, Medvedev called Yanukovych's ouster a "seizure of power." "Such a state of order will be extremely unstable," Medvedev said. "It will end with the new revolution. With new blood."
German Chancellor Angela Merkel: Merkel's office said Putin had accepted a proposal to start a political dialogue and establish a "fact-finding mission" to Ukraine, possibly under the leadership of the Organization for Security and Co-operation in Europe.
British Prime Minister David Cameron: Cameron posted on his verified Twitter account that he and Obama were in agreement that "Russia's actions are unacceptable and there must be significant costs if they don't change course."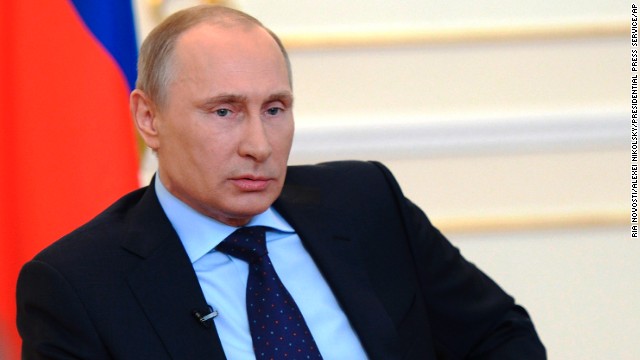 Crisis in Ukraine: Key players
With the new sanctions, "what we are expecting is that the Russian leadership will see once again that its actions in Ukraine have consequences, including a weakening economy, and increasing diplomatic isolation," the President said.
His Russian counterpart, Vladimir Putin, warned that the sanctions were harming ties between the two nations.
"They generally have a boomerang effect and, without a doubt, in this case, are driving the Russian-U.S. relations into a stalemate and seriously damaging them," he said, according to a Kremlin transcript of his remarks to reporters on a visit to Brazil.
"I am certain that this is harmful to the U.S. Administration and American people's long-term strategic national interests."
He accused the United States of pushing the Ukrainian authorities toward a continued conflict, whereas Russia wants to see an immediate end to hostilities and a negotiated solution involving all sides, he said.
Ukrainian President: Peace depends on Putin's mood
The latest U.S. sanctions build on earlier steps by targeting two major Russian banks -- Gazprom Bank and VEB -- and two energy companies -- Novotek and Rosneft.
They will not be able to get new medium- and long-term financing in the United States, senior administration officials told reporters in a conference call.
In addition, the new sanctions freeze any U.S. assets and prohibit American business contacts for eight Russian arms companies that make weapons, including small arms, mortars and surface-to-air missiles. One of the eight is the Kalashnikov Concern, maker of the AK-47 and other arms.
Also on the list: Four Russian government officials, including the minister of Crimean affairs, along with the self-styled Luhansk People's Republic and Donetsk People's Republic leading the separatist campaign in eastern Ukraine, and Aleksandr Borodai, the self-declared "prime minister" of the Donetsk group.
Targeting the separatist groups that simulate government structures prevents them from seeking financing, the senior administration officials noted.
Earlier this year, the United States and Europe imposed a range of sanctions in response to Russia's annexation of Crimea this spring and massing of troops along its eastern border with Ukraine. The earlier sanctions included asset freezes and travel bans.
19 Ukrainian troops killed in rocket attack, military says
Russia and Ukraine have since been engaged in a tense standoff, including clashes between pro-Russian separatists and Ukrainian forces in the Donetsk and Luhansk regions.
"I've repeatedly made it clear that Russia must halt the flow of weapons and fighters across the border into Ukraine, that Russia must urge separatists to release their hostages and support a cease-fire, that Russia needs to pursue internationally-mediated talks, and agree to meaningful monitors on the border," Obama said.
Russia has failed to do any of those steps, he added.
Ukraine's government in Kiev has accused Russia of allowing weapons and military equipment, including tanks, to cross the border illegally into the hands of pro-Russian separatists.
The senior administration officials who briefed reporters also leveled the same accusation.
Meanwhile, the Pentagon said on Wednesday Russia now had 12,000 troops on the border with Ukraine, as well as some heavy weapons. The troop numbers had fallen to about 1,000 previously from a high of an estimated 40,000 forces earlier this year.
CNN's Jim Sciutto and Barbara Starr contributed to this report.