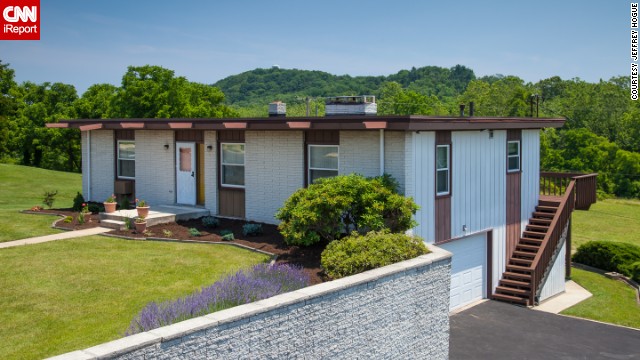 This 1965 house in Kenthorst, Pennsylvania, is an example of the "time capsule homes" sought out by certain buyers. It went on the market in 2012 but took a year to find the right buyer. Realtor Jeffrey Hogue, who has sold 100 mid-century homes, recently shared photos of the house and another just like it with CNN iReport.
Hogue advises sellers of a mid-century home like the one in Kenthorst to keep the original look as much as possible.
The interior of the house -- especially the furniture -- is reminiscent of the television show "Mad Men," which is set in the 1960s.
The kitchen has kept the same look for decades.
The bedroom, with its low-hanging light, has a charm that takes you back to an earlier era.
The house has a bar, which is emblematic of the time.
Can we talk about those chairs?
A onetime beauty salon, which was run by the original owner, can be found in the house.
This 1956 home in Shillington, Pennsylvania, drew lots of interested buyers when it went on the market in 2012, according to Hogue. It sold within three weeks for $227,000, more than the asking price. The original owner was "the epitome of June Cleaver with a twist of Doris Day," who sold it after her husband died. The couple had lived there for nearly 60 years.
Inside the Shillington house, the couch alone doesn't let you forget this is a mid-century home.
The living room -- and the view -- is spectacular, to say the least.
Everything about this room, from the chair, to the paneling, to the paintings, adds to the 1950s feel.
The dining room furniture has a charm all its own.
Can you imagine lounging here 60 years ago?
The lure of a time-capsule home
The lure of a time-capsule home
The lure of a time-capsule home
The lure of a time-capsule home
The lure of a time-capsule home
The lure of a time-capsule home
The lure of a time-capsule home
The lure of a time-capsule home
The lure of a time-capsule home
The lure of a time-capsule home
The lure of a time-capsule home
The lure of a time-capsule home
The lure of a time-capsule home
The lure of a time-capsule home
STORY HIGHLIGHTS
Mid-century houses are popular among a certain segment of home buyers
Sellers are often encouraged to leave the homes as untouched as possible
Fans are interested in the nostalgic look of the houses
(CNN) -- It looks straight out of "Mad Men."
The two-bedroom/two-bath house in Kenthorst, Pennsylvania, was built in 1965 and looks just as it did then, complete with a bar, floral wallpaper in some rooms and wood paneling in others, and a study that once was a hair salon.
In today's housing market, still struggling to rebound, homes stuck in another century might seem like they'd be difficult to sell. But some buyers are interested in "time-capsule houses" -- especially those built in the middle of the 20th century.
And Jeffrey Hogue, owner of Weichert Realtors Neighborhood One, is especially interested in selling them, having closed on more than 100 in his 21-year career.
"The mid-century home reminds me of bell bottoms," he said. "If you wait long enough, they will be back in style. Mid-century homes have seen a rise in popularity over the last several years."
Vanessa Grall, editor of the nostalgia website Messy Nessy Chic, said time-capsule homes are "a growing phenomenon."
"I think it's comforting amidst all this fast-paced technology to know there's such an enthusiastic community out there interested in preserving and looking back rather than forgetting," she said in an email. "It's also of course a nice balance to compliment the luxuries of modern technology and design in the home with touches of nostalgia."
At 1,600 square feet, the Kenthorst home sold for $134,000 in September as part of an estate sale, after being on the market a year. It was a steal compared to the $145,000 average price of homes in the area.
The new owner, a woman in her 40s, plans to preserve the house, he said.
"She was very artsy; she fell in love with it as soon as she saw it," he said.
Hogue is used to selling homes in the $400,000 or $500,000 range but usually jumps at the chance for a mid-century home sale.
"They're just a favorite of mine because of their architecture and build quality; you don't find much stucco in a mid-century home," he said.
Hogue also told CNN that there are unique challenges to selling a home like this. For one thing, you can't treat it like a modern house going on the market. Freshening up, depersonalizing, and changing the house in a big way? Not a good idea.
"Whenever I am confronted with a seller of a mid-century home, I urge them not to listen to all the people telling them to remove the wallpaper, wall murals and other characteristics that make the home special," he said.
"Leave it as it is," Hogue warns sellers. "If it is not broken or completely worn out, leave it alone. Sell what you have, not what everyone thinks it should be." Hogue specifically tries to deter his clients from investing in modern-day renovations, which can often be pricey.
In another niche in the market, some buyers are modernizing homes built in the 1970s, as Atlanta real estate agent Mary Anne Walser did with her own house. She has sold homes of this kind, as well.
"People take these old homes and open them up -- like an 'atomic ranch' is blowing out the interior walls and the ceiling," she said.
"People think of modern homes as cold and boxy and somewhat ugly on the outside. We call this a warm modern style. Now everybody wants an open kitchen -- they want to see what's happening in other parts of the house."
Of course, time-capsule homes aren't everyone's cup of tea.
"The lack of closet space, and high-ceiling architecture is non-existent in most of these homes," Hogue said.
So what's the draw for house hunters? Many of the potential buyers are in their 40s and 50s and want to connect to something from their past, according to Hogue.
"It might recall the style of home they grew up in when they were a child and it might connect with them and bring back good memories for them," said Kim Skumanick, president of the Pennsylvania Association of Realtors.
"We are sometimes finding there is a single (original) owner -- and the home is finally for sale by that person, so we might still see some of the pink or green tile in the bathroom or some of the more dated colors that were so predominant at that time."
Architectural enthusiasts are also interested in mid-century homes, according to Hogue.
"Many purists want the property with all the original fixtures. Once they are remodeled to later standards, the purist is done."
Some of the old-fashioned touches, like walk-up attics and full-brick exteriors, add to the charm of many mid-century homes.
It also doesn't hurt that they're generally less expensive than more recently built homes.
And, there's the old adage, "Location, location, location."
"There's no doubt that they have increased in popularity as people move closer to urban areas," Hogue said. "The location's a huge draw factor."