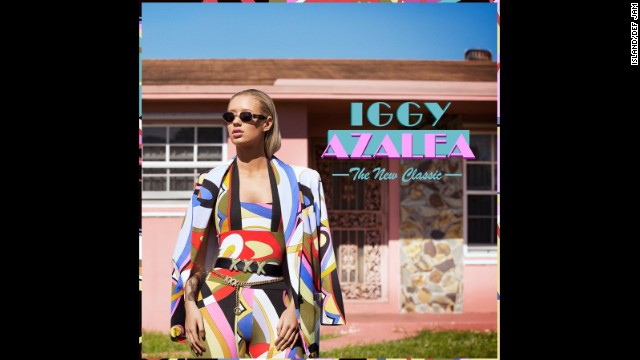 Every summer season has at least one song that seems to be the soundtrack for every barbecue, beach party or road trip, no matter where you are in the nation. It's actually often more than one, but this list is about the tracks that dominated both culturally and on the Billboard Hot 100 singles chart during the summer months. So far for 2014, Iggy Azalea's "Fancy" from her album "The New Classic" is the winner.
Robin Thicke's "Blurred Lines" grooved its way to No. 1 and went on to rule the summer, along with Daft Punk's "Get Lucky" and Miley Cyrus' "We Can't Stop."
Despite many having issues with its lyrics,
"Call Me Maybe." With a song so catchy that you knew the lyrics even if you didn't want to, the star-in-the-making took her Justin Bieber-endorsed track all the way to No. 1.
Gotye and Kimbra were set to continue their unbeatable success with "Somebody That I Used To Know" last summer ... but then Carly Rae Jepsen showed up with
"Party Rock Anthem" to ensure it was still relevant when summer rolled around, but we're happy they did. With its mix of pop, EDM and hip-hop plus optimistic, devil-may-care lyrics, summer listeners were more than willing to "just have a good time" with the No. 1 single.
LMFAO didn't need to do more than name their January 2011 release
"California Gurls," Perry was everyone's go-to for the season.
Katy Perry's 2010 album "Teenage Dream" might as well have been titled "Summertime." Between the title track, the effervescent "Last Friday Night (T.G.I.F.)" and the salacious, candy-coated No. 1 hit
"Boom Boom Pow" and its lighter, more sentimental companion, "I Gotta Feeling."
In 2009, The Black Eyed Peas were poised to provide a single for all seasons. Their album "The E.N.D." had two perfect tracks for long summer nights:
"I Kissed A Girl" was as beloved as it was ballyhooed, but one place it didn't ride the fence in 2008 was on the Hot 100. Staying at No. 1 for seven weeks, the summer single helped turned Perry into a global pop star.
Katy Perry's controversial
"Umbrella" or hate it, Rihanna's single from her "Good Girl Gone Bad" album was the summer of 2007's banner song. The singer had issued beach-friendly hits in the past, such as 2005's burner "Pon De Replay," but the slightly darker "Umbrella" reached farther by going all the way to No. 1 -- and staying there for seven weeks.
Whether you love the hook on
"Promiscuous." She held on to her position for six weeks before succumbing to a takeover from Fergie's "London Bridge."
With an assist from Timbaland, Nelly Furtado put out the 2006 season's favored pop sound with
"We Belong Together" from the fan-and-critic adored "The Emancipation of Mimi." Made for summer's slower moments, "We Belong Together" was No. 1 for 14 nonconsecutive weeks.
Mariah Carey was the comeback star of the year with 2005's
"Burn," had replaced "Yeah!" at the top of the Hot 100 by that point. The R&B singer ended up competing with himself once again when his song "Confessions Part II" snuck up on "Burn" in late July to interrupt its chart domination.
Usher's "Confessions" album gave a steady supply of hits throughout 2004, starting with the ubiquitous "Yeah!" with Lil Jon. That single was still playing well into the summer, but one of Usher's more intimate songs,
"Crazy In Love"
had all of the elements of a summer hit: catchy lyrics, an irresistible beat, built-in dance moves and
a hot music video
to match.
When Beyoncé stepped out on her own apart from Destiny's Child, she did it with her future husband and a colorful single at the ready. In 2003,
"Hot In Herre," and the mid-tempo love saga "Dilemma," which featured Kelly Rowland.
In the summer of 2002, mainstream music listeners had taken up residence in "Nellyville." Rapper Nelly had not one, but two singles hit No. 1 back-to-back between Memorial Day and Labor Day: the aptly titled party anthem
"Lady Marmalade" from the 2001 "Moulin Rouge!" soundtrack took on a life of its own when it hit No. 1 on the Hot 100 in early June. The medley, which featured Christina Aguilera, Pink, Lil' Kim and Mya reinventing the original hit, was easily the most recognizable song associated with Baz Luhrmann's film.
"It's Gonna Be Me" had but a brief run at the top of the Hot 100 in 2000, as Aaliyah's "Try Again," Matchbox Twenty's "Bent," Santana's "Maria, Maria" and Sisqo's "Incomplete" also landed there during the busy music season. But "It's Gonna Be Me" was also the boy band's first Hot 100 No. 1, and its two-week cruise as the top single proved the power of the 'N Sync craze.
Granted, 'N Sync's
"Genie In A Bottle," which was released in June 1999 and ascended to No. 1 in early August.
Picking up where Lopez left off, Christina Aguilera made her own vocal debut with
"If You Had My Love," was No. 1 for five weeks that summer.
Jennifer Lopez moved from Fly Girl to fly actress to singer with her 1999 album, "On the 6." The star's first single,
"The Boy Is Mine" arrived at No. 1 on the June 6 chart that year and didn't budge until Aerosmith's "I Don't Want to Miss A Thing" came around in September.
This epic R&B face-off between Brandy and Monica was one of the biggest hits of the '90s, let alone the standout single for the summer months of 1998.
"I'll Be Missing You." The song, which was in remembrance of the late Notorious B.I.G. and was included in the artist/producer's collaborative album "No Way Out" in 1997, debuted at No. 1 in mid-June and stayed in that spot through August.
The Police's "Every Breath You Take" shows up on this summer hot list twice thanks to Puff Daddy's sampling of it in his track with Faith Evans and 112,
"Macarena"
-- which launched
a dance craze
-- blew up the Hot 100 in August of '96 when it reached No. 1. "Macarena" was a lighthearted counterpart to '96's other huge hit, Bone Thugs-n-Harmony's
"Tha Crossroads."
Not even the passage of 17 years can erase the pulsating beat of this one-hit-wonder from our minds. The Bayside Boys' remix of Los Del Rio's
TLC's "CrazySexyCool" had already spawned a Hot 100 No. 1 with "Creep" in early 1995, and the popular girl group returned to the top that summer with the cautionary tale of
"I Swear" was nearly the only No. 1 on the Hot 100 during the summer of '94. After staying at the top throughout June and July, it's chokehold was loosened in August thanks to Lisa Loeb's "Stay (I Missed You)" from "Reality Bites."
All-4-One's sincere love ballad
"That's the Way Love Goes" set the mood for a sultry summer in '93. Ms. Jackson's reign at No. 1 came to an end in mid-July, and was quickly followed by UB40's "Can't Help Falling In Love" through Labor Day.
Janet Jackson's single
"Baby Got Back," was No. 1 for five weeks.
Sir Mix-a-Lot's immortal proclamation that he likes big butts and cannot lie was the hottest song out around the July 4 holiday of 1992. The single,
"(Everything I Do) I Do It For You" was No. 1 for six weeks in 1991 following Paula Abdul's chart-topper "Rush Rush."
Keeping with the trend of slow summer jams, Bryan Adams' contribution to the "Robin Hood: Prince of Thieves" soundtrack became the crown prince of the Hot 100.
"Vision of Love." Although it, like Marx's hit the year before, had a slow tempo and lacked sunny turns of phrase, "Vision of Love" nonetheless climbed to No. 1 and then stayed there for the month of August.
In 1990, Mariah Carey stunned listeners with her debut single
"Right Here Waiting" doesn't have any of the trademarks of a summer song -- it's a ballad about a guy who's going "insane" from being apart from his love -- but it did have notable success in 1989's busy summer. Following Paula Abdul's "Forever Your Girl" and Martika's "Toy Soldiers," Marx had the top spot for three weeks.
Richard Marx's
"Dirty Diana," a hard-edged rock hit that didn't dominate the Hot 100 in the summer of '88, but did add another No. 1 to Jackson's repertoire.
On the heels of Michael Jackson's "Man in the Mirror" came
"Roll With It" rolled on the charts for weeks after it bowed in June '88, hitting No. 1 by the end of July.
Steve Winwood's
"Alone" was still a major hit that summer as it knocked Houston's single out of No. 1 in mid-July.
While Houston's "I Wanna Dance" was probably the preferred pick for partiers, Heart's
"I Wanna Dance With Somebody (Who Loves Me)." The lead single from her 1987 album "Whitney," "I Wanna Dance" arrived that May and soon climbed to No. 1 by mid-summer.
The best summer songs are bright, catchy and uncomplicated -- all of which describes Whitney Houston's irrepressible pop song
"Papa Don't Preach" arrived in June 1986, and climbed to No. 1 on the Hot 100 that August. The single went on to earn Madge her second Grammy nod.
Madonna's
"Everybody Wants to Rule the World," and their latter single, "Shout." That song stayed at No. 1 for just a few weeks before being replaced by Huey Lewis and the News' song from the "Back to the Future" soundtrack, "The Power of Love."
Tears for Fears actually had two songs on the Hot 100 that were popular in the summer of '85:
"When Doves Cry" as the first single from the soundtrack to his movie "Purple Rain" in 1984. The now-iconic song became his first American No. 1.
Prince released
Summer hits from the past 30 years
Summer hits from the past 30 years
2012: 'Call Me Maybe'
2011: 'Party Rock Anthem'
2010: 'California Gurls'
2009: 'I Gotta Feeling'
2008: 'I Kissed A Girl'
2007: 'Umbrella'
2006: 'Promiscuous'
2005: 'We Belong Together'
2004: Anything from Usher's 'Confessions'
2003: 'Crazy In Love'
2002: 'Hot In Herre'
2001: 'Lady Marmalade'
2000: 'It's Gonna Be Me'
1999: 'Genie In A Bottle'
1999: 'If You Had My Love'
1998: 'The Boy Is Mine'
1997: 'I'll Be Missing You'
1996: 'Macarena (Bayside Boys Mix)'
1995: 'Waterfalls'
1994: 'I Swear'
1993: 'That's the Way Love Goes'
1992: 'Baby Got Back'
1991: '(Everything I Do) I Do It For You'
1990: 'Vision of Love'
1989: 'Right Here Waiting'
1988: 'Dirty Diana'
1988: 'Roll With It'
1987: 'Alone'
1987: 'I Wanna Dance with Somebody'
1986: 'Papa Don't Preach'
1985: 'Shout'
1984: 'When Doves Cry'