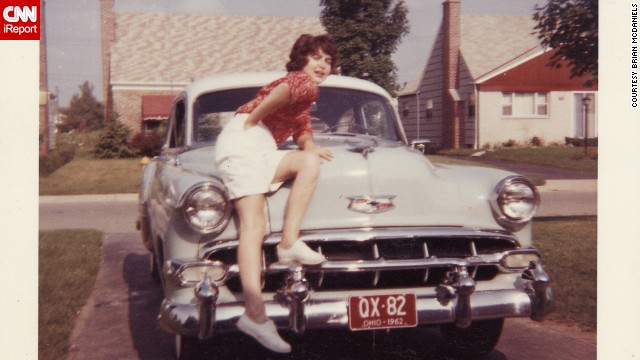 Brian McDaniels
bought this powder blue 1954 Chevrolet Bel Air when he was 18. It's the car he would meet his future wife Linda in. She is seen here in 1962, sitting on the car in front of his driveway in Columbus, Ohio.
Janie Lambert
had her heart set on a 1960s Volkswagen Beetle. She was ecstatic to find this 1968 candy apple red number in a Knoxville, Tennessee, used car lot, partly because it went perfectly with the red, white and blue peace decal that she had been saving for her first car.
At 19,
John Bunting
was lucky enough to own a few cars as a young man in the '60s, beginning when he was in high school. Here, Bunting and his wife Judy stand beside the decorated Pontiac on their wedding night, in 1968. He bought it brand-new that year for $4,200.
Linda Glovach
said. This is a photo of her boyfriend tending to his 1966 Chevrolet Chevelle in Elmont, New York, in 1967.
"Back then, not everyone had a car. So if a guy did, he was considered way cool,"
John Hancock
turned 18, he bought this 1969 Ford Mustang. He loved it because it was "very, very fast." Here he is standing with his car in Donnellson, Iowa, in July 1973.
When
Margie Santiago
said her father was the "epitome of cool" in 1968, with his leather jacket and his first car, a Chevrolet Bel Air. Santiago said her father remembers it being a '59 model, but some intrepid CNN readers pointed out that it's actually from 1957. Alex Nunez, director of RoadandTrack.com, confirmed that the car's trim shape indicates it is a 1957 Bel Air.
John McClain
loved driving around in this muscle car in the summer of 1969 when he was just 16 years old. The 1966 Oldsmobile was actually his older brother's car, but he was deployed to Vietnam from 1969 to 1971, so McClain was able to drive it around for two years until his brother returned home.
Kathi Cordsen
got married in January 1970, she and her husband left the wedding reception in her mother-in-law's 1964 Buick Skylark. They didn't realize it at the time, but that car was a wedding present. "We drove it home on our wedding day and never had to give it back," she said. "My husband and I were pretty shocked and extremely happy."
When
1954 Chevrolet Bel Air
1968 Volkswagen Beetle
1968 Pontiac GTO
1966 Chevrolet Chevelle
1969 Cobra Jet Mustang
1957 Chevrolet Bel Air
1966 Oldsmobile 442
1964 Buick Skylark
STORY HIGHLIGHTS
A car was the ultimate status symbol for teens in the 1960s
Movies, music and pop culture glamorized the '60s car scene
Young men were groomed into car consumers at a young age
1960s cars still evoke romantic memories and style for people today
Editor's note: Do you have 1960s photos you would like to share? Upload them to CNN iReport.
(CNN) -- There were two distinct groups of guys in high school back in the '60s: Those who had cars, and those who didn't. For the sake of your reputation, you didn't want to be the kid without a car, says 70-year-old Brian McDaniels.
From the time he was 12, McDaniels counted the days until he could get his license. He worked at a grocery store, sold ice cream and delivered newspapers just so he could buy a car as soon as he turned 16. He purchased a 1953 Ford Coupe in 1960 for $200 before he could even legally drive it, getting his license a few days after. Two years later, he traded that car in for his shining glory, a 1954 Chevy Bel Air.
The Chevy Bel Air was as amazing as he dreamed. This car was the center of his social life. It was where he listened to his local Columbus, Ohio, radio station's Top 40 hits for hours on end, where he ate countless meals with friends at the drive-thru, and where he had his first date with the girl of his dreams, the woman he eventually married.
"When I got the car, it was really hard to describe the pride," McDaniels says. "To work for so long and then to get it. There was a certain culture when you got the car, you spent time with the car."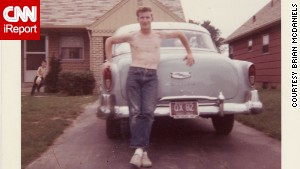 Brian McDaniels, 18, stands in front of his 1954 Chevy Bel Air.
The 1960s era is known for its collection of trends and fads, from hippie fashion to British rock 'n' roll, but nothing defined youth culture more than the '60s car, says Matt Anderson, a historian and curator at The Henry Ford museum in Dearborn, Michigan.
Songs from bands like the Beach Boys romanticized the American car, and movies like "Goldfinger" and "Bullit" emphasized the power and speed of those classic '60s muscle cars, Anderson says. Cars were the ultimate status symbol that set teens apart from their friends.
It was a big deal for a teenager to actually own one. In the 1960s, nearly 79% of American households owned fewer than two vehicles, and more than one-out-of-five households didn't own a vehicle at all, according to the U.S. Department of Energy. It's a stark contrast from today's car ownership norms, where you're hard pressed to find a vehicle-less household outside of a few major cities.
"Back then those who had cars were gods among people," Anderson says. "There was a lot of envy and admiration for those who had cars. People gravitated to those who had cars, and you'd want a car to have that status."
Cars were pervasive. It was what everyone was talking about ... Nowadays, we talk about smartphones.
Matt Anderson, historian at The Henry Ford museum
Linda Glovach, 67, remembers how her life in the suburbs of New York changed after she got a blue 1961 Chevrolet Impala with a white convertible top as a high school graduation present from her grandmother. "I called everyone up," she says. "Everyone I knew came over to look at it. ... It wasn't like today where if you have even a little bit of money, you can get a car. If one person got a car in the neighborhood, all your friends went for rides in it. I was lucky to get it."
That car gave her a huge confidence boost and revved up her social life. It was an unexpected gift that transformed the way she and her girlfriends spent time together. Living on Long Island, Glovach did whatever she could to escape into the city. With her car, she could now take other girls along for the ride. "We would pile in as many people as we could," she said. "It wasn't that I was a rich girl, but I was a cool person to hang out with."
Glovach and her girlfriends would take every opportunity they got to drive the Long Island Expressway into Manhattan. The expressway back then wasn't a frantic scene of gridlock traffic and anxious drivers trying to get to work. The expressway was essentially a pickup scene. Glovach recalls cruising down the highway with her hair all teased up and a scarf strung delicately around her neck.
"I found freedom with my car," Glovach said. "I lived in the suburbs and it was dreary. Houses were on top of each other and a lot of mothers were homemakers."
Freedom, independence, love and popularity were just some of the abstract ideas that teens pinned onto car ownership. That's not always the case with today's generation of teenagers, says car historian Anderson
"Owning a car now is different from owning a car back then," says McDaniels, who was desperate to own a vehicle as soon as he turned 16. He sees the shift of priorities for teenagers today with his 16-year-old granddaughter. She took three years to get her driver's license because she doesn't yet see a need to own a car herself since she uses public transportation often.
Despite the changing relationship between teens and cars today, Anderson says cars made and driven in the 1960s still have a soft spot for the young and old alike.
"I think for people who grew up in that era, we love what's familiar. Cars are tangible things and they can bring back memories. It is like a song or movie. You can't really put a price on that feeling," he says. "And for younger people, I do think they think there is a certain kind of magic to them."