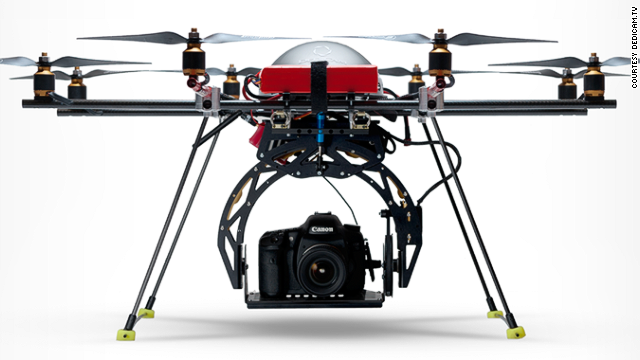 Herding sheep, delivering pizza, guiding lost students around campus -- these are just a few things friendly drones can do. Company and DIY drones are on the rise, and not even Hollywood stars will be safe from them. Soon starlets might be acting in front of
drone-mounted cameras
or being
chased by a UAV paparazzi.
Matternet
aims to create a network of drones capable of transporting potentially lifesaving goods to rural and under-developed areas. The
Bill & Melinda Gates Foundation
is backing rural drone transport too, funding a project that aims to transport vaccines to hard-to-reach and disaster-struck locations.
U.S. start-up
In Peru, archeologist are using drones to map archeological sites and protect them from vandals and squatters.
Japanese toy maker Kyosho has developed an infrared controlled drone 'Neon Messenger', which can display LED messages while flying.
Harvard
students navigate around MIT's infamously convoluted landscape. It was developed by an
MIT
research group called
Senseable City Lab
.
Drones turn campus guide at -- where else -- MIT. Skycall is a prototype to help
Bert Jansen
. The remote-controlled quadcopter was first exhibited in Amsterdam and Jansen has since created more taxidermy drones.
Drone+stuffed cat = art. Orville is a flying helicopter cat made by Dutch artist
German communications provider
Deutsche Telekom
is tired of people stealing their copper cables. So they contracted a company to tag overhead telephone cables with drones across Germany in an effort to fight theft of the cables, which has shot up in recent years with the value of copper.
Domino's
has tested the possibility of delivering pizza via the
DomiCopter
. Other companies are also investigating the possibility of delivering their food via drones.
Pizza delivery company
Los Angeles County Sheriff's Department
began experimenting with the SkySeer Search and Rescue drone as early as 2006.
Drones, often more resilient than humans, make for an ideal search party, as they can be pre-programmed to scan an area inch-by-inch.
Soon, real farming could be as easy as online farming games. Time-consuming agricultural tasks, such as spraying pesticides, could be left to UAVs, whilst surveillance drones can analyze the land and offer insight into how to boost the harvest. This French drone is scanning crops to help farmers optimize water levels and fertilizer use.
Burning Man
festival in Nevada is often a hotbed of amateur UAV activity. So much so that some look to the event for insight on how to balance freedom of drone use with privacy and safety concerns.
The
Drones as shepherds? Quadcopters could soon be replacing dogs as herders.
Fly-n-Sense
company has developed an innovative forest surveillance system which will enable a real-time monitoring of fire outbreaks and the development of flames in French southwestern forests.
The French
Ol Pejeta Conservacy
in Kenya is planning to use the UAV to monitor the location of its wildlife and deter poachers from harming the animals.
Efforts to protect four of the world's last remaining northern white rhinos have been boosted by a $70,000 drone. The
3D Robotics
has developed the X8, a copter that can take high-resolution videos and photographs, an do detailed mapping. 3D Robotics says the user will be able to create, fly and repeat missions for data measurement.
UAV technology company
15 pretty cool drones
Airborne aid
Indiana drones
Game of drones
Campus guide
Cat drone
Copper chopper
Pizza drone
Search and rescue
Lay of the land
UAV in the desert
Herding sheep
Real-time monitoring
Drone ranger
Up, up and away!
STORY HIGHLIGHTS
The UAE launched the Drones for Good Award last month
They're seeking ideas on how unmanned aerial vehicles can better the world
Dubai is hoping to use drones for government services
(CNN) -- Unmanned aerial vehicles aren't generally thought of as technology that improves lives; they're more readily associated with spying or attacking things.
However a competition in the United Arab Emirates is trying to change all that.
Last month, the government launched the Drones for Good Award, a two-part competition inviting local and international engineers alike to submit proposals for UAVs aimed at improving government services locally and bettering humanity worldwide.
While the UAE has thrown itself into the manufacturing of military drones (at last year's Dubai Airshow, Abu Dhabi-based Adcom Systems had the largest selection of UAVs), the government is also hoping to lead the way in the implementation of machines meant for civilian use.
"Drones get a lot of bad publicity related to surveillance and military operations," admits Saif Al Aleeli, the project manager.
"But at the end of the day, they're only a tool of technology. Our message is that we can use it for the good of people all over the world. We've already seen a lot of potential for humanitarian uses."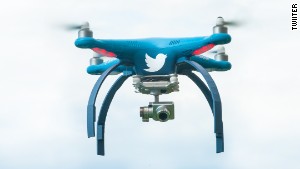 Dronies: Selfies shot with drones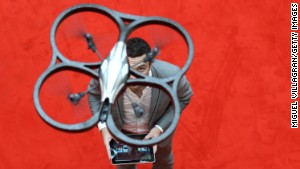 Do drones jeopardize your privacy?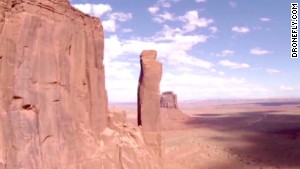 Holidays... by drone
The first phase of the competition, which comes with a $270,000 cash award, invites UAE residents to submit ideas that can be employed by the country's various government services (Al Aleeli envisions drones monitoring traffic and being the first responder at emergency scenes within the next five years).
The competition is an extension of the UAE's ambition of becoming the first government to use UAVs to deliver government services.
In February, Dubai announced it started testing drones to make lightweight deliveries -- namely official documents, like IDs and driver's licenses, and medication -- and would employ fingerprint technology to confirm the identities of recipients. The government also envisions drones acting as the first responder at accident scenes.
The announcement was accompanied by the unveiling of a battery-operated drone model developed by Emirati engineers.
"I think it is a new stage of development, not only for the UAE, but for the world," the UAE's minister of cabinet affairs, Mohammed Al Gergawi, told CNNMoney earlier this year.
"Either you embrace this technology, or you resist it. If you resist it, then the gap between you and your competitor wouldn't be a year or two, it's going to be 500 years," he continued.
The competition also has an international component, with higher stakes, and a heftier award of $1m. International submissions aren't limited to government services. They just need to make the world a better place.
"Innovation doesn't have an address. It comes from different geographical areas, from R&D centers and from the poor guy in Africa trying to provide a service or feed a certain need with technology. We want to give a chance to everyone in this world to be part of this innovation exercise," says Al Aleeli.
Read: The woman adopting Dubai's laborers
Read: Abu Dhabi's 'scorched-earth' park