German MotoGP: 'Perfect' Marc Marquez racks up ninth successive win
updated 1:00 PM EDT, Sun July 13, 2014
STORY HIGHLIGHTS
Marc Marquez dominates German MotoGP to win ninth successive race of the season
Dani Pedrosa finishes second, with Jorge Lorenzo in third
Marquez has now won a perfect 225 points this season
Spaniard is 77 points ahead of compatriot Pedrosa
Follow us at @WorldSportCNN and like us on Facebook
(CNN) -- Marc Marquez continued to redefine sporting perfection after the Spaniard won the German MotoGP -- his ninth successive victory of the season.
Remarkably Marquez won the race from the pit lane, racing through the pack and going past early leader Stefan Bradl with 24 laps left to finish ahead of Honda teammate Dani Pedrosa, with Yamaha's Jorge Lorenzo in third.
One of 14 riders that chose slick tires at the last minute after the warm up lap, Marquez had to start from the pit lane, meaning he had to wait until the bikes on the grid and on dry tires had motored past.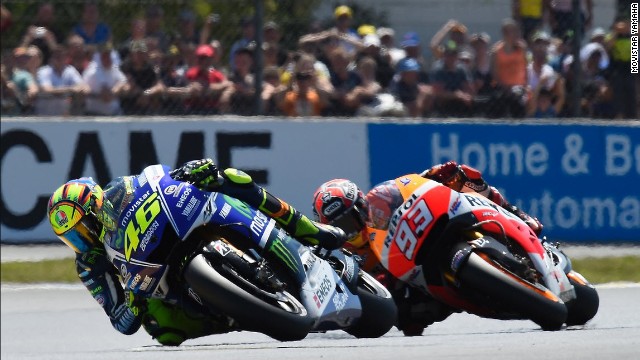 Introducing "The Doctor" of MotoGP -- Valentino Rossi briefly leads Marc Marquez at the French MotoGP on 18 May 2014.
Rossi is a hero in his native Italy and particularly in the Marche region where he was born and still lives. In recognition of his achievements he received an honorary degree in 2005 from the famous university at Urbino.
Rossi's last MotoGP title came back in 2009 with Yamaha -- his seventh at the highest level of motorcycling.
Rossi is on the receiving end of the champagne as compatriot Max Biaggi toasts him after wrapping up a third straight world title in Malaysia in 2003.
Rossi performs a wheelie after taking pole position on his Honda at the MotoGP in South Africa in 2002.
Rossi has also turned his hand to four wheels and drove for Peugeot in the 2002 Rally of Wales GB.
Ever the showman. Rossi produces a sea of burning tire smoke as he celebrates yet another MotoGP victory.
Rossi jokes with a grid girl before the U.S. MotoGP in Indianapolis in 2009.
Rossi's fanatical fans celebrate his 100th grand prix win at the Dutch MotoGP at Assen in the Netherlands in 2009.
Colin Edwards takes press questions in Austin, Texas flanked by former team mate Valentino Rossi.
Marc Marquez celebrates his fifth consecutive MotoGP win at Le Mans with his team.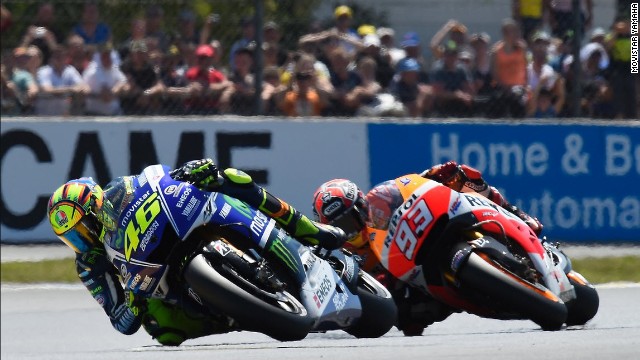 300-up for MotoGP legend Rossi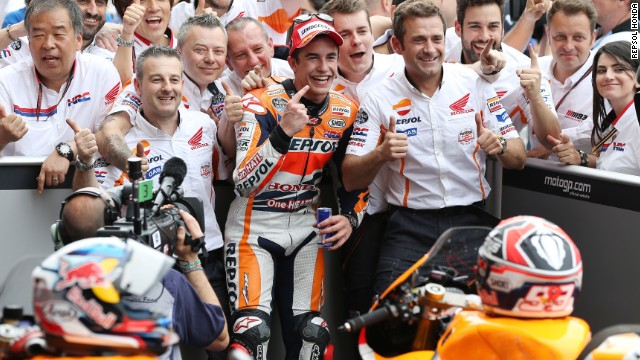 It's been a perfect start to 2014 for Marc Marquez. After winning the world championship in his rookie season last year, he has started the new campaign with back-to-back wins in Qatar and Austin, Texas. Can he make in three in a row when MotoGP returns to Argentina for the first time in 15 years this weekend?
Jorge Lorenzo ran Marquez to the wire last season, eventually having to settle for second place overall. The two-time world champion has endured a testing start to 2014, crashing in Qatar and finishing 10th in the U.S. after a drive-through penalty.
Valentino Rossi was a long-time poster boy for MotoGP, winning six world championships between 2002 and 2009. His form has tailed off in recent years, but the Italian showed some of his old skill by placing second in Qatar.
Dorna is the company which owns the commercials rights to MotoGP. Its CEO Carmelo Ezpeleta is looking forward to seeing the sport return to Argentina at the redesigned and redeveloped Autodromo Termas de Rio Hondo.
Ducati rider Andrea Dovizioso put himself on the podium in Texas and, after a surprise third-place finish last time out, he's looking forward to testing himself on a new, unknown circuit.
Ducati's team principal Gigi Dall'Igna was delighted with Dovizioso's showing in Austin, embracing the Italian after he crossed the finish line.
One rider who hasn't made the journey to Argentina is Ducati's second rider, Cal Crutchlow. The Briton needs surgery on his right hand after crashing out of the Grand Prix of the Americas.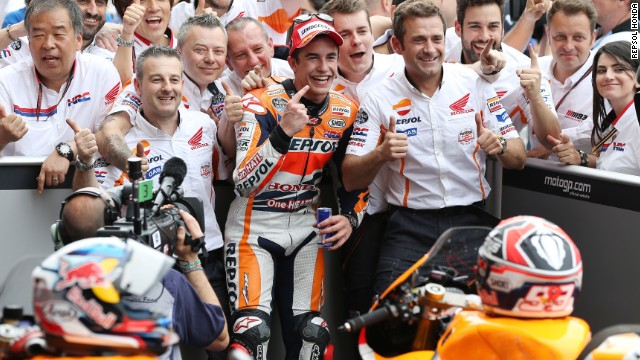 MotoGP returns to Argentina
"It was tough and when I saw Bradl changing tires at the beginning. I thought that was the right choice because there was only one corner that was completely wet," said defending champion Marquez.
"Everyone went in (to change tires) including my main rivals -- Dani (Pedrosa) and Valentino (Rossi).
"When I saw them go in, I followed but it worked out OK," added the Spaniard
Marquez has now won a perfect 225 points this season, 77 points ahead of compatriot Pedrosa, with Italian Valentino Rossi in third, 84 points adrift.
Rossi finished Sunday's race in fourth.
Read: MotoGP's 'Doctor' seeks appointment with destiny