People we lost in 2014
People we lost in 2014
People we lost in 2014
People we lost in 2014
People we lost in 2014
People we lost in 2014
People we lost in 2014
People we lost in 2014
People we lost in 2014
People we lost in 2014
People we lost in 2014
People we lost in 2014
People we lost in 2014
People we lost in 2014
People we lost in 2014
People we lost in 2014
People we lost in 2014
People we lost in 2014
People we lost in 2014
People we lost in 2014
People we lost in 2014
People we lost in 2014
People we lost in 2014
People we lost in 2014
People we lost in 2014
People we lost in 2014
People we lost in 2014
People we lost in 2014
People we lost in 2014
People we lost in 2014
People we lost in 2014
People we lost in 2014
People we lost in 2014
People we lost in 2014
People we lost in 2014
People we lost in 2014
People we lost in 2014
People we lost in 2014
People we lost in 2014
People we lost in 2014
People we lost in 2014
People we lost in 2014
People we lost in 2014
People we lost in 2014
People we lost in 2014
People we lost in 2014
People we lost in 2014
People we lost in 2014
People we lost in 2014
People we lost in 2014
People we lost in 2014
People we lost in 2014
People we lost in 2014
People we lost in 2014
People we lost in 2014
People we lost in 2014
People we lost in 2014
People we lost in 2014
People we lost in 2014
People we lost in 2014
People we lost in 2014
People we lost in 2014
People we lost in 2014
People we lost in 2014
People we lost in 2014
People we lost in 2014
People we lost in 2014
People we lost in 2014
People we lost in 2014
People we lost in 2014
People we lost in 2014
People we lost in 2014
People we lost in 2014
People we lost in 2014
People we lost in 2014
People we lost in 2014
People we lost in 2014
People we lost in 2014
People we lost in 2014
People we lost in 2014
People we lost in 2014
People we lost in 2014
People we lost in 2014
People we lost in 2014
People we lost in 2014
People we lost in 2014
People we lost in 2014
People we lost in 2014
People we lost in 2014
People we lost in 2014
People we lost in 2014
People we lost in 2014
People we lost in 2014
People we lost in 2014
People we lost in 2014
People we lost in 2014
People we lost in 2014
People we lost in 2014
People we lost in 2014
People we lost in 2014
People we lost in 2014
People we lost in 2014
People we lost in 2014
People we lost in 2014
People we lost in 2014
People we lost in 2014
People we lost in 2014
People we lost in 2014
People we lost in 2014
People we lost in 2014
People we lost in 2014
People we lost in 2014
People we lost in 2014
People we lost in 2014
People we lost in 2014
People we lost in 2014
People we lost in 2014
People we lost in 2014
People we lost in 2014
People we lost in 2014
People we lost in 2014
People we lost in 2014
People we lost in 2014
People we lost in 2014
STORY HIGHLIGHTS
The Ramones are credited with kicking off the punk rock movement
Their music is fast, loud and cynical, but with an upbeat tune
They were joined in the new music style by the likes of the Sex Pistols and the Clash
Tommy Ramone was the last living member of the original band
(CNN) -- Punk rock fuel-injected the beat of rock and roll in the mid-1970s with a frenetic tempo. On Friday, the drummer who gunned out those rhythms with pioneering punk band the Ramones passed away.
Tommy Ramone was 65 and the last living original member of the band, which debuted its first album in 1976. Ramone was also one of the band's composers.
A notice of his death was posted on the band's Facebook page with his age. The Rock and Roll Hall of Fame reported that he was 62.
Ramone was reportedly battling cancer when he died.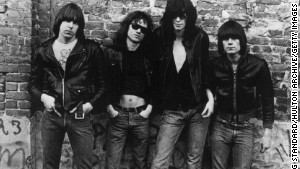 Tommy Ramone was the last surviving original member of the Ramones. From left: Guitarist Johnny Ramone (1948-2004), drummer Tommy Ramone (1949-2014), singer Joey Ramone (1951-2001) and bassist Dee Dee Ramone (1952-2002).
With their racing-pulse beat and disparaging, cynical lyrics that were combined with oddly florid but loud guitar riffs, the Ramones kicked off a music and counterculture movement in New York that quickly spread to Britain.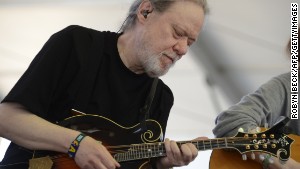 Tommy Ramone, former drummer for the Ramones, plays as part of the duo Uncle Monk at the Stagecoach Country Music Festival i Indio, California, in 2012.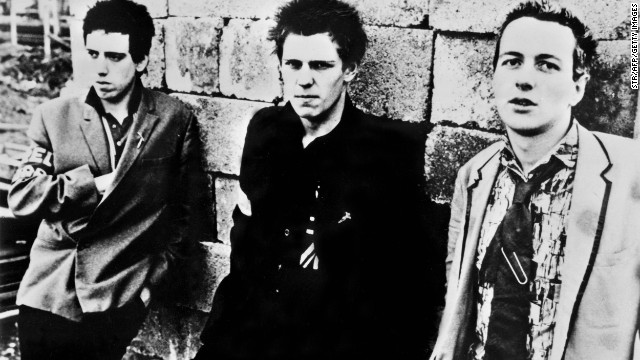 It was announced in August that a car belonging to Joe Strummer of The Clash, right, with band members Mick Jones, left, and Paul Simonon in 1978, would be auctioned. The 1963 Chalfont Blue Ford Thunderbird was reportedly driven by him while he was recording his debut album. The Clash played a major role in the history of punk music:
Punk rock combined a DIY sensibility with stripped-down songs and a screw-you attitude. Though the best-known punk movement came out of 1976-77 Britain, the genre had its roots in 1960s garage band America, with bands such as the Seeds, the Sonics and Question Mark and the Mysterians. Their singles were collected on the 1972 LP "Nuggets," which was expanded into a series of boxed sets in the CD era.
Lou Reed, John Cale, Sterling Morrison and Maureen Tucker (with drop-bys from Nico and Doug Yule) combined raw instrumentation with avant-garde subject matter. The apocryphal story goes that only 3,000 people bought the Velvet Underground's first album, but every one of them formed a band. (Actually, the album did much better than that, but why mess with a good story?) Many of those bands were proto-punks.
James Newell Osterberg -- aka Iggy Pop -- and his band mates blasted out of southeast Michigan with loud, distorted music and lyrics that were glorious in their minimalism: "It's another year / For me and you / Another year / With nothing to do" went "1969." What more was there to say?
Heavily influenced by the Velvet Underground (their first album was even produced by John Cale), the Modern Lovers also took a back-to-basics approach at a time when progressive rock was in full swing. Jonathan Richman's songs were down to earth, even nostalgic, hailing late-night drives and disdaining the "Modern World." Drummer David Robinson later joined the Cars; keyboardist Jerry Harrison ended up in Talking Heads.
Adding a touch of glam to downtown New York grit, the New York Dolls' raw sound and theatricality proved both influential and divisive: In a Creem magazine survey, they were named both the best and worst new band of 1973. The initial lineup broke up after two albums, though members David Johansen and Sylvain Sylvain reformed the band in the 2000s.
With their leather jackets, sneering attitude and turbo-powered songs, the foursome from Queens, New York, defined "punk," and it was their July 4, 1976, appearance at London's Roundhouse that helped ignite the UK punk scene. "If that Ramones record hadn't existed, I don't know if we could have built a scene here," the Clash's Joe Strummer once said. Their rise was slower, but no less influential, in their home country.
Equal parts provocateurs, fashion victims and three-chord howlers, the Sex Pistols kicked off their meteoric rise with their angry "Anarchy in the UK" and a number of controversial media appearances. The band made just one studio album, but its echoes still reverberate.
The name could be taken literally: Joe Strummer, Mick Jones, Paul Simonon and Terry Chimes (and later Topper Headon) really did have disparate musical tastes. But they shared a fire fueled by politics and music. It made for five terrific studio albums, highlighted by songs such as "White Riot," "London Calling" and "The Magnificent Seven," and an unparalleled live act.
Captain Sensible and his merry crew actually beat the Sex Pistols to the record racks -- "New Rose" came out before "Anarchy in the UK" -- and were in the forefront of the British punk movement.
Blondie was one of the many New York bands that came out of the downtown scene revolving around CBGB. The group, led by singer Debbie Harry and guitarist Chris Stein, was distinctive in its love of girl-group pop, though such songs as "X Offender" certainly had different subject matter. The group eventually had four No. 1 hits.
Another CBGB favorite, Television revolved around guitarists Tom Verlaine and Richard Lloyd, whose tangled lines flowed through such cuts as the 10-minute "Marquee Moon," the title cut to their first album. The group split after 1978's "Adventure," though there were occasional reunions.
Richard Hell and the Voidoids recorded "Blank Generation," one of the most anarchic and wonderful of punk singles, and Hell's spiked hair and torn clothes became emblematic of the punk look.
Smith, a poet, teamed with "Nuggets" compiler Lenny Kaye and others to form this New York band, which had early success with the albums "Horses" and "Easter." Smith's androgynous look and defiant attitude influenced both punk and succeeding generations of female musicians.
One of the earliest hardcore punk bands, Bad Brains started as a Washington-based fusion band called Mind Power. Unusual in many ways -- not least because the band consisted of African-Americans playing rock -- Bad Brains ended up moving to New York after being "Banned in D.C.," as their song put it.
There was some punk in their attitude toward punk -- Izod shirts weren't exactly typical CBGB attire -- and in David Byrne's rubbery voice, but, for the most part, Talking Heads was known for being adventuresome and artsy. No surprise for these former Rhode Island School of Design students, whose albums remain inimitable.
From the mod side of the spectrum came the Jam, the Paul Weller-led trio whose blasts of anger ("The Modern World," "In the City") became more reflective and soul-infused over time.
With songs that sounded like soccer chants ("If the Kids Are United"), Sham 69 gave rise to the Oi! movement, known for its bluntness and working-class sympathies.
Punk eventually made its way to the U.S. West Coast, where it inspired a number of Los Angeles-area bands. (Many of them were featured in the 1984 film "Repo Man.") Black Flag's leader, Greg Ginn, even founded a record label, SST, which became home to such bands as the Minutemen, Husker Du and Sonic Youth.
"We had no preconceived notions of what we were going to be," leader John Doe told CNN in 2004. His Los Angeles-based band, X, got lumped in with the punks, but their influences included rockabilly and country. It was their "scary" style and singer Exene Cervenka's otherworldly voice that made such songs as "Los Angeles" and "Johnny Hit and Run Paulene" fit with the overall scene.
Led by one of the great punk names -- Lee Ving -- Fear played hardcore rock and liked to bait audiences. The tactic backfired (or did it?) on a 1981 episode of "Saturday Night Live," when slam-dancing fans damaged the set.
From Northern California came the Dead Kennedys, whose name provoked the desired clucking from the offended classes. One wonders if they ever listened to the music, which included "California Uber Alles" and "Holiday in Cambodia." But even punks have capitalist troubles: Leader Jello Biafra was sued by his bandmates over royalties.
Glenn Danzig, later of the band Danzig, founded this leader in what came to be called "horror-punk." The band now includes original member Jerry Only; the musical style is closer to metal.
Social D, as they're known, had a slower rise than other punk bands. The group had some minor success after forming in 1978, but didn't get wider notice until the late '80s, after signing a major-label deal and changing their style to what became known as "cowpunk." The group had a national hit, "Ball and Chain," in 1990.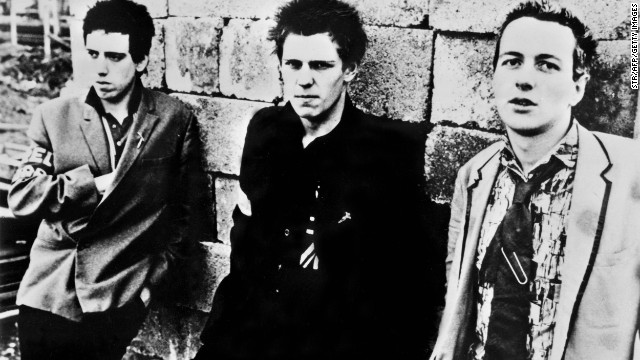 A short history of punk
It came echoing back from London in variations from groups like the Clash and the Sex Pistols.
Glue-sniffing darkness
Their debut album, "Ramones," left little doubt about the direction of the new rock style with song titles like: "Beat on the Brat," "Chain Saw," "Now I Wanna Sniff Some Glue."
Not all of their lyrics were dark. Some were playful ruckus, but most of them seemed to come "from a sullen adolescent basement of the mind," as the Rock and Roll Hall of Fame put it.
Their head-banging rock cut like a machete into the candy-glazed, infatuated glam pop of the time that was vaulting the band ABBA to Beatles-like elevations. A flock of similar kissable, bell-bottomed groups were riding their coattails.
Then punk rock slammed into the party head-on.
Clashing with glam pop
The Ramones' black leather, torn jeans and canvas sneakers clashed with the rainbow satin, sequins and platform shoes that had overtaken youth culture.
The everyday heroes the Ramones sang about had dumped surfboards and disco gyrations for lives as pogo-ing punk rockers in the urban grit of places like Berlin and New York.
The Ramones were practically the house band of the hole-in-the-wall rock bar CBGB on lower Manhattan's Bowery, a neighbor to skid row. Other American punk and new wave acts like Blondie, the Cramps and Joan Jett joined them there.
The Hall of Fame credits the band with saving rock music "from one of its lowest ebbs."
"The Ramones got back to basics: simple, speedy, stripped-down rock and roll songs. Voice, guitar, bass, drums. No makeup, no egos, no light shows, no nonsense."
Tommy Ramone said the intention was innovation with a statement.
"It wasn't just music in the Ramones: it was an idea. It was bringing back a whole feel that was missing in rock music -- it was a whole push outwards to say something new and different," he said.
Iron Curtain
While his Hall of Fame biography states that Ramone was born Tom Erdelyi in Budapest, Hungary, he was actually born in that city as Erdelyi Tamas, on January 29, 1949, and his name was changed to Tom Erdelyi after he emigrated with his family to the United States in 1957, according to Andy Schwartz, a representative of Ramone's longtime domestic partner, Claudia Tienan.
It was during the morbid wake of World War II, when the Soviet Union was beginning to cement Eastern Europe into a communist bloc.
Some of the Ramones' music reflects that Cold War background with songs like "Blitzkrieg Bop" and the album "Rocket to Russia."
Ramone built his music career on the band but handed over the drum sticks in 1978. In subsequent years, he still drummed, composed and produced for other bands, including the Talking Heads.
But in the decade prior to his death, he didn't play drums for any band, including Uncle Monk, the acoustic duo he formed with Tienan, Schwartz said. Ramone also stopped composing for other artists during this period, Schwartz said.
The other original band members passed away between 2001 and 2004, according to the Hall of Fame.
Joey Ramone, born Jeffrey Hyman, died of cancer in 2001 at age 49.
Dee Dee Ramone, born Douglas Colvin, died from an apparent overdose in 2002 at age 49.
Johnny Ramone, born John Cummings, died of cancer in 2004 at age 52.