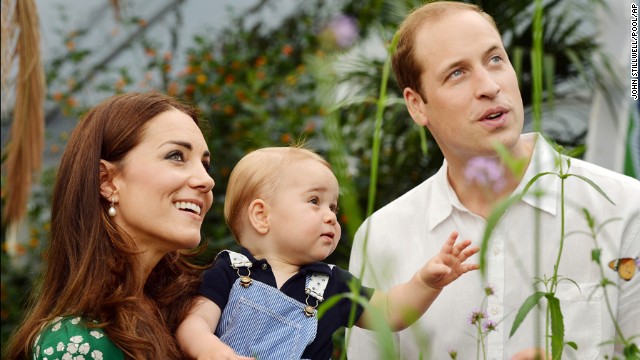 Britain's Prince George and his parents, Prince William and Duchess Catherine, visit a butterfly exhibition at London's Natural History Museum on July 2. Prince George celebrates his first birthday on Tuesday, July 22.
Prince George walks at the museum on July 2.
George takes his first steps in public as his mother holds his hand June 15 in Cirencester, England.
The royal family leaves an airbase in Australia to head back to the United Kingdom on April 25. They took a three-week tour of Australia and New Zealand. It was the first official trip overseas since George's birth.
Catherine and William react as their son bites a small present at the bilby enclosure of Sydney's Taronga Zoo on April 20. One of the zoo's bilbies was renamed George in honor of the young prince.
Catherine holds George as he meets a bilby -- Australia's version of the Easter bunny -- at Taronga Zoo on April 20.
George shakes hands with Lynne Cosgrove, the wife of Australia's governor-general, on the tarmac of Sydney Airport on April 16.
Catherine and William speak to New Zealand Governor-General Sir Jerry Mateparae and his wife, Janine, before boarding a flight to Australia on April 16.
George plays with toys during a visit to the Government House in Wellington, New Zealand, on April 9.
Catherine and George arrive in Wellington on April 7.
William and Catherine speak to Archbishop of Canterbury Justin Welby after George's christening October 23 in London.
In August, Catherine and William pose with George and their dogs Lupo, right, and Tilly in the garden of Catherine's family home in Bucklebury, England.
The Duke and Duchess of Cambridge depart St. Mary's Hospital in London with newborn George on July 23, 2013. He was born the previous day at 4:24 p.m., and he weighed 8 pounds and 6 ounces.
"It's very special," William said after George's birth. The prince had already changed his son's first diaper, the couple told reporters.
The new parents stand in front of the Lindo Wing of the hospital on July 23, 2013.
Prince George's first year in pictures
Prince George's first year in pictures
Prince George's first year in pictures
Prince George's first year in pictures
Prince George's first year in pictures
Prince George's first year in pictures
Prince George's first year in pictures
Prince George's first year in pictures
Prince George's first year in pictures
Prince George's first year in pictures
Prince George's first year in pictures
Prince George's first year in pictures
Prince George's first year in pictures
Prince George's first year in pictures
Prince George's first year in pictures