STORY HIGHLIGHTS
James: "My relationship with Northeast Ohio is bigger than basketball"
Four-time league MVP returning to Cavaliers after four years with Heat
James says he "talked it out" with Cavs owner who ripped him in 2010
James: "My goal is still to win as many titles as possible"
(CNN) -- Forget the burned jerseys. Never mind The Letter. LeBron James won titles in Miami but his heart was in Cleveland, and he's ready to go home.
James told Sports Illustrated for an essay published Friday that he'll leave the Miami Heat for the Cleveland Cavaliers -- a sensational return to his home region that he devastated when he left via free agency in 2010.
"I always believed that I'd return to Cleveland and finish my career there," the four-time NBA MVP said in a piece he wrote with SI's Lee Jenkins. "I just didn't know when."
"I looked at other teams," the 29-year-old wrote, "but I wasn't going to leave Miami for anywhere except Cleveland. The more time passed, the more it felt right. This is what makes me happy."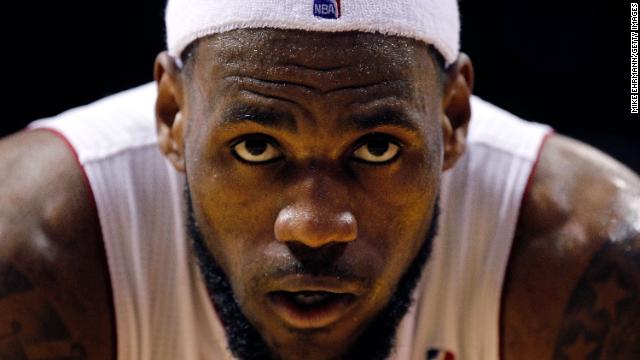 Basketball superstar LeBron James, one of the most recognizable athletes in the world, announced Friday, July 11, that he would be returning to play for the Cleveland Cavaliers. Click through the gallery to see James' career to this point.
James drives to the hoop in 2002 as he plays for St. Vincent-St. Mary High School in Akron, Ohio. James was already starting to become a household name in high school, and ESPN was even airing some of his games.
James shouts instructions during a 2003 game against Mater Dei High School in Los Angeles.
James, right, plays for St.Vincent-St.Mary in 2003. He would go straight from high school to the NBA, becoming the No. 1 overall pick in the 2003 NBA Draft.
James poses in front of a Hummer after a news conference at St. Vincent-St. Mary High School in April 2003.
James poses with his new Cleveland Cavaliers jersey after he was drafted in June 2003.
James goes for a dunk during an October 2003 game in Sacramento, California. In his first year in the NBA, he won the league's Rookie of the Year Award.
James, left, takes a portrait with fellow NBA All-Stars Kobe Bryant, right, and Kevin Garnett in February 2005. James has been an All-Star every year since.
James grimaces during a game against Milwaukee in January 2007.
James looks over backpacks at Sam's Club in Cuyahoga Falls, Ohio, in August 2007. James runs a nonprofit organization called the LeBron James Family Foundation, which helps needy children in his hometown area.
U.S. basketball players receive their gold medals after they defeated Spain at the 2008 Summer Olympics in Beijing. From left are Chris Bosh, Dwight Howard, James, Carlos Boozer and Michael Redd. James would also win a gold medal on the 2012 Olympic team.
James stands on stage with rapper Jay-Z during the "Last Chance For Change" concert in Cleveland in October 2008. The event was part of the presidential campaign for Barack Obama.
James goes to the basket during a March 2009 game against the Boston Celtics. James won the NBA's Most Valuable Player Award in 2009, 2010, 2012 and 2013.
In July 2010, James speaks at the Boys & Girls Club in Greenwich, Connecticut. It was there that he announced, live on an ESPN program called "The Decision," that he would be leaving Cleveland to play for the Miami Heat.
From left, Chris Bosh, Dwyane Wade and James are introduced to Miami Heat fans during a welcome party in Miami in July 2010.
James performs his famous pregame ritual -- throwing crushed chalk into the air -- before a Heat preseason game against the San Antonio Spurs in October 2010.
James celebrates with the NBA Finals Most Valuable Player trophy after the Heat defeated the Oklahoma City Thunder to win the NBA title in June 2012.
Fans hold a sign commemorating James' 20,000th career point, which he scored in January 2013 against the Golden State Warriors in Oakland, California.
James presents President Obama with a jersey while the Heat were being honored at the White House in January 2013.
James goes up for a dunk against the Philadelphia 76ers in March 2013.
James appears on a Nike poster outside American Airlines Arena in Miami in May 2013. In 2014, James was named the World's Most Powerful Athlete. He has endorsement deals with Nike, Coca-Cola, McDonald's, Upper Deck, Samsung, Audemars Piguet and Dunkin' Donuts.
James holds the Finals MVP trophy and the Larry O'Brien Championship trophy after the Heat defeated the San Antonio Spurs to win back-to-back titles in June 2013.
James attends the 2013 ESPY Awards in Los Angeles with his future wife, Savannah Brinson. They have two children.
James adjusts a protective mask he wore in March to protect a broken nose.
James competes against the San Antonio Spurs during the NBA Finals in June. The Spurs won the series and prevented the Heat from winning three straight titles.
James reacts on the bench during the NBA Finals in June. Later that month, he became a free agent.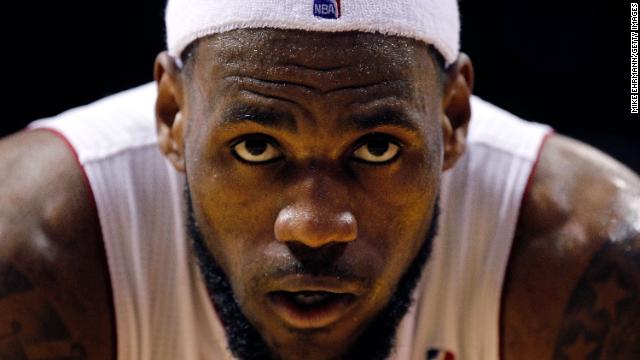 The rise of LeBron James
No terms were released, and the Cavs said no contract had been signed as of early Friday afternoon. When James will sign the contract has yet to be determined, Cavaliers Senior Vice President Tad Carper said.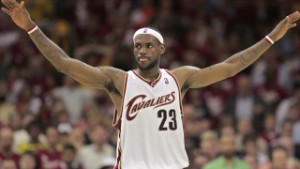 A look back at LeBron James' NBA career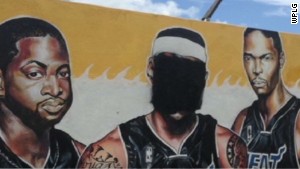 LeBron James defaced in Miami Heat mural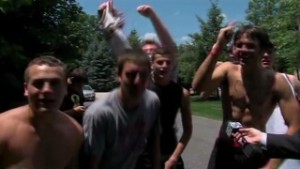 Cleveland fans celebrate LeBron's return
Numerous reports say that the maximum salary in the first year of a contract for an 11-year NBA veteran, like James, is $20.64 million, though there are exceptions.
His move marks the end of a four-year partnership with stars Dwyane Wade and Chris Bosh in Miami -- a run that saw James get his first two NBA titles.
But the return to the Cavaliers, which drafted James in 2003, allows the prodigal son and his native community to reconnect after a separation that shook both. The lakeside city that is long starved for a professional sports championship embraced him Friday.
How James is going to make $1 billion
Fans drove past his Cleveland-area home and honked horns after the news spread. Patrons at a restaurant gushed when a reporter asked what they thought of the move.
"LBJ's coming home! Can't wait! Championship!" a man told CNN affiliate WEWS.
"Cleveland fans are trying to figure out how to unburn their LeBron jerseys," Twitter user nic_johnston44 wrote.
Pat Riley, the Heat president who lured James away in 2010, said Friday that although he was disappointed, "no one can fault another person for wanting to return home."
"The last four years have been an incredible run for South Florida, Heat fans, our organization and for all of the players who were a part of it. LeBron is a fantastic leader, athlete, teammate and person, and we are all sorry to see him go," Riley said.
What about The Letter? "We've talked it out"
In 2010, James and marquee free agent Bosh left their teams to join Wade in Miami -- with James, looking for NBA championships, famously announcing his move in an ESPN special called "The Decision."
After reaching four straight NBA finals with Miami, James exercised his contract option this summer to become a free agent two years early.
James was a Cleveland hero, growing up some 45 miles away in Akron and starring seven years with the Cavs. But his 2010 departure -- and the way he did it, telling ESPN that he was "taking my talents to South Beach" -- rankled the people of Cleveland, with fans burning James jerseys and stomping on his likeness.
Internet responds with LeBron memes
If those fans torched the figurative bridge, Cavaliers owner Dan Gilbert vaporized it with a scathing letter blasting James' "cowardly betrayal" and, in a forecast that didn't quite pan out, promising that the Cavs would win an NBA title "before the self-titled former 'king' wins one."
How could James return to the team after that?
"I've met with Dan, face-to-face, man-to-man. We've talked it out," the Sports Illustrated story reads. "Everybody makes mistakes. I've made mistakes as well. Who am I to hold a grudge?
He also addressed Cleveland fans' negative reaction to his Miami move.
"It was easy to say, 'OK, I don't want to deal with these people ever again.' But then you think about the other side," he wrote. "What if I were a kid who looked up to an athlete, and that athlete made me want to do better in my own life, and then he left? How would I react?"
So he felt OK to return to Cleveland, where he feels he has unfinished business. In his first Cavs stint, he won two league MVP awards and went to the NBA finals once, but won no ring.
The interest was mutual, and the Cavaliers made their intentions known when they shipped off Jarrett Jack, Sergey Karasev, Tyler Zeller and a future first-round draft pick to clear the salary cap space necessary to sign James.
James joins a Cavaliers team that has struggled, making no playoffs and picking first three times in the NBA draft since James' departure. Those picks were two-time All-Star guard Kyrie Irving, UNLV's Anthony Bennett and University of Kansas phenom Andrew Wiggins, all currently in Cleveland's possession.
James: Miami was "almost like college"
In the SI piece, James said he'd still have left for Miami if he had to do it all over again. It could be described as the college experience that he never had.
"Miami, for me, has been almost like college for other kids," James, who went pro straight out of high school, said in Sports Illustrated. "These past four years helped raise me into who I am."
His ties to his home, he said, pulled him back.
"My relationship with Northeast Ohio is bigger than basketball. I didn't realize that four years ago. I do now."
Bringing trophy to Cleveland "most important"
James' Instagram account Friday had a photo, showing him in a Cavaliers jersey, said: "I'm coming home."
In the SI piece, James wrote that his "goal is still to win as many titles as possible, no question."
"But what's most important for me is bringing one trophy back to Northeast Ohio," he wrote.
"I'm not promising a championship. I know how hard that is to deliver," James added. "We're not ready right now. No way. Of course, I want to win next year, but I'm realistic. It will be a long process, much longer than it was in 2010."
White House takes notice
The news generated intense interest as soon as it broke, around 12:30 p.m. ET Friday. Three of the top 10 trending terms on Twitter were almost instantly related to James.
It even came up in the daily press briefing at the White House. When asked, White House Press Secretary Josh Earnest said he didn't know if noted NBA fan President Obama had a reaction to James' move.
But Earnest added: "The fact that he has made this decision is a testament to the kinds of values that he has incorporated into his life and he says that he is interested in instilling in his children."
"I think it is a pretty powerful statement about the value of a place that you consider home," Earnest said.
Professional athletes weighed in. From Seattle Seahawks quarterback Russell Wilson on Twitter: "Congrats to my man @KingJames on Cleveland! Too bad we don't have the #Sonics #NoPlaceLikeHome."
Baltimore Ravens wide receiver Torrey Smith said on Twitter: "I'm happy Lebron is going to CLE....not that he owes anyone anything but he means more to that city than anywhere else in the world! Iconic."
CNN's Michael Pearson, Eliott C. McLaughlin, Jason Durand and Jill Martin contributed to this report.