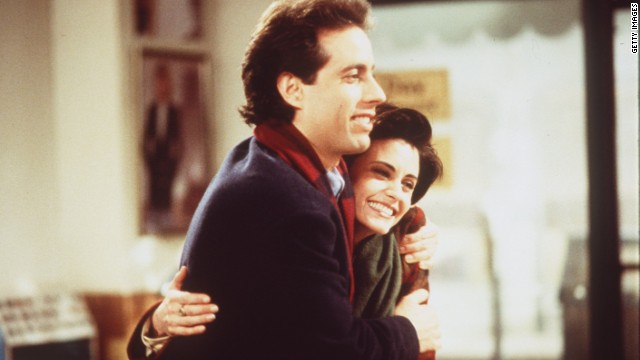 We all love the main characters of Seinfeld, but did you know that some other famous faces got their start on the sitcom?
Courteney Cox
played Jerry's girlfriend Meryl in season five's "The Wife" (March 1994), where Jerry gets a discount at his dry cleaners and Cox partakes of the discount too by claiming to be Jerry's wife. The "marriage" ends badly. Six months after her "Seinfeld" debut, Cox debuted on "Friends" as Monica Geller, a role that would last for 10 seasons.
Teri Hatcher played Jerry's girlfriend Sidra Holland when she first came on the show in season four (February 1993). Hatcher appeared in three episodes, including the series finale. In Hatcher's first episode, the focus is on her breasts. With Elaine questioning if they are natural or man-made, she stages an "accidental" stumble in the sauna to see if she can discover the truth. When Sidra discovers that Jerry and Elaine are friends she breaks up with Jerry using the now legendary line: "they're real... and they're spectacular." The storyline double dips with another memorable plot featuring Megan Mullally.
Megan Mullally actually appeared in the same debut episode as Teri Hatcher, titled "The Implant," playing George's girlfriend Betsy. In the episode, Betsy's aunt dies and George flies to the funeral, buying an expensive plane ticket (which he hopes to later get discounted). But it all goes wrong when Betsy's brother catches George double dipping a chip ("I mean you might as well put your whole mouth in the dip") and Betsy breaks up with George. To make matters worse, George can't get a discount on his flight because he can't give a death certificate to the airline. Four years later, TV viewers embraced Mullally as Karen Walker in "Will & Grace."
Catherine Keener plays Jerry's new girlfriend Nina for an episode in season three. Nina is an artist who paints Kramer as "a loathsome, offensive brute," and yet you cannot look away. Nina's father then offers the crew Yankee tickets in the owner's box. But things unravel for the couple at the game when Elaine is ejected from the seats for refusing to remove her Baltimore Orioles cap. Keener has appeared in multiple roles since, although her most famous part may be as Trish Piedmont in "The 40 Year Old Virgin."
Christine Taylor plays Jerry's perfect girlfriend Ellen, who is perfect in every way, except that she seems to have no friends. Jerry flies his parents out to meet her and when they love her, too, he decides that something must be wrong with her and he needs to break up with her. Christine Taylor is best known for her roles in the "Brady Bunch" movies, "Zoolander" and "Dodgeball: A True Underdog Story." Taylor is also married to Ben Stiller.
Amanda Peet is in season eight as Jerry's date to the Tonys. Peet plays a waitress named Linette who has a male roommate (who she is also probably seeing on the side). Eventually Linette starts to date Jerry exclusively but her active lifestyle gets to Jerry. Peet's reputation got a boost playing Marin in "Something's Gotta Give" opposite Jack Nicholson and Diane Keaton.
Denise Richards appears as the daughter of Russell Dalrymple, president of NBC, who was considering doing a sitcom with Jerry and George. George gets caught staring at her cleavage, almost ruining the deal. Four years later, Denise Richards played Lt. Carmen Ibanez in "Starship Troopers." She's also Charlie Sheen's ex-wife.
Lauren Graham plays Jerry's girlfriend Valerie in an episode of season eight. Jerry is vying to be the top slot in Valerie's speed dial rankings. When Valerie's stepmother gets poisoned, Jerry gets called instead of poison control and he's happy about how high he must rank. That reaction disgusts Valerie and they break up. Three years later, fans fell in love with Graham as Lorelai Gilmore in "Gilmore Girls."
Bryan Cranston has a memorable reoccurring role in "Seinfeld" as Jerry's dentist, Dr. Tim Whatley. Among his story lines: He is caught "re-gifting" a label maker, stocking his dentist's office with pornographic magazines, throwing a party Jerry may or may not have been invited to and accusing Jerry of being an anti-dentite (biased against dentists). Cranston later won three Emmys for best actor as Walter White in "Breaking Bad."
Debra Messing played Beth Lukner. Yada yada yada, it turns out she's a racist. She started on the show happily married until George made a comment that she could have done better than her husband. After that almost ruined the relationship, ultimately it ends in a later episode after Elaine ruins an adoption proceeding for the couple. The capper in the episode, which also featured the memorable anti-dentite story line with Bryan Cranston, is when Beth reveals she's a racist anti-Semite. Messing went on to star as Grace Adler in the highly popular "Will & Grace."
Brenda Strong appears in several episodes throughout the series as Elaine's arch nemesis since high school. Strong plays Sue Ellen Mischke, who never wears a bra. Elaine is so obsessed that Sue Ellen doesn't wear a bra that she gives her one as a gift, which Sue Ellen then wears down the street as a shirt, which causes Kramer to crash Jerry's car because they're so distracted watching her. Seven years later, Brenda Strong played the character that drove the entire plot line of "Desperate Housewives," Mary Alice Young.
Marcia Cross is another star from "Desperate Housewives" who goes on a date with Jerry. Cross plays Dr. Sara Sidarides, who won't stop talking about saving lives. When Jerry finds out she's a dermatologist, he plans a revenge date because he thinks dermatologists are pimple poppers and not life savers. His plan backfires when a former patient interrupts their dinner to thank her for saving him from skin cancer.
Like Teri Hatcher and Brenda Strong,
Jane Leeves is one of Jerry's girlfriends who appears in more than one episode. Leeves played Marla Penny, a virgin. Most memorably, when Marla decides she's finally ready to sleep with Jerry, she finds out he can't because he's trying to prove he is "master of his domain" in a competition he has with George, Kramer and Elaine. They break up because something has to give and she ends up dating (and losing her virginity to) John F. Kennedy Jr. Leeves is best known as Daphne Moon on another NBC sitcom, "Frasier."
Mariska Hargitay plays an actress named Melissa, reading for the part of Elaine in Jerry and George's sitcom in season four. We know her better for looking much more professional as sex crimes detective Olivia Benson on "Law & Order: Special Victims Unit."
Jeremy Piven plays the actor hired to play George in the pilot of their "Jerry" sitcom. His character, named Michael Barth, has the same neurotic nature as George but George hates Michael's portrayal of him. Piven is most known for his role as Ari Gold in "Entourage."
Jennifer Coolidge plays Jodi the masseuse in season five. She's dating Jerry and they have a great sex life but for some reason she won't give Jerry a massage, and while Jerry learns that sometimes no means no when it comes to massage, it ultimately leads to their break-up. Most of us know Coolidge as Stifler's mom in the "American Pie" movie series and from memorable turns in "Legally Blonde" and "Best in Show."
Molly Shannon plays Elaine's co-worker, Sam, a woman who doesn't move her arms when she walks. In the season eight episode, Sam sees Elaine making fun of her and trashes Elaine's office and leaves her crazy voice mails. Shannon is known for her work on "Saturday Night Live."
Kristin Davis played Jerry's girlfriend Jenna in season eight's episode "The Pothole." The relationship was doomed when Jerry accidentally drops her toothbrush in the toilet and Jenna uses it before he's able to warn her. Germaphobe Jerry secretly sterilizes her mouth, but still can't bring himself to kiss her after she used the toilet toothbrush. A year after her "Seinfeld" debut, Davis gained fame playing Charlotte York in "Sex and the City."
Marlee Matlin actually hit it big before her bit in "Seinfeld," winning an Oscar for best actress for "Children of a Lesser God" in 1987. But we still bet you remember she had a guest role in "Seinfeld"! Matlin plays Jerry's girlfriend Laura, the deaf tennis lineswoman who can read lips. George takes Laura to a party to try to read his girlfriend's lips to see what she says about him.
Marisa Tomei plays herself in season seven's "The Cadillac." George questions his engagement when one of Elaine's friends says she's friends with the Oscar-winning actress and Tomei has a thing for short and quirky bald men. George sets up a date with Tomei and when he reveals he's engaged, she punches him in the eye.
Sarah Silverman plays Kramer's girlfriend who kicks Kramer while she sleeps. The issue is solved when the couple has to sleep in separate beds in the same room at George's parents'. Silverman appeared on "SNL" and in her own audacious comedy specials. A decade after her "Seinfeld" appearance, her sitcom "The Sarah Silverman Program" debuted on Comedy Central.
Kathy Griffin appears in two episodes, once as an aspiring actor and comedian who indirectly ruins Jerry's act, and later she hits it big with a one-woman show called "Jerry Seinfeld is the Devil." Griffin is best known for her role as Vicki Groener on "Suddenly Susan," but also had her own reality show called "Kathy Griffin: My Life on the D-List."
Brad Garrett played a crazy auto mechanic named Tony who steals Jerry's car. When Tony wants to make too many updates to the car, Jerry asks for it back so he can go to another mechanic. Tony says he'll bring the car out front and instead drives away with it. Four months after his gig on "Seinfeld," Garrett starred as Robert Barone on "Everybody Loves Raymond."
Daniel Dae Kim played medical student No. 1 in season nine. The students have to diagnose actors with imaginary symptoms, and Kim is able to diagnose that Kramer has gonorrhea after a dramatic story. It took a few years, but Kim is now famous in fans' hearts as Jin Kwon from "Lost."
James Spader was already known as a film actor when he played George and Jerry's friend, Jason Hanky, in season nine. Jason has just entered Alcoholics Anonymous and George is ecstatic that he'll finally get an apology for Jason not loaning him a sweater. Jason says he's not giving him an apology because he didn't loan him the sweater because George's head would've stretched out the neck hole, not because of his drinking. Dealing with George is too much to deal with so Jason turns back to drinking and joins Rageaholics Anonymous, too. We best know Spader from movies like "Pretty in Pink." He's since gone on to star on hit TV shows "Boston Legal" and "The Blacklist."
Rob Schneider plays Elaine's partially deaf colleague Bob who claims he can't hear whenever he's asked to do work. Elaine pretends to proclaim her love for Bob in the office to see if he can hear it. Elaine's boss overhears and gets the two of them tickets to a show. Bob then throws himself at Elaine. Schneider has gained success in film roles such as "Deuce Bigalow," "The Hot Chick" and "Grown Ups."
Jon Favreau might be a surprise to some because he appeared on season five in full face makeup as Eric the Clown. Eric is hired to entertain at George's girlfriend's son's party. George and Eric get into a fight because George keeps pestering him. But when there is a fire in the apartment and George storms out in terror, Eric is the hero of the day. Favreau is best known for directing movies like "Elf", executive producing "Iron Man 3" and acting in movies such as "The Break-Up." He wrote and directed the recent movie "Chef."
Actors who got their start on Seinfeld
Actors who got their start on Seinfeld
Actors who got their start on Seinfeld
Actors who got their start on Seinfeld
Actors who got their start on Seinfeld
Actors who got their start on Seinfeld
Actors who got their start on Seinfeld
Actors who got their start on Seinfeld
Actors who got their start on Seinfeld
Actors who got their start on Seinfeld
Actors who got their start on Seinfeld
Actors who got their start on Seinfeld
Actors who got their start on Seinfeld
Actors who got their start on Seinfeld
Actors who got their start on Seinfeld
Actors who got their start on Seinfeld
Actors who got their start on Seinfeld
Actors who got their start on Seinfeld
Actors who got their start on Seinfeld
Actors who got their start on Seinfeld
Actors who got their start on Seinfeld
Actors who got their start on Seinfeld
Actors who got their start on Seinfeld
Actors who got their start on Seinfeld
Actors who got their start on Seinfeld
Actors who got their start on Seinfeld
Actors who got their start on Seinfeld