No charges in motorist shooting near Capitol after wild chase
updated 8:49 PM EDT, Thu July 10, 2014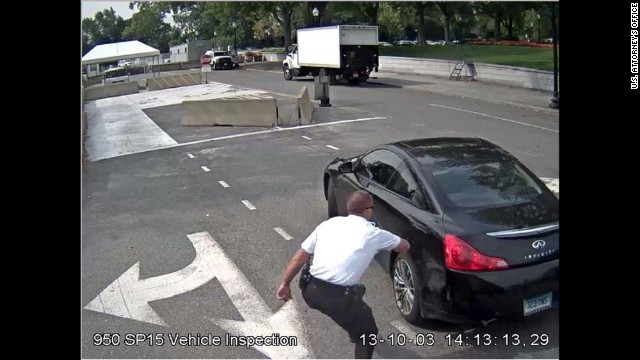 The U.S. Attorney's Office in Washington released stills from video footage of an October car chase in Washington that ended with the killing of Miriam Carey, the driver. On Thursday, federal prosecutors determined that no charges will be sought against the law enforcement officials involved. This still was taken from video footage at the White House checkpoint, and shows a U.S. Secret Service officer trying to get Carey's attention after she entered the restricted area.
Here, an off-duty Secret Service officer moves a barricade in front of the exit path in an attempt to prevent Carey from leaving. She continued forward, pushing the barricade into the officer.
This image shows Carey hitting an off-duty U.S. Secret Service officer who tried to block her path with a barricade a second time.
This still was taken from video footage at Garfield Circle. By this point, Carey had hit the marked SUV to her left, rammed the cruiser behind her and started to drive on the sidewalk in the direction of the officers.
Video stills released from Capitol shooting
Video stills released from Capitol shooting
Video stills released from Capitol shooting
Video stills released from Capitol shooting
Video stills released from Capitol shooting
STORY HIGHLIGHTS
Prosecutors investigated last October's wild chase and shooting near Capitol
The woman from Connecticut was shot five times, her daughter was not harmed
NEW: Justice Department says not enough evidence to pursue excessive force case
(CNN) -- No criminal charges will be sought against officers involved in last October's fatal shooting of a motorist near the Capitol following a wild high-speed chase that began at the White House, federal prosecutors said on Thursday.
Miriam Carey, 34, an unarmed dental hygienist from Connecticut, was shot five times from behind, according to an autopsy report released months ago. Her 1-year-old daughter was in the car but she was not harmed.
There was no immediate reaction from the Secret Service or Capitol Police to the decision by the Justice Department, which said there was insufficient evidence to pursue charges of excessive force.
"The investigation into this incident has been closed without prosecution," a statement from the office of U.S. Attorney Ronald Machen Jr. said.
Carey's family has said the shooting was not justified. It has filed a $75 million wrongful death suit and pledged to continue the fight for her "rights," family attorney Eric Sanders said.
"The United States Attorney's legal position has not changed the Carey family's legal position," Sanders said.
The October 3 incident began when Carey drove up to a White House checkpoint and was approached by Secret Service officers. She made a three-point turn, striking an officer who was trying to move a barricade into her path, before driving away, according to an affidavit filed in support of a search warrant.
Police said the car sped down Pennsylvania Avenue toward the Capitol, where security vehicles stopped it at Garfield Circle. Carey put the car in reverse, hit a police car and drove away as officers fired at her.
She then sped around a traffic circle with a police car in pursuit before crashing into security barriers a few blocks away. More shots were fired after the vehicle stopped near the Supreme Court and Senate office buildings, and the woman was hit several times, said Metropolitan Police Department Chief Cathy Lanier at the time.
The ongoing civil lawsuit says Carey was unfamiliar with the area and mistakenly drove past the first guard post. When she tried to make a U-turn and drive away, a uniformed Secret Service officer threw a bicycle rack at her car, the lawsuit claims.
Carey panicked when she was stopped near the traffic circle and surrounded by officers with their weapons drawn, the suit alleges.
A few months after her daughter was born, Miriam Carey was diagnosed with postpartum depression with psychosis, her sister told CNN's "AC360" in October. Postpartum psychosis can cause delusions and paranoia, according to medical experts.
Many independent law enforcement and criminal law analysts said under the fast-moving circumstances in an extremely high-security zone, the officers were right to shoot since they did not know if the driver was a potential terrorist or had committed an earlier criminal or violent offense.
'My sister just totally didn't deserve this'
Woman killed during D.C. chase was shot five times from behind
CNN's Evan Perez, Steve Almasy and Mike M. Ahlers contributed to this report.