Brazil President: 'My nightmares never got so bad'
updated 10:04 AM EDT, Thu July 10, 2014
STORY HIGHLIGHTS
Brazilian President tells CNN she never imagined severity of defeat against Germany
Brazil lost to Germany 7-1 in World Cup semi-final on Wednesday
Brazil proved itself in another way by putting on first class World Cup, says President
(CNN) -- Never in her worst nightmares did Brazilian President Dilma Rousseff imagine such a crushing soccer defeat, she told CNN's Christiane Amanpour in an exclusive interview on Wednesday.
"My nightmares never got so bad, Christiane," she said through an interpreter. "They never went that far. As a supporter, of course, I am deeply sorry because I share the same sorrow of all supporters. But I also know that we are a country that has one very peculiar feature. We rise to the challenge in the face of adversity. We are able to overcome."
Brazil, she said, will recover from this "extremely painful situation."
"Being able to overcome defeat I think is the feature and hallmark of a major national team and of a great country."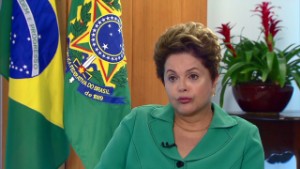 Watch Rousseff in Portuguese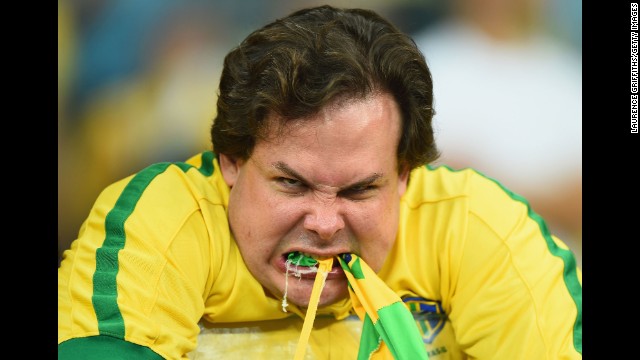 A Brazil fan reacts after his team was crushed 7-1 by Germany in a World Cup semifinal match played Tuesday, July 8, in Belo Horizonte, Brazil. The emotions in the country were reminiscent of 1950, when Brazil last hosted the World Cup and suffered a heartbreaking defeat.
A Brazil fan cries after the match in Belo Horizonte.
A fan wipes another fan's tears in the streets of Sao Paulo, Brazil.
A dejected Brazil fan looks on during the match.
Brazil fans in Rio de Janeiro appear devastated as they watch a live telecast of the match.
Brazil's Bernard wipes his face during the match.
A Brazil fan watches the match in Rio de Janeiro.
A Brazil soccer fan cries as she watches the match in Belo Horizonte.
Brazil fans look dejected at the stadium.
A Brazil fan looks on in the first half.
Fans of Brazil react while watching the match at Copacabana beach in Rio De Janeiro.
A Brazil fan covers up in Rio de Janeiro.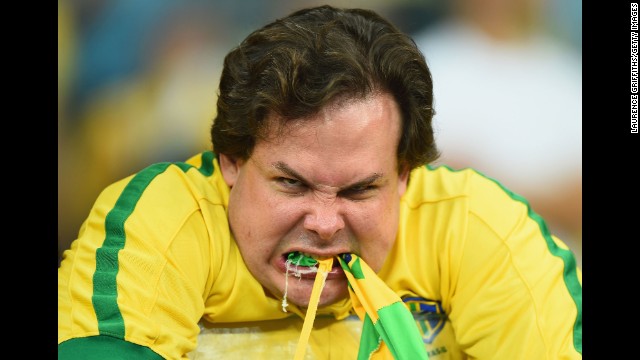 World Cup ghosts return to haunt Brazil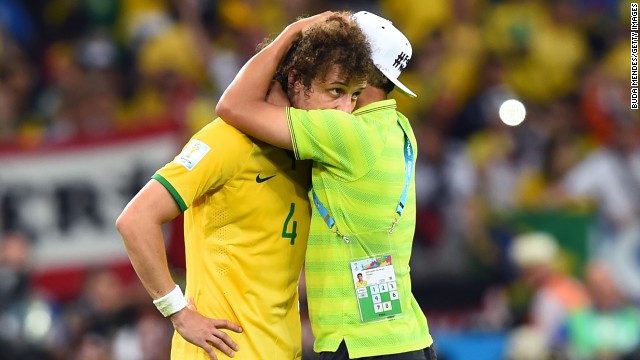 Brazil 1-7 Germany (2014): A whole nation expected its team to at least reach the final on home soil ... but suffered the ultimate humiliation. Brazil, seeking a record-extending sixth World Cup crown, was swept asunder by a rampant Germany team which scored four goals in a mere six minutes to lead 5-0 before the half-hour mark of this totally one-sided semifinal. Oscar got a goal back but it was very much a case of too little too late. It was Brazil's worst World Cup defeat, surpassing 1998's 3-0 final setback against France.
Brazil 1-2 Uruguay (1950): It's not the first time Brazil has suffered such disappointment hosting football's biggest tournament. Brazilian novelist Nelson Rodrigues wrote: "Our catastrophe, our Hiroshima was the defeat by Uruguay in 1950." While perhaps overstating things, it was a huge shock. In a round-robin format World Cup, Brazil took a 1-0 lead in the deciding match and appeared to be cruising to victory only to lose and leave a nation in mourning.
USA 1-0 England (1950): That same tournament -- in the same city where Germany hammered Brazil 64 years later -- a star-studded England team was expected to sweep aside an American lineup of mailmen and school teachers. Joe Gaetjens, a Haitian who was later thought to have been killed by Francois "Papa Doc" Duvalier's death squad, scored the only goal to stun the football world.
West Germany 3-2 Hungary (1954): A Hungarian side led by Ferenc Puskas had trounced the Germans 8-3 in the group stage and so dominant were the "Mighty Magyars" 60 years ago they were expected to do the same in the final. But in the "Miracle in Bern" a team made up of amateurs from post-war-torn West Germany pulled off a monumental shock.
Austria 7-5 Switzerland (1954): The result was not a shock in the sense of the outcome of this quarterfinal match, but merely in the scoreline. A record 12 goals were scored, including a hat-trick by Swiss forward Josef Hugi, to exceed the 11 scored by Brazil and Poland in 1938's 6-5 result.
North Korea 1-0 Italy (1966): North Korea's players were almost denied visas to compete at the 1966 World Cup, but they stunned Italy 1-0 with a goal from Pak Doo Ik and made it all the way to the quarterfinals. Dubbed "The Mystery Men" by the British media, due to the communist nation's secretive policies, the team's unlikely exploits were later turned into a documentary called "The Game of Our Lives."
Yugoslavia 9-0 Zaire (1974): It's the record winning margin in World Cup history, matching Hungary's scoreline over South Korea 20 years earlier. The Zaire players nearly did not take to the pitch after being told they would not be paid before then being threatened by the secret service of ruler Mobutu Sese Seko. Once on the pitch, a rout ensued. Hungary scored 10 goals against El Salvador in 1982, but the Central American side did manage a consolation in reply.
Argentina 0-1 Cameroon (1990): Argentina was defending champion and, inspired by Diego Maradona in midfield, was expected on the opening day of the tournament to ease past a team which had drawn all three previous matches on its only other World Cup appearance. But Cameroon pulled off a remarkable shock as forward Francois Omam-Biyick headed the only goal in Milan, while two of his teammates were sent off.
France 0-1 Senegal (2002): Much like Argentina in 1990, defending champion France got off to the worst possible start as the tournament's opening match ended in a shock defeat. It was the beginning of the end for Les Bleus. Awash with in-fighting, they bowed out after the group stage having not scored a single goal.
United States 1-2 Iran (1998): Relations between the two nations were frayed and it was a contest billed as a global grudge match. The U.S. was hardly a footballing powerhouse but was expected to make light work of Iran -- which had never won a World Cup game, and has not done so since. It sparked a million people to take to the streets of the capital Tehran in celebration.
South Korea 2-1 Italy (2002): Co-host South Korea was not heavily fancied to do anything of note but, under the guidance of Dutch coach Guus Hiddink, made it to the semifinals by beating Spain in a penalty shootout. But its biggest achievement was in the previous round, knocking out Italy -- three times a World Cup champion, with another title to follow in 2006. Ahn Jung-Hwan sparked rapture in the stands with his golden goal -- but his contract was promptly canceled by Italian Serie A side Perugia, where he was on loan.
Australia 31-0 American Samoa (2001): Ok, so this wasn't at the World Cup but it was a qualifying match for the 2002 tournament. Australia, playing at home, was expected to win with ease -- but not quite this easily. American Samoa goalkeeper Nicky Salapu was forced to retrieve the ball from the back of his own net a record 31 times, with Archie Thompson netting an unprecedented 13 goals.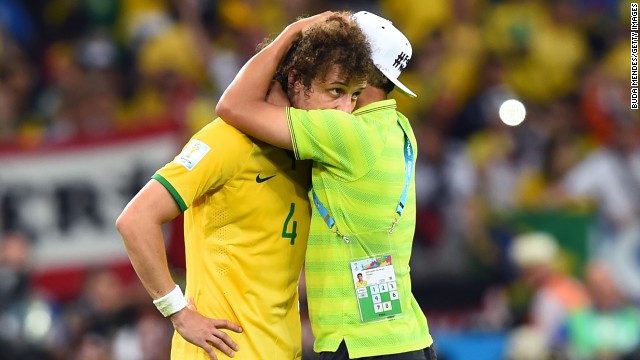 The World Cup's greatest shocks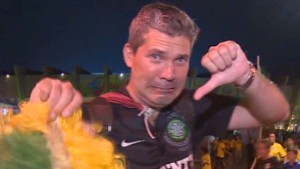 Brazil fan: '7-1 is unbelievable!'
Watch Rousseff's interview in Portuguese
Tuesday's semi-final match against Germany was always going to be a tough challenge for the home side, but no one predicted the 7-1 thrashing that sent rival Germany to the finals.
"We came into this match without two of our main players, Neymar, a major attacker, and our captain, Thiago Silva."
Brazil's World Cup performance is important to Rousseff not only as a matter of national pride, but as a matter of politics.
"If we had won," one Brazilian told CNN's Isa Soares, "the people would have forgotten all the money spent; at least now the realities are back in focus."
The country saw widespread anger and protests against what many viewed as excessive spending on stadiums and infrastructure for the World Cup.
Rousseff, who is bidding for re-election this October, put a big emphasis on the World Cup as a chance for Brazil to prove itself on the world stage.
"One has to bear in mind that from all different aspects, the fact is that Brazil has organized and staged a World Cup, which I do believe is one of the world's best World Cups. And that is largely due to the Brazilian people's ability to offer and extend hospitality and welcome supporters from all over the world."
READ: Five things about the beat down in Brazil
READ: It's not just the World Cup. Brazil has another big, fat problem
READ: Brazil's World Cup hammering spurs tears, puns and Twitter record