Bowe Bergdahl nears end of reintegration into everyday life in military, U.S.
updated 4:59 PM EDT, Wed July 9, 2014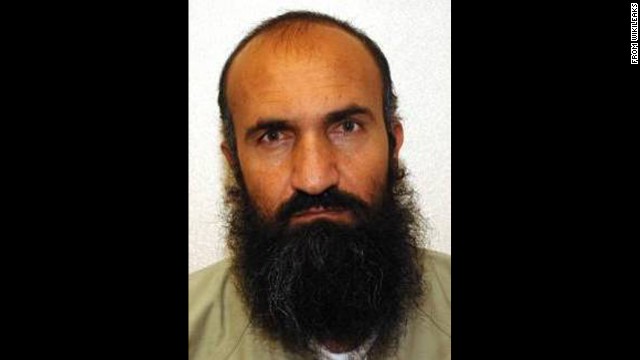 These are photos obtained by WikiLeaks that match the names of the detainees released by the Department of Defense. Their release was in exchange for the release of
Army Sgt. Bowe Bergdahl
who was being held by the Taliban. The Department of Defense would neither confirm nor deny their accuracy.
Khair Ulla Said Wali Khairkhwa
was an early member of the Taliban in 1994 and was interior minister during the Taliban's rule. He was arrested in Pakistan and was transferred to Guantanamo in May 2002. During questioning, Khairkhwa denied all knowledge of extremist activities.
Mullah Mohammad Fazl commanded the main force fighting the U.S.-backed Northern Alliance in 2001, and served as chief of army staff under the Taliban regime. Fazl was detained after surrendering to Abdul Rashid Dostam, the leader of Afghanistan's Uzbek community, in November 2001. He was transferred into U.S. custody in December 2001 and was one of the first arrivals at Guantanamo, where he was assessed as having high intelligence value.
Mullah Norullah Noori served as governor of Balkh province in the Taliban regime and played some role in coordinating the fight against the Northern Alliance. Like Fazl, Noori was detained after surrendering to Dostam, the Uzbek leader, in 2001.
Abdul Haq Wasiq was the deputy chief of the Taliban regime's intelligence service. Wasiq claimed, according to an administrative review, that he was arrested while trying to help the United States locate senior Taliban figures. He denied any links to militant groups.
Mohammad Nabi Omari was a minor Taliban official in Khost Province and was the Taliban's chief of communications and helped al Qaeda members escape from Afghanistan to Pakistan. He also said that he had worked with a U.S. operative named Mark to try to track down Taliban leader Mullah Omar.
Guantanamo detainees swapped for Bergdahl
Guantanamo detainees swapped for Bergdahl
Guantanamo detainees swapped for Bergdahl
Guantanamo detainees swapped for Bergdahl
Guantanamo detainees swapped for Bergdahl
STORY HIGHLIGHTS
Bowe Bergdahl is expected to be assigned shortly to a new Army unit
He is now in outpatient care
Bergdahl was released in exchange for five Taliban being held by the U.S.
(CNN) -- Army Sgt. Bowe Bergdahl is "just about done" with the final phase of his reintegration, a military source with access to information on Bergdahl's care told CNN.
He is expected to be assigned shortly to a new Army unit, the official said. Any issue of leave would be up to that unit.
Bergdahl, the U.S. soldier held captive for five years by militants before his release in May, has ventured several times off an Army base in Texas as part of the effort to get him used to everyday life in America, a military spokeswoman has said.
His release on May 31 in exchange for five Taliban being held by the U.S. military has rankled some, including former members of his unit, who said he was a deserter who endangered colleagues searching for him.
Yet while investigating circumstances surrounding his departure, the military has also said it's focused on making sure Bergdahl gets better mentally and physically, so he can gradually readjust to normal life.
Since being freed, Bergdahl has been carefully monitored at a military hospital in Landstuhl, Germany, and at his military home since June 13, Joint Base San Antonio-Fort Sam Houston.
He recently transitioned from inpatient care at Brooke Army Medical Center in Texas to outpatient care, the Army said on June 22.
Still, Bergdahl has hardly left the care of military health professionals.
Members of his reintegration team escort him whenever he leaves base and interacts with the public, the Army spokeswoman said. His stops have included restaurants, a library, a supermarket and several stores of his choosing.
Bergdahl went missing on June 30, 2009, in Afghanistan's Paktika province, where he was deployed with the 1st Battalion, 501st Infantry Regiment, 4th Brigade Combat Team, 25th Infantry Division.
An Army fact-finding investigation conducted in the months after his disappearance concluded he left his outpost deliberately and of his own free will, according to an official who was briefed on the report.
But there was no definitive conclusion Bergdahl was a deserter because that would require knowing his intent, something officials couldn't learn without talking to him, a U.S. military official has said.
How did six die after Bergdahl's disappearance?
Army general to start investigating how, why Bergdahl left base