Air New Zealand shows off stunning, all-black Dreamliner
updated 8:55 AM EDT, Wed July 9, 2014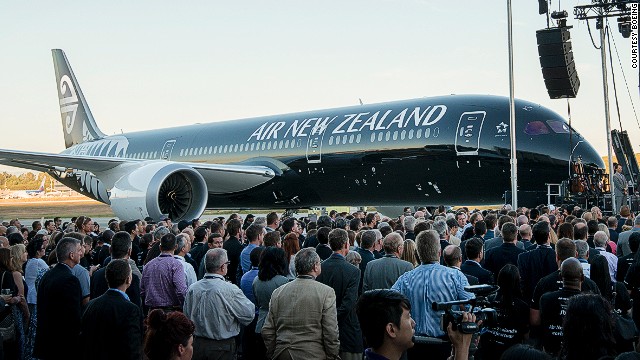 Boeing handed over the first 787-9 Dreamliner to Air New Zealand on July 8, 2014.
The debut aircraft was painted in a special edition livery, featuring the New Zealand fern on the back end of the fuselage. Flights will initially take place between Auckland and Perth starting October 2014, and extend to Tokyo and Shanghai a month later.
Boeing's 787-9 Dreamliner took off on its maiden voyage on September 17, 2013. The 787-9 is 20 feet longer and holds 40 more passengers than the 787-8, which carries between 210 and 250 passengers.
Besides carrying more passengers, the new version of the Dreamliner also can carry more cargo and fly further.
Boeing began final assembly of the first 787-9 Dreamliner in May 2013 in Everett, Washington, when employees began joining large sections of the aircraft together.
The Dreamliner 787-8 got off to a rough start. In January 2013, this All Nippon Airways 787 made an emergency landing because of battery troubles. It was one of several problems encountered by the aircraft, and subsequently the FAA ordered the entire 787 fleet to be grounded, while fixes to the battery system were made. The fleet started flying again in April 2013.
A LOT Polish Airlines 787, with a redesigned lithium-ion battery system, performs a test flight at Paine Field in Everett, Washington. The Dreamliner's distinctive wings sweep back at 32 degrees.
The use of composite materials on the Dreamliner makes larger window cutouts possible. Composites have replaced aluminum as the predominant material in the 787. The 777 is made up of 50% aluminum and 12% composites, compared with the Dreamliner's nearly 50% makeup of composites and just 20% aluminum.
Pilots train on one of two 787 full-flight simulators, like the one shown here, at the company's training center in Miami. Capt. Gary Lee Beard is shown demonstrating one of the simulators.
Air India's 787-8 Dreamliner got a water cannon salute in Australia as the country's first Dreamliner passenger flight landed in Sydney.
The 787-9 Dreamliner debut
All-black (nearly) edition
More passegers can fly further
Cargo improvements too
Assembling the first 787-9
A troubled first year in the air
The battery fix is tested
Passenger-friendly innovations
Learning to fly the 787
Dreamliner flight is cause for celebration
STORY HIGHLIGHTS
Launch customer Air New Zealand took hold of the first 787-9 Dreamliner on July 8, 2014
Aircraft featured a dramatic, limited edition, nearly all-black livery
Flights will begin in October 2014 from Auckland to Perth, and then Auckland to Tokyo and Shanghai a month later
(CNN) -- A near all-black Boeing 787-9 Dreamliner has been delivered to launch customer Air New Zealand, giving Boeing fans and aviation nerds a dramatic introduction to this latest model of the fuel-efficient plane.
The head-turning aircraft, sporting a special edition, mostly black livery, was handed over to the carrier in Everett, Washington, with around 1,000 Boeing employees and Air New Zealand executives attending.
"It's a big night for us all, seeing the plane come out of the hangar here," said Air New Zealand captain David Morgan. "I'm very excited to be able to get my hands on this aircraft and proudly fly it back to New Zealand."
MORE: Boeing 787 Dreamliner - Interactive explainer
Newer = bigger
The 787-9 is 20 feet longer than its predecessor, the 787-8, and can hold 40 more passengers.
It also has a greater range of 8,000-8,500 nautical miles, compared to the 787-8's range of 7,650-8,200.
"Obviously with their geography they're the perfect airline to really exercise this airplane -- they'll really be able to use the amazing performance that the 787-9 has," said Boeing's Mark Jenks, vice president, 787 Airplane Development.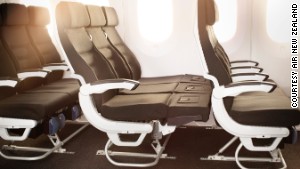 The "Skycouch," unique to Air New Zealand, where three seats join up to create a couch.
The manufacturer said it was on track to deliver 10 of the new planes to Air New Zealand by mid-year.
Twenty-six customers have ordered 409 787-9s to date, accounting for 40% of all 787 orders.
Due to a lighter, composite body, the plane can operate on 20% less fuel than other similar sized planes and offers design features such as larger, dimmable windows and in-cabin LED lighting.
MORE: What's it like to fly inside a Dreamliner?
Flight routes
Air New Zealand will begin operating its 787-9 in October 2014, flying from Auckland to Perth, Australia. In November it'll begin flights from Auckland to Tokyo and Shanghai.
The launch aircraft will offer 302 seats total, with the business premier cabin housing 18 lie-flat seats, a premium economy cabin with 21 seats and two economy cabins with 263 seats total.
The plane will also have 14 Skycouch rows -- a design unique to the Kiwi airline that turns a row of three economy seats into a three-seater "couch."
The plane will arrive in Auckland this Friday, July 11.
MORE: 16 stunning window seat photos
MORE: Making planes in the world's biggest building
Frances Cha contributed to this story.