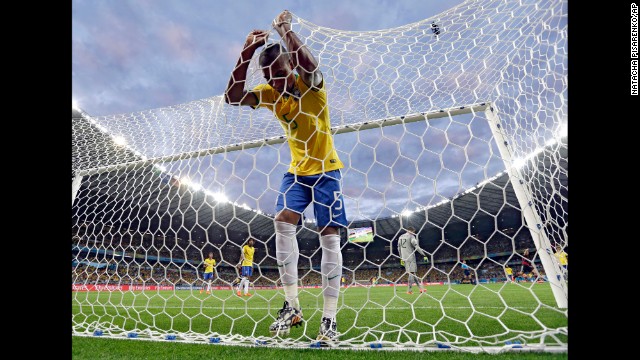 There was talk that without star striker Neymar and defender Thiago Silva, Brazil would have its work cut out against the efficient Germans. Boy, was that an understatement. The Germans
handed down a 7-1 walloping
never seen before in a World Cup semifinal. The game will fall in line with some of these examples of history's worst humiliations in sport.
Joe Louis vs. Max Schmeling: It was 1938, and World War II was imminent. Schmeling, a German, had knocked out the Brown Bomber in their first fight. When the boxers fought again in front of 70,000 fans at Yankee Stadium -- with millions listening on the radio -- Louis came out swinging and put Schmeling down in about two minutes, according to the International Boxing Hall of Fame.
Cowboys vs. Bills: The biggest beatdown in a Super Bowl came in 1990, when San Francisco dismantled Denver 55-10. But the 49ers were heavy favorites. Las Vegas was expecting a good show out of Dallas and Buffalo in 1993. Not only did the Cowboys win Super Bowl XXVII 52-17, they followed it up with a 30-13 thrashing in the following year's Super Bowl rematch.
World Cup qualifying: Brazil has nothing on American Samoa, which lost a 2001 World Cup qualifier to Australia 31-0. It wasn't the worst soccer drubbing, however. The following year, in the Madagascar league championship, AS Adema beat Stade Olympique de l'Emyrne by almost five times that score after SOE protested a referee's call by scoring 149 own goals.
1973 Belmont Stakes: Announcer Chick Anderson knew it was a blowout, estimating Secretariat had won the race -- and the first Triple Crown in a quarter-century -- by 25 lengths. That was later amended to 31 lengths. In 2012, the Maryland Racing Commission ruled Secretariat's 1973 Preakness time was misrecorded, and the corrected time made Secretariat the fastest Triple Crown winner ever.
Georgia Tech vs. Cumberland: We're nearing the 100th anniversary of this historic whipping. Cumberland College had ended its football program but didn't want to pay a fine for canceling its game. Fourteen men from the Tennessee school showed up in 1916 and lost 222-0. Revenge might have been at play, as Cumberland's baseball team had beaten Tech 22-0 in the spring.
Morningside High vs. South Torrance: Before Lisa Leslie was one of the biggest names in women's basketball -- and the first WNBA player to dunk in a game -- she pulled off a Wilt Chamberlainesque feat by scoring 101 points in a high school game in 1990. Morningside beat South Torrance 102-24 -- and that was the score at halftime, when the opposing team forfeited the match.
Australia vs. Namibia: The Aussies missed a scoring record by three points. That was likely no consolation to the Namibian squad, which was hammered 142-0 in the 2003 Rugby World Cup. Australia tallied 22 tries, which is similar to a touchdown in American football. The Namibians "barely made a tackle, failed to compete at the setpiece or breakdown and never once threatened to score," CNN reported at the time.
Olympic hockey qualifying: At an Olympics qualifying event in 2008, Slovakia's women's hockey team, seen here in 2010, thrashed Bulgaria 82-0. That's a goal every 44 seconds. The Slovakians took 139 shots to Bulgaria's zero, and they scored on 59% of their shots, ESPN reported. When they got to the Olympics, however, they ran into a buzzsaw known as Canada, losing 18-0.
1940 NFL Championship: After Washington eked out a 7-3 victory over Chicago in the 1940 regular season, Redskins coach George Marshall called Chicago coach George Halas and his players "crybabies." When the two collided in the championship that season, the Bears stomped the Redskins so badly, 73-0, that officials asked Halas to stop kicking extra points because too many balls had been lost in the stands.
ICC World Twenty20 cricket: Sri Lanka destroyed Kenya in a 2007 match that saw records fall. Sanath Jayasuriya led the way, as his Sri Lanka team won by 172 runs. Jayasuriya scored 88 runs all by himself, including 11 fours and four sixes. ESPN described the mismatch at the time as "minnow-bashing at its best."
Southern 500: Whether you're calculating margin of victory by miles or laps, Ned Jarrett is tops, NASCAR says. Jarrett recorded an impressive victory in February 1965, winning by 22 laps on a half-mile dirt track in South Carolina. Later in the season, he outran second-place Buck Baker at Darlington Raceway by 14 laps, or more than 19 miles, according to NASCAR.
1988 French Open final: It might have taken longer for Steffi Graf to get her nails done. In 1988, she took to the courts of Roland Garros to face Natalya Zvereva of the Soviet Union. Graf embarrassed her opponent, 6-0, 6-0, in a match that lasted just over half an hour. In postmatch remarks, Graf thanked her supporters and said, "I'm very sorry it was so fast," The New York Times reported.
Biggest sports humiliations
Biggest sports humiliations
Biggest sports humiliations
Biggest sports humiliations
Biggest sports humiliations
Biggest sports humiliations
Biggest sports humiliations
Biggest sports humiliations
Biggest sports humiliations
Biggest sports humiliations
Biggest sports humiliations
Biggest sports humiliations
Biggest sports humiliations