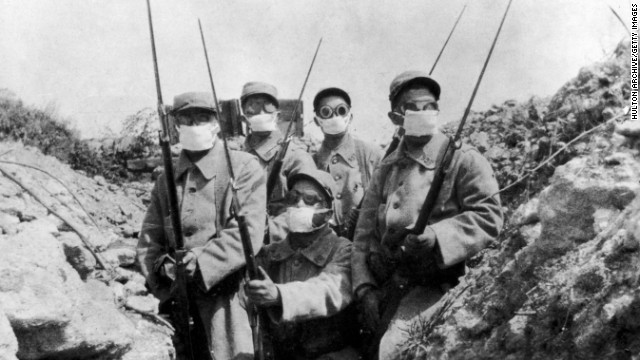 World War I ushered in an era of chemical weapons use that lingers, lethally, into the present day. About 1 million casualties were inflicted, and 90,000 were killed. Here, French troops wear an early form of gas mask in the trenches during the first widespread use of gas, by the Germans at the Second Battle of Ypres in 1916.
French soldiers making a gas and flame attack on German trenches in Flanders, Belgium, in 1918. German forces were the first to open valves on gas cylinders, releasing the toxic cloud on unprepared French troops in Ypres in 1915.
The bodies of hundreds of Italian soldiers are strewn across the battlefield, victims of a gas and flame attack during World War I, as others haul the wounded on stretchers. They were members of the Ninth Italian Regiment of the Queen's Brigade.
Early gas masks were often ineffectual. The Germans and Americans would ultimately be the most successful in creating barriers to lethal gases. A German soldier shows how to wear one version.
wrote
historian Gerald Fitzgerald.
A soldier demonstrates an ungainly French gas mask. "French masks were notoriously unreliable,"
A German cavalry unit with both horses and soldiers wearing gas masks advances during the Second Battle of the Aisne at Soissons, France, in June 1918.
A German soldier wears a more rudimentary gas mask in 1915. Although the Germans were first to deploy chemical weapons in the war, both sides were soon routinely using chlorine and other gases in battle.
Men of the British Army's 55th Division, blinded by a poison gas attack, in April 1918. British soldier Wilfred Owen captured the panic of an attack in verse "Gas! Gas! Quick, boys! -- An ecstasy of fumbling, Fitting the clumsy helmets just in time; But someone still was yelling out and stumbling, And flound'ring like a man on fire or lime."
Chemical weapons in World War I
Chemical weapons in World War I
Chemical weapons in World War I
Chemical weapons in World War I
Chemical weapons in World War I
Chemical weapons in World War I
Chemical weapons in World War I
Chemical weapons in World War I
STORY HIGHLIGHTS
Paul Schulte says WWI ushered in era of chemical weapons use that lingers today
He says such things as mustard gas brought agony: blindness, disability, often death
Treaties have sought to rein them in but are not always successful, as in Syria, he says
Chemical warfare was universally criminalized, Schulte says, but behavior remains toxic
Editor's note: This is the fifth in a series on the legacies of World War I appearing on CNN.com/Opinion in the weeks leading up to the 100-year anniversary of the war's outbreak in August. Ruth Ben-Ghiat is guest editor for the series. Paul Schulte is honorary professor at the University of Birmingham's Institute for Conflict, Cooperation and Security. He is former director of proliferation and arms control in the British Ministry of Defence and U.N. disarmament commissioner for Iraq. The opinions expressed in this commentary are solely those of the author.
(CNN) -- World War I ushered in an era of chemical weapons use that lingers, lethally, into the present day.
Indeed, the German chlorine attacks against French, Algerian, British and Canadian troops around Ypres -- site of the war's most relentless fighting -- in April 1915 presaged a world in which weapons of mass destruction became at least a permanent background anxiety and often a source of intense terror.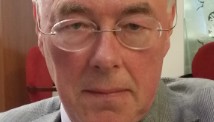 Paul Schulte
World War I, which began nearly 100 years ago, linked science with mass killing and, despite preventative treaties such as the 1900 Hague Convention, created a lasting precedent. Scientific progress now brought new fears as well as hope.
The other combatant nations responded to their maximum extent, with rapidly developed mixtures of retaliation-in-kind and protective technologies and procedures. Perhaps 1 million chemical casualties were inflicted, to little overall military advantage. Although fatalities were eventually kept relatively low, at about 90,000 in total, there was, and remains, deep revulsion at slow, agonizing deaths from tissue damage through blistering of the skin caused by innovations such as mustard gas or drowning through destruction of the lungs.
Opinion: How a century-old war affects you
WAR'S LASTING LEGACY
The first World War began August 4, 1914, in the wake of the assassination of Archduke Franz Ferdinand of Austria-Hungary on June 28 of that year. In the next two months,
CNN.com/Opinion
will feature articles on the weapons of war, its language, the role of women, battlefield injuries and the rise of aerial surveillance.
Many survivors were left blind or permanently disabled. Human distress, dread, "gas fright" and their long-term psychiatric consequences are impossible to calculate. They may have fatefully helped intensify Hitler's psychopathology as he lay brooding upon the Armistice in a military hospital, temporarily blinded by British mustard gas.
Later, in the Geneva Gas Protocol of 1925, the world tried to address its WMD problem through a collective promise of "no first chemical or bacteriological use," backed by uncontrolled arsenals, which it was hoped would deter treaty breach by the hideously plausible and familiar threat of retaliation.
That gamble held precariously in World War II but not in hidden, or conveniently overlooked, one-sided campaigns conducted by Spain, Italy, Japan and Egypt in remote theaters such as Morocco, Ethiopia, China and Yemen. Continued secret research created still more efficient nerve gases, blatantly employed by Saddam Hussein's forces in the 1980s against Iranians and Kurds, without international response. However, the international honeymoon period after the Cold War allowed the negotiation of total, monitored and inspected elimination of all chemical weapons stocks and production facilities under the 1998 Chemical Weapons Convention.
But World War I and its aftermath have left discouraging precedents.
Opinion: The mighty women of World War I
Although banned, in the 1919 Treaty of Versailles, from keeping any chemical weapons, Germany secretly maintained formidable capacities. Its specialists went on to set up joint trials and research facilities in the USSR and to pioneer the whole class of nerve agents. Cheating in arms-control treaties, especially with the assistance of third parties, has remained a lasting political anxiety and an intelligence priority ever since.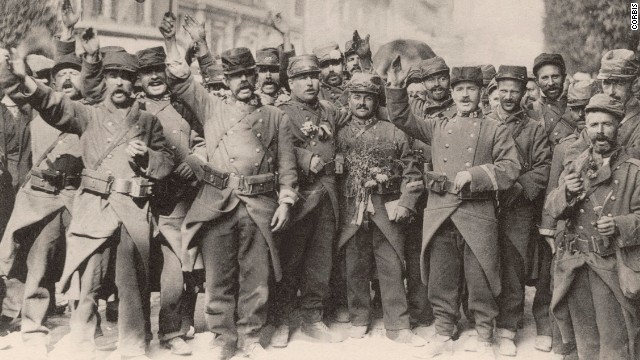 French soldiers sing the national anthem at the beginning of World War I in August 1914. This "war to end all wars" might seem like ancient history, but it changed the world forever. It transformed the way war was fought, upended cultures and home life and stimulated innovations that affect us today. With more than 30 combatant nations and nearly 70 million men mobilized, World War I profoundly destabilized the international order. Look back at some of the war's key events.
The bodies of Austria-Hungary Archduke Franz Ferdinand and his wife, Sophie, Duchess of Hohenberg, are seen after their assassination by Serbian nationalist Gavrilo Princip on June 28, 1914. The assassination led Austria-Hungary to declare war on Serbia, starting a chain of events that would gradually bring other nations into the fray.
Germans in Berlin mobilize for war on August 1, 1914. Germany was a strong ally of Austria-Hungary.
French soldiers are seen at a front-line trench in Italy. During World War I, the Allied Powers consisted of Belgium, France, Great Britain, Greece, Italy, Montenegro, Portugal, Romania, Russia, Serbia and the United States. The Central Powers consisted of Austria-Hungary, Bulgaria, Germany, and Ottoman Empire (now Turkey).
German soldiers captured by the British are seen in France.
Men visit the graves of French soldiers killed in the Battle of the Marne in September 1914.
Troops land at Anzac Cove in the Dardanelles during the battle between Allied forces and Turkish forces at the Gallipoli Peninsula in February 1915. The two sides were fighting for access to the strategic Sea of Marmara and eventually to Constantinople (Istanbul).
German and British troops are seen together during the Christmas Truce of 1914.
These French Zouave infantrymen were killed by gas during the Second Battle of Ypres, Belgium, in April 1915.
Germans give oxygen to a gas victim in 1915. The cloth masks worn by these soldiers provided little defense; more substantial gas masks were not produced until 1916. By the end of the war, even horses and dogs used at the front had their own gas masks.
German U-boats, or submarines, patrol the Mediterranean coast.
French troops rest in Verdun, France, in 1916. Verdun was the site of the longest battle of World War I.
Dead bodies lie piled in a trench at Verdun on April 9, 1916.
British troops advance during the Battle of the Somme in 1916.
A British tank is stranded while crossing a trench during the Battle of the Somme on September 25, 1918.
German soldiers stand near a crashed fighter plane in Germany in 1916.
Czar Nicholas II of Russia, right, reviews the palace guard just prior to the Russian Revolution of 1917.
U.S. President Woodrow Wilson addresses a joint session of Congress in April 1917, requesting a declaration of war on Germany. The United States declared war against Germany after the interception and publication of the Zimmermann Telegram and the sinking of three U.S. merchant ships by German U-boats.
Britons stand in line outside an Army recruiting station.
A British sergeant major instructs American soldiers in bayonet fighting at Texas' Camp Dick.
U.S. Army troops stand in a defensive trench in France. By war's end, thousands of miles of trenches crisscrossed European battlefields.
A defeated German army marches home on October 1, 1918.
Armistice Day is celebrated in Chicago on November 1, 1918.
U.S. troops returning home from France are seen on the USS Agamemnon in Hoboken, New Jersey, in 1919.
German delegates listen to French Prime Minister Georges Clemenceau's speech during the signing of the Treaty of Versailles in France on June 28, 1919.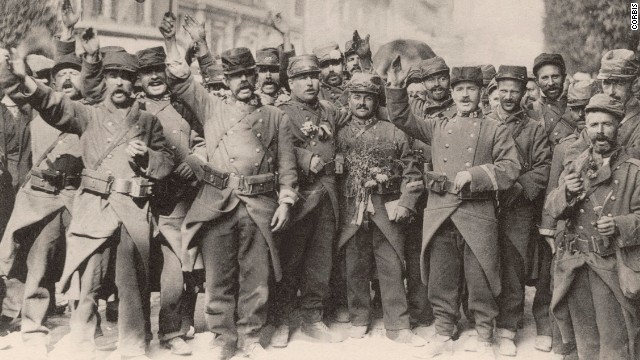 Photos: World War I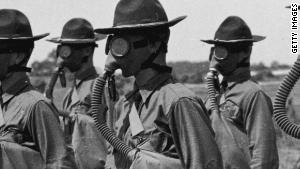 Three unexpected things from WWI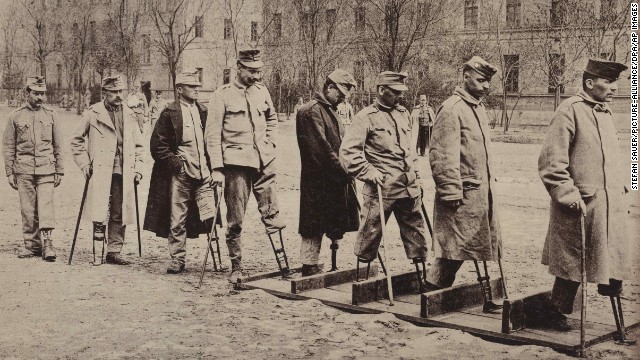 The scale and type of physical injuries endured by soldiers injured in World War One challenged the ingenuity of prosthesis designers, whose work to replace lost body parts would let many return to productive civilian life, a process echoed today with soldiers injured in our recent wars. Here Austro-Hungarian soldiers practice walking with artificial legs at the First War Hospital, Budapest. See gallery showing the effects of the war.
German soldier with simple artificial legs, 1917.
Postcard of British soldiers using parallel bars to help them learn to walk with their artificial legs. Image was probably taken at Queen Mary's Convalescent Auxiliary Hospital, a specialized orthopedic hospital that opened in London in 1915.
A disabled German ex-serviceman works as a carpenter with the aid of a prosthetic arm, Germany, circa 1919.
Prosthesis for eye and eyelid, to attach to glasses, France, 1916.
Soldier wearing prothesis to replace one eye and the eyelids, France, 1916.
German soldier equipped with two, more sophisticated, artificial legs, 1917.
German man riding a bicycle using prostheses on both arms and legs. Photo by Dr. P. A. Smithe, American Red Cross surgeon at the Vienna Red Cross Hospital, 1914-1915.
An artificial limb maker at work in Berlin in 1919. Prosthetics were perhaps Berlin's busiest industry after the carnage of the Great War.
Wounded veterans with their prostheses, 1916.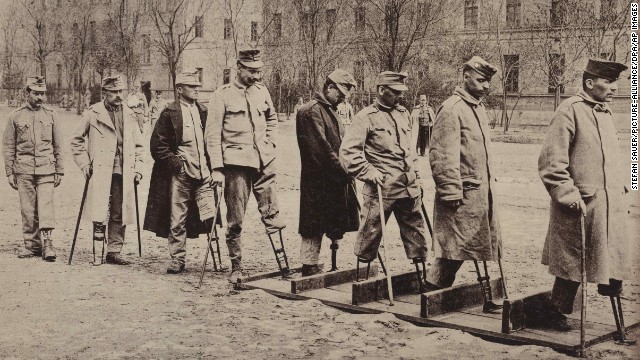 Photos of WWI's "Bionic Men"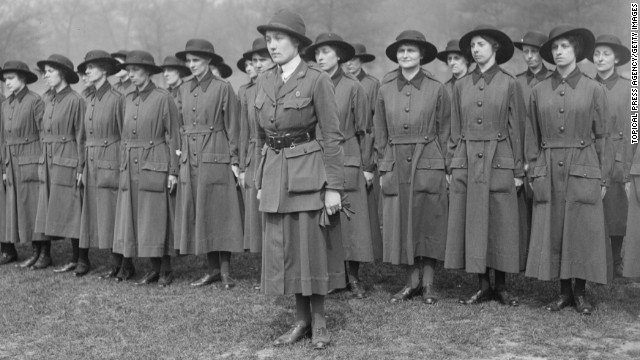 Female army recruits from the United Kingdom are seen during drills in May 1917. World War I broke down barriers between military and civilian life. With the men away in battle, women took on an extraordinary role in support of the war, whether it was on the front lines or at home in factories and farms.
Loretta Perfectus Walsh enlisted in the United States Naval Reserve in March 1917, becoming the first active-duty woman in the Navy and the first U.S. military woman who wasn't a nurse.
Women work at the Gray & Davis Co. ordnance factory in Cambridge, Massachusetts. Munitions workers faced harsh working conditions that were sometimes lethal, such as in the Barnbow National Factory explosion that killed 35 near Leeds, England.
A woman works as a porter at the Marylebone station in London. British propaganda posters declaring soldiers' dependence on female munitions workers gave women a sense that their labor contributions would be important -- and acknowledged. But this was not always the case.
A Russian women's regiment from Petrograd (now St. Petersburg) relaxes in front of its tents. Women across the globe would serve directly on the battlefields, with many serving as nurses, ambulance drivers and cooks.
Maria Bochkareva, nicknamed Yashka, was a Russian soldier who in 1917 created the 1st Russian Women's Battalion of Death -- an all-female combat unit.
"Hello Girls" at work. The U.S. Army trained more than 400 female telephone operators to serve in France and England for the Army Signal Corps. These women were bilingual, speaking French and English.
Grace Banker receives a Distinguished Medal of Service for her role as chief operator in the U.S. Army Signal Corps. She worked at a post close to the front lines in France.
Female firefighters put a fire escape into position in the United Kingdom.
Lenah Higbee, a Canadian-born U.S. Navy chief nurse, served as superintendent of the U.S. Navy Nurse Corps during World War I. She was the first female recipient of the Navy Cross.
Nurses tend to wounded soldiers in France in 1915.
Julia Stimson was superintendent of the U.S. Army Nurse Corps and the first woman to attain the rank of major in the Army. She earned the Distinguished Service Medal for her service in France.
Mairi Chisholm and Elsie Knocker drive an ambulance in July 1917. The two British women ran a first-aid post in Belgium only 100 yards from the trenches.
Milunka Savic was a Serbian combatant and the most decorated female fighter in the history of warfare. She was honored by multiple countries for her bravery.
Mary Sophia Allen inspects policewomen in London in May 1915. Before the war, Allen had been imprisoned three times for her activism as a suffragette. She turned down an offer of wartime service with a Needlework Guild to become the second in command of the Women Police Service.
A member of the Women's Forestry Corps, part of the Women's Land Army in the United Kingdom, works circa 1916.
Women "navvies" work on railway building in Coventry, England.
Dorothy Lawrence disguised herself as a man in order to become an English soldier in World War I.
A female munitions worker welds at an armaments factory.
A British Army lieutenant sits in a garden with his wife and three children while on leave during the war. In Great Britain and the United States, women confronted wartime shortages of food, fuel and housing as they struggled to maintain homes and families while they also worked outside the home.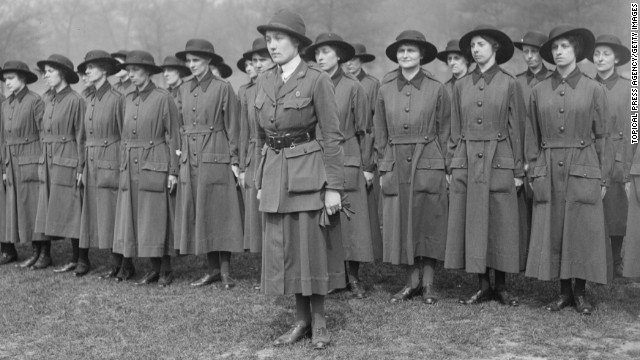 Photos: Women during World War I
We now also know that during World War I, German agents tried systematically to infect Allied livestock with glanders (a serious bacterial disease, transmissible to humans but mainly affecting horses and mules). This was the insidious, but fortunately not then very successful, birth of covert scientific biological warfare -- which, despite the unverifiable and evidently broken Biological and Toxin Weapons Convention of 1971, now persists as an uneliminable security nightmare.
So we are all still partially breathing the yellow-green poison cloud that Nobel laureate Fritz Haber determinedly developed and the generals of the German High Command, locked into the first scientific Total War, reluctantly authorized. (The suicides, apparently through shame and disgust, of both Haber's wife, Clara, and Hermann, one of his sons, seem to add further intimate casualties to his innovation.)
Opinion: How World War I gave us 'cooties'
Haber's weaponization of chlorine for the second Battle of Ypres heralded a period of destructive technological dynamism in which we still live, when, repeatedly, as Bertolt Brecht observed:
"Out of the libraries come the killers.
Mothers stand despondently waiting,
Hugging their children and searching the sky,
Looking for the latest inventions of the professors."
And today, the news remains bad.
Mothers still scan the sky for incoming chemicals.
Chlorine is back.
After 1,400 people were killed with highly efficient sarin nerve agent in the rebel-held eastern suburbs of Damascus in August, the Syrian government agreed to join the 1998 Chemical Weapons Convention and cooperate in its own chemical disarmament, as an alternative to U.S. punitive strikes.
Opinion: The 'bionic men' of World War I
Before completion of that process, reports repeatedly emerged in early 2014 of new attacks using chlorine, which as an industrial chemical used in water purification cannot be removed from the country, although employing it against humans is unquestionably forbidden. Chlorine's lethality, even against unprotected civilians, may be unimpressively low by modern standards, but it reliably continues to terrify.
And while German culpability in the gas attacks in Flanders 100 years ago was clear, the United Nations is still unable to agree, or even yet formally investigate, which side has been conducting chemical attacks of any kind in the long Syrian civil war.
Chemical warfare was universally criminalized in September under U.N. Security Council Resolution 2118. But finally eliminating or even punishing the homicidal employment of chemicals in organized violence is a diplomatic as much as a legal, technical or military problem.
It turns out that some international behavior over chemical killing remains as toxic as in 1915.
WWI: The Golden Age of postcards
Read CNNOpinion's new Flipboard magazine
Follow us on Twitter @CNNOpinion.
Join us on Facebook.com/CNNOpinion.