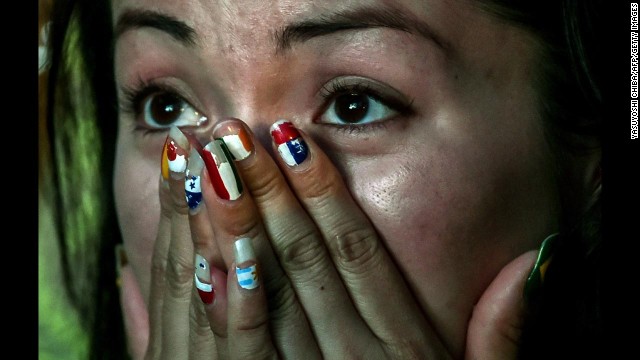 A Brazil fan reacts as she watches the World Cup semifinal match between Germany and Brazil on Tuesday, July 8, in Belo Horizonte, Brazil. Germany advanced to the final with an astonishing 7-1 victory over the host nation.
Brazil's Thiago Silva, right, consoles teammate David Luiz after the match. Silva, Brazil's captain, had been suspended and couldn't play.
The stadium's scoreboard after the match.
Germany fans in Berlin celebrate their team's seventh goal.
Brazil's Oscar, right, scores his team's only goal late in the second half. They were down 7-0 at the time.
German midfielder Bastian Schweinsteiger controls the ball.
German goalkeeper Manuel Neuer dives for the ball.
Brazilian midfielder Paulinho attempts an overhead kick.
David Luiz looks on after Germany's sixth goal.
Brazilian goalkeeper Julio Cesar reacts after failing to stop a shot.
Andre Schuerrle scores Germany's seventh goal. It was his second of the game.
Julio Cesar shows his dejection after conceding the sixth goal.
Neuer lies on the grass in the penalty box.
A Brazil fan watches the match on television in Rio de Janeiro.
Germany fans celebrate a goal in Palma de Mallorca, Spain.
Brazil fans are devastated while watching the first half on Copacabana beach in Rio de Janeiro.
Brazil's Marcelo reacts after a German goal.
Germany fans celebrate a goal while watching the match in New York.
German players celebrate their fifth goal.
Brazilian players Oscar and Fred hang their heads after a German goal.
Toni Kroos of Germany, left, celebrates scoring the third goal of the game.
Neuer, left, separates Thomas Mueller of Germany and Hulk of Brazil.
Miroslav Klose celebrates scoring his team's second goal against Brazil. The goal made Klose the all-time leading scorer in World Cup history.
Klose and David Luiz compete for the ball.
Brazilian defender Dante, left, fights off Germany's Sami Khedira.
Mueller celebrates after scoring the first goal of the game.
Oscar challenges Schweinsteiger.
Hulk shields the ball from Schweinsteiger and German defender Jerome Boateng.
Julio Cesar, left, and David Luiz hold a Neymar jersey as they sing the national anthem prior to kickoff. Neymar was injured in the quarterfinals and couldn't continue to play in the tournament.
Brazil head coach Luiz Felipe Scolari, left, and German head coach Joachim Loew hug prior to the match.
Germany fans watch during a public viewing at the Brandenburg Gate in Berlin.
World Cup: The best photos from July 8
World Cup: The best photos from July 8
World Cup: The best photos from July 8
World Cup: The best photos from July 8
World Cup: The best photos from July 8
World Cup: The best photos from July 8
World Cup: The best photos from July 8
World Cup: The best photos from July 8
World Cup: The best photos from July 8
World Cup: The best photos from July 8
World Cup: The best photos from July 8
World Cup: The best photos from July 8
World Cup: The best photos from July 8
World Cup: The best photos from July 8
World Cup: The best photos from July 8
World Cup: The best photos from July 8
World Cup: The best photos from July 8
World Cup: The best photos from July 8
World Cup: The best photos from July 8
World Cup: The best photos from July 8
World Cup: The best photos from July 8
World Cup: The best photos from July 8
World Cup: The best photos from July 8
World Cup: The best photos from July 8
World Cup: The best photos from July 8
World Cup: The best photos from July 8
World Cup: The best photos from July 8
World Cup: The best photos from July 8
World Cup: The best photos from July 8
World Cup: The best photos from July 8
World Cup: The best photos from July 8
World Cup: The best photos from July 8