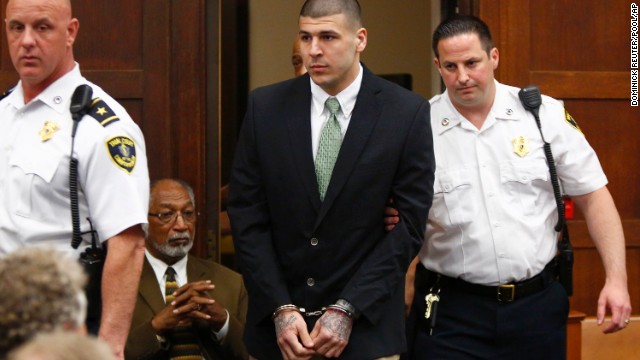 Former New England Patriots tight end Aaron Hernandez is led into the courtroom to be arraigned on homicide charges on Wednesday, May 28, in Boston. Hernandez pleaded not guilty in the 2012 killings of Daniel de Abreu and Safiro Furtado. He has also been charged in the 2013 death of semipro football player Odin Lloyd.
At a press conference on May 15, Suffolk County District Attorney Dan Conley announces that Hernandez has been indicted for the July 2012 killings of de Abreu and Furtado and charged with three counts of armed assault with attempt to murder. Prosecutors allege Hernandez killed de Abreu and Furtado after de Abreu bumped into Hernandez at a nightclub, causing him to spill his drink.
Hernandez is brought into the Attleboro, Massachusetts, District Court for his arraignment on June 26, 2013. He was charged with first-degree murder in Lloyd's death. Hernandez was release by the Patriots less than two hours after his arrest.
Hernandez answers questions during Media Day on January 31, 2012, before Super Bowl XLVI against the New York Giants in Indianapolis.
Hernandez carries the ball as the Patriots play the Cincinnati Bengals in Foxborough, Massachusetts, on September 10, 2010.
Hernandez looks up after being tackled during a game against the Philadelphia Eagles on November 27, 2011, in Philadelphia.
Tattoos on Hernandez's arm are visible during the pregame warmup on December 4, 2011.
Hernandez scores a touchdown against the Buffalo Bills on January 1, 2012, in Foxborough, Massachusetts.
Hernandez catches a pass against Chase Blackburn and Aaron Ross of the New York Giants during Super Bowl XLVI on February 5, 2012, in Indianapolis.
Hernandez runs for a 12-yard touchdown past Deon Grant of the New York Giants in the third quarter of Super Bowl XLVI on February 5, 2012, in Indianapolis.
Hernandez celebrates his touchdown in the third quarter of Super Bowl XLVI.
Hernandez, center, reacts during the SEC Championship game between the Florida Gators and the Alabama Crimson Tide on December 6, 2008. The Gators went on to win the national title.
Rise and fall of Aaron Hernandez
Rise and fall of Aaron Hernandez
Rise and fall of Aaron Hernandez
Rise and fall of Aaron Hernandez
Rise and fall of Aaron Hernandez
Rise and fall of Aaron Hernandez
Rise and fall of Aaron Hernandez
Rise and fall of Aaron Hernandez
Rise and fall of Aaron Hernandez
Rise and fall of Aaron Hernandez
Rise and fall of Aaron Hernandez
Rise and fall of Aaron Hernandez
STORY HIGHLIGHTS
Hernandez attorneys want test results from Patriots
Team doesn't want to comply with all defense requests
Former Patriots tight end is charged in slayings
Judge is hearing matter
Fall River, Massachusetts (CNN) -- The New England Patriots are refusing to voluntarily turn over scouting reports and psychological tests to the defense team of former star tight end Aaron Hernandez.
"This is not a fishing expedition," Patriots attorney Andrew Phelan told a Massachusetts Superior Court judge during a hearing Wednesday.
The Patriots cut Hernandez loose on June 26, 2013, the same day he was arrested in the slaying of semi-pro football player Odin Lloyd. He has pleaded not guilty to murder in the Lloyd killing and those of Daniel de Abreu and Safiro Furtado in 2012.
Hernandez' defense team wants a judge to issue a subpoena to be served on the three-time Super Bowl championship team.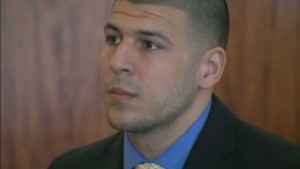 A possible jail move for Aaron Hernandez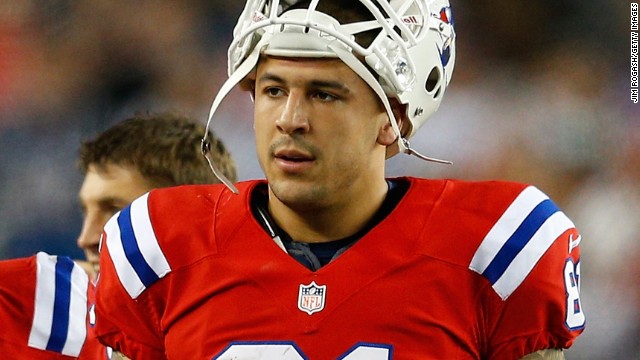 A Bristol County, Massachusetts, grand jury indicted former NFL player Aaron Hernandez on a first-degree murder charge, as well as five weapons charges, on August 22. The former New England Patriots' tight end was arrested in the shooting death of his friend Odin Lloyd in June. Hernandez has pleaded not guilty. Here's a look at other professional athletes who have been charged with murder. Some have been able to create new lives in the free world. Others are incarcerated.
South African sprinter Oscar Pistorius, seen here in August, is accused of murdering his girlfriend, model Reeva Steenkamp, on February 14, 2013. Pistorius became the first amputee to compete in the able-bodied Olympics when he ran for South Africa in London 2012.
Rae Carruth, who was a wide receiver for the Carolina Panthers, became the first active NFL player ever charged with first-degree murder. His pregnant girlfriend, Cherica Adams, was killed in December 1999, and prosecutors said he arranged for her to be killed in a drive-by shooting. Carruth was eventually convicted of conspiring in her murder and is now in prison. The unborn child, a boy, survived.
Middleweight boxer Rubin Carter, known as "Hurricane" in the ring, served 18 years in prison for a triple homicide that took place in a bar in 1966. A federal judge overturned his sentence and that of his supposed accomplice, John Artis, in 1985, ruling that the conviction was based on "racial stereotypes, fears and prejudices."
Groundbreaking skateboarder Mark "Gator" Rogowski confessed to beating and raping Jessica Bergsten, then choking her to death and burying her in the desert in 1991. Bergsten was a friend of Rogowski's former girlfriend, and Rogowski testified that he acted out of misplaced anger against his ex. Rogowski was denied parole in 2011 and will not be eligible for parole again until 2018.
Baltimore Ravens linebacker Ray Lewis and two others were charged with murder in 2000 after a fight in a popular Atlanta bar district left two men dead on the street. The murder charges against Lewis were dropped after he pleaded guilty to a misdemeanor charge of obstruction of justice and testified against his friends; they were later acquitted. Lewis announced his retirement before helping the Ravens win the Super Bowl in 2013.
Bruno Fernandes das Dores de Souza, a former goalie for the Brazilian soccer club Flamengo, was convicted in the murder of his ex-girlfriend, a court said in March 2013. He was sentenced to 22 years and three months for the murder of Eliza Samudio, who had disappeared in 2010. Souza, his lover and his ex-wife were among nine people charged with torturing and murdering Samudio, who had been trying to prove Souza had fathered her son.
Although O.J. Simpson was found not guilty, the former football star's 1995 murder trial has kept him a household name. Simpson was acquitted in the death of his wife, Nicole Brown Simpson, and Ron Goldman. In October 2008, Simpson was sentenced to 33 years in prison on multiple counts, including armed robbery and kidnapping, in connection with a robbery at a Las Vegas hotel in 2007.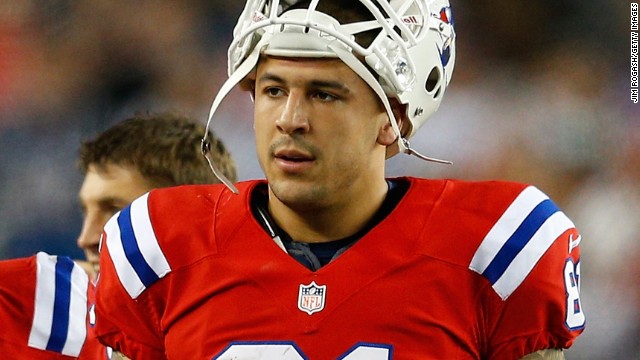 Photos: Athletes charged with murder
"We never thought the Pats would refuse our request," Hernandez co-counsel Michael Fee told the judge.
The Patriots argue that psychological tests done before the 2010 NFL draft and scouting reports that can go as far back as the childhood of a prospective player don't have a proven role in Hernandez's case because they were conducted three years before Lloyd's death.
"They must be relevant to an issue in dispute in the case, " Phelan told the court. "But he's not putting his state of mind at issue," the attorney said of Hernandez.
The defense argues it is relevant, but has not yet made clear what the information may play in its case.
"Any record bearing on a defendant's psychological function, illnesses or afflictions, addiction, cognitive ability, social interactions, behavior under stress, relationship with authority and other such factors are undeniably relevant to the defense of an individual charged with First Degree Murder," Fee wrote in a motion.
The team says its scouting report contains "trade secrets," adding that revealing them could "cause competitive harm to the Patriots."
The report includes an athlete's speed, stats and injuries, including concussions.
The Patriots have offered to allow the defense to look at, but not have, a one and half page summary of a psychological test administered during the 2010 NFL Combine called the Troutwine Athletic Profile (TAP). It takes about 20 minutes to complete and can be given to athletes ages 13-25, according to court records.
The team claims the summary is the only thing it can provide because of copyright restrictions, adding the company is the proper record keeper. Lawyers for Hernandez are hotly contesting that claim.
The Patriots are offering to provide Hernandez' lawyers with a 317 pages of "employment and medical/training room records without a court order." But first, they want a current signed release form, pointing out one previously provided by his attorneys was outdated.
The judge will hold another hearing on the case July 22.
Will Hernandez get the subpoena he's seeking from the court?
University of New Hampshire law professor Michael McCann says he probably will. "I could see the judge limiting the order to only psychological aspects of those reports, given the trade secret concern raised by the Patriots," McCann told CNN.
"The judge has an incentive to be fairly permissive in allowing Hernandez access to these reports since denial would be grounds for a Hernandez appeal should he be convicted."
Assets from Hernandez's home frozen in civil lawsuit
Inside the case against Aaron Hernandez
CNN's Susan Candiotti reported and wrote in New York and Ross Levitt reported in Fall River, Massachusetts.