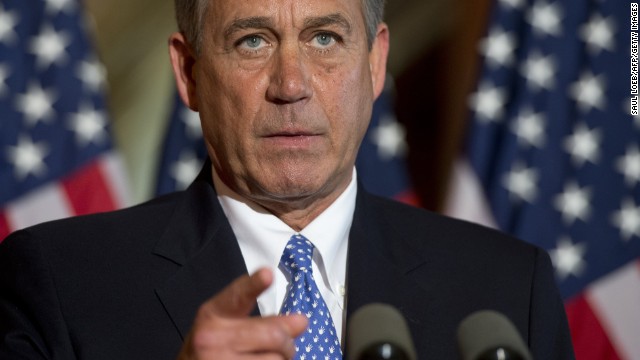 John Boehner has been the speaker of the U.S. House of Representatives since 2011, making him second in line for the presidency, behind the vice president. Look back at his career in politics so far.
Boehner, R-Ohio, holds a copy of the Constitution on Capitol Hill in Washington on May 7, 1992, as Sen. Don Nickles, D-Oklahoma, looks on. Both men proclaimed it was a historic day when the Michigan House ratified the 27th Amendment to the Constitution, which would require that any Congressional pay raises not go into effect until after the next election.
Boehner at a Capitol Hill news conference on February 6, 1995. He has had a seat in the U.S. House of Representatives since 1990. Before that he was a member of the Ohio State House of Representatives for six years.
Boehner dumps out coal, which he called a Christmas gift to President Clinton, during a news conference about the federal budget on December 21, 1995. Many government services and agencies were closed at the end of 1995 and beginning of 1996 as a Republican-led Congress battled Clinton over spending levels.
Boehner and House Majority Leader Dick Armey, R-Texas, listen to House Speaker Newt Gingrich at a 1997 news conference with entrepreneurs promoting the GOP tax relief plan.
President George W. Bush signs into law the federal education bill No Child Left Behind at a high school in Hamilton, Ohio, in 2002. The law offered the promise of improved schools for the nation's poor and minority children and better-prepared students in a competitive world. Boehner, second from right, backed the bill.
Boehner answers questions during an interview with Bloomberg in Washington on June 29, 2005.
Boehner, center, and fellow Republican House members sing Boehner's birthday song during a news conference on Capitol Hill on November 17, 2006. Boehner served as the House Minority Leader from 2007 to 2011.
Boehner, center, looks on as President Barack Obama speaks with then-House Majority Leader Steny Hoyer in the East Room of the White House on February 23, 2009. Boehner and Obama have butted heads over the years.
Boehner, an avid golfer, talks with Tiger Woods while golfing at the Congressional Country Club in Bethesda, Maryland, in 2009.
Boehner voices his concerns about the health care reform bill championed by Obama during a news conference in Washington on October 29, 2009.
Boehner hugs his wife, Debbie, after addressing the crowd at the NRCC Election Night watch party on November 2, 2010, when Republicans took back control of the House of Representatives. Boehner met his wife in college, and they have been married since 1973.
On January 5, 2011, Boehner wipes away tears as he waits to receive the gavel from outgoing House Speaker Nancy Pelosi, D-California, during the first session of the 112th Congress.
Boehner presents golfing legend Arnold Palmer with the Congressional Gold Medal at a special ceremony in the Rotunda of the Capitol on September 12, 2012.
Boehner is sworn in as the speaker of the House after his re-election on January 3, 2013.
Boehner speaks to the media after a meeting with President Obama at the White House on October 2, the second day of the federal government's recent shutdown. The White House squared off with Republican rivals in Congress over how to fund federal agencies, many of which were forced to close, leaving a fragile economy at risk.
Reporters question Boehner as he arrives at the U.S. Capitol as the government stalemate continued on October 7. President Obama signed a bill on October 17 that ended the 16-day shutdown and raised the debt ceiling.
Boehner blasts conservative groups during a press conference on December 12 after passing a compromise budget deal aimed at removing the threat of another government shutdown. Fed up with criticism from conservative advocates, Boehner said they were "misleading their followers." He followed up with: "Frankly, I just think that they've lost all credibility."
John Boehner's political career
John Boehner's political career
John Boehner's political career
John Boehner's political career
John Boehner's political career
John Boehner's political career
John Boehner's political career
John Boehner's political career
John Boehner's political career
John Boehner's political career
John Boehner's political career
John Boehner's political career
John Boehner's political career
John Boehner's political career
John Boehner's political career
John Boehner's political career
John Boehner's political career
John Boehner's political career