STORY HIGHLIGHTS
Video purports to show ISIS leader delivering a sermon in Mosul
A suicide car bombing kills at least seven people and wounds 14 in Baghdad
Iraq's parliament has been postponed for at least a month, state-run Iraqiya TV says
Fighters form defensive lines around main airport, which is considered a top ISIS target
Baghdad, Iraq (CNN) -- The United States "has no reason to doubt" the authenticity of a video that purports to show ISIS leader Abu Bakr al-Baghdadi delivering a sermon at the Great Mosque of al-Nuri in Mosul, two U.S. officials said.
While the United States cannot absolutely guarantee it is the notoriously elusive leader of the Islamic State of Iraq and Syria, the working assumption by the government is that it is him, according to the officials who spoke on condition of anonymity.
If it is al-Baghdadi, it may just reveal how comfortable the ISIS leader is after his fighters took control of Iraq's second-largest city.
"Iraqi agencies are still investigating the video and comparing it with its intelligence," Iraq's military spokesman, Lt. Gen. Qassim Atta, said on Monday.
ISIS, an al Qaeda splinter group, has seized large areas of northern and western Iraq in an offensive that began last month.
Al-Baghdadi is known to the United States as Ibrahim Awad Ibrahim Al Badry. He was taken into custody in Fallujah in the Anbar province on February 4, 2004, according to a Pentagon statement.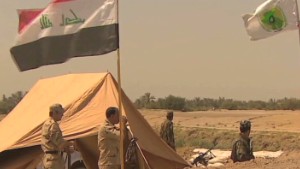 Iraqi Army braces for combat
There have been mixed reports about when and why he was detained. He was held until the following December at a a prison at Camp Bucca, according to the Pentagon. A review board recommended his "unconditional release," the statement said.
While the Pentagon said al-Baghdadi was from Fallujah, other reports have said he is from Samarra, north of Baghdad.
Taking aim at ISIS: Women train with AK-47s
Parliament postponed
State-run Iraqiya TV said Monday that Parliament has been postponed for at least a month, a day before lawmakers were scheduled to return to form a new government and begin the process of selecting a prime minister.
Citing sources in Parliament, Iraqiya reported that the session was postponed until August 12 because the political parties have been unable to reach a consensus on who to name to country's top leadership posts. Those include the speaker, the president and the prime minister.
A week ago, Iraq's Parliament postponed its first session, citing a lack of a quorum after 90 lawmakers walked out.
Suicide car bomb in Baghdad
A suicide car bomb exploded in heavy traffic at a security checkpoint in Baghdad's Kadhimiya neighborhood on Monday, killing at least seven people and wounding 14, security officials told CNN. The death toll is expected to rise, they said.
The bomb exploded at about 1 p.m. near the checkpoint, which created a sort of bottleneck of traffic. The explosion occurred less than mile (1 kilometer) from the Kadhimiya shrine, which is revered by Shiites.
The bombing follows a double bombing last week in the same area that killed at least 25 people and wounded 32.
Iraqi security forces commander killed
A Twitter account widely believed to be linked to the ISIS in Salaheddin province claimed in a post that its fighters killed an Iraqi military commander.
According to the post, Iraqi Army Col. Ibrahim Abdullah Hussein was killed. It posted what it claimed was a picture of Hussein's corpse as well as a photograph of his ID card.
CNN cannot independently confirm the claim. Some militant groups are known to release pictures of ID cards as evidence of deaths.
British ambassador: Baghdad warned repeatedly
Britain's ambassador to Iraq says Prime Minister Nuri al-Maliki's government was warned repeatedly over the past several months about the threat posed by the Islamic State of Iraq and Syria.
"The fact that Mosul was vulnerable was known," Ambassador Simon Collis said on CNN's Amanpour show.
"The fact that ISIL were already holding territory from last year in parts of western Iraq, in Anbar, and elsewhere was well known."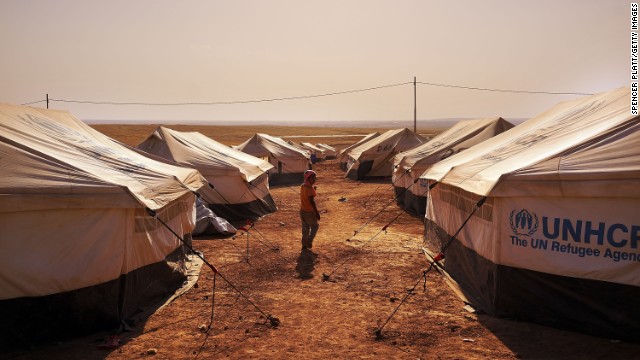 An Iraqi child walks through a displacement camp Saturday, June 28, in Khazair, Iraq. Vast swaths of northern Iraq, including the cities of Mosul and Tal Afar, have fallen as the Islamic State in Iraq and Syria, or ISIS, advances toward Baghdad, the capital. The ISIS militants want to establish a caliphate, or Islamic state, in the region, stretching from Iraq into northern Syria.
An Iraqi woman walks with her child outside of a displacement camp on June 28 in Khazair, now home to an estimated 1,500 internally displaced persons.
Peshmerga fighters, or Kurdish warriors, check cars at the entrance to a temporary displacement camp in Khazair, Iraq, for people caught in the fighting in and around the city of Mosul on Thursday, June 26.
A group of women wait outside the temporary displacement camp in Khazair on June 26.
Smoke rises in the Karakus district of Mosul as clashes between Iraqi forces and ISIS militants on June 26.
Food is handed out at the displacement camp in Khazair.
A child walks over discarded water bottles and trash at a registration area at the displacement camp in Khazair on June 26.
Kurdish Peshmerga take their positions behind a wall on the front line of the conflict with ISIS militants in Tuz Khormato, Iraq, on Wednesday, June 25.
Peshmerga fighters clean their weapons at a base in Tuz Khormato, Iraq, on June 25.
Female Peshmerga between 18 and 45 years old form a special unit that is called to serve in any conditions. A soldier is pictured here on June 25.
A woman gathers bread in a temporary displacement camp for Iraqis caught up in the fighting in and around Mosul on Tuesday, June 24.
An ISIS fighter takes control of a traffic intersection in Mosul on Sunday, June 22.
An ISIS member distributes a copy of the Quran, Islam's holy book, to a driver in Mosul on June 22.
Members of ISIS patrol in Falluja, 40 miles west of Baghdad, on Saturday, June 21.
Volunteers raise their weapons and chant slogans during a parade in the Shiite stronghold of Sadr City, Baghdad, on Saturday, June 21.
Iraqi men register to volunteer to fight alongside security forces against Sunni Muslim militants and jihadists on Friday, June 20, at a recruitment center in Baghdad.
New Iraqi army recruits gather in Najaf on Wednesday, June 18, following a call for Iraqis to take up arms against Islamic militant fighters.
Soldiers with an Iraqi anti-terrorism unit are on guard June 18 in Baghdad.
A Kurdish Peshmerga fighter injured in clashes with members of ISIS lies in a hospital in Irbil on June 18.
An MH-60R Sea Hawk helicopter lands on the aircraft carrier USS George H.W. Bush in the Persian Gulf on Tuesday, June 17. The carrier moved into the region to give President Barack Obama "additional flexibility," the Pentagon has said.
Newly recruited Iraqi volunteer fighters take part in a training session in Karbala on June 17.
Iraqi tribesmen gather in Baghdad on Monday, June 16, to show their readiness to join Iraqi security forces in the fight against Islamic militants.
Iraqi Christian children gather inside the Church of the Virgin Mary for prayers in Bartala, Iraq, a town near Mosul, on Sunday, June 15. Militants seized Mosul last week, reportedly leading more than 500,000 people to flee Iraq's second-largest city.
Shiite tribal fighters raise their weapons and chant slogans against ISIS in Basra, Iraq, on June 15.
Members of ISIS prepare to execute some soldiers from Iraq's security forces in this image, one of many reportedly posted by the militant group online. CNN cannot independently confirm the authenticity of the images.
A woman cradles her baby Thursday, June 12, at a temporary camp set up in Aski Kalak, Iraq, to shelter those fleeing the violence in northern Nineveh province.
A girl fleeing from Mosul arrives at a Kurdish checkpoint on June 12.
Iraqi men chant slogans outside of an army recruiting center to volunteer for military service June 12 in Baghdad.
Kurdish Peshmerga forces, along with Iraqi special forces, deploy their troops and armored vehicles outside of Kirkuk, Iraq, on June 12.
Children stand next to a burnt vehicle during clashes between Iraqi security forces and ISIS militants in Mosul on Tuesday, June 10.
Civilians from Mosul escape to a refugee camp near Irbil, Iraq, on June 10.
Iraqis fleeing the violence wait in their vehicles at a Kurdish checkpoint in Aski Kalak on June 10.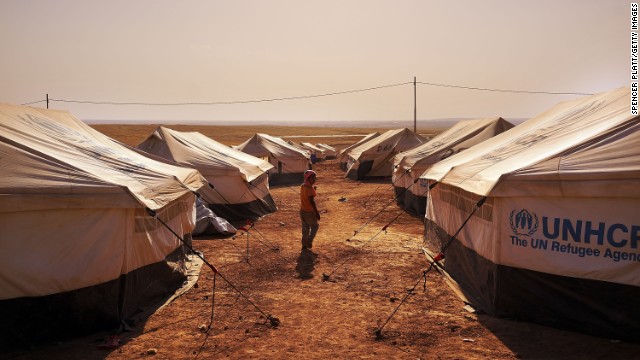 Photos: Iraq under siege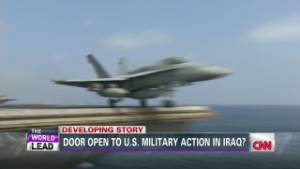 U.S. intervention in Iraq possible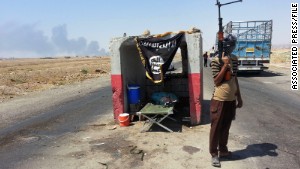 How ISIS amassed a fortune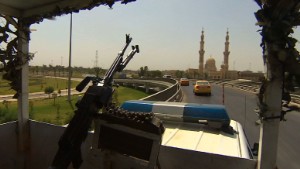 On patrol with Baghdad's special forces
Collis said Britain's message to al-Maliki's government was always the same: "Any comprehensive counterterrorism strategy would need a political line of operation, an economic and development line of operation, as well as of course security operations."
He continued, "And without that kind of comprehensive approach, it will be impossible to defeat an organization like ISIL."
ISIS is also referred to as the Islamic State of Iraq and the Levant.
Iraq's orphans ask 'why do these people kill other people?'
Iraqi general killed
The commander of the Iraqi Army's 6th Division was killed in a battle on Monday, according to a statement released by the Prime Minister's office.
He was identified as Gen. Nagm Abdullah Ali. The statement did not detail how he died.
But Atta is quoted by Iraqi news organizations as saying he was killed in shelling in Ibrahim Bin Ali, a Sunni-dominated village about 16 miles north of Baghdad.
CNN could not independently confirm the claim.
Digging in around Baghdad
A commercial airliner roars overhead as one of the thousands of fighters who have taken up arms to protect the Iraqi capital digs into a position a few miles from Baghdad International Airport.
Every 500 feet (150 meters), another fighter armed with an AK-47 assault rifle takes up another position about 2 miles (3 kilometers) from the airport perimeter.
This is the first line of seven similar concentric lines of defense between the outskirts of the capital and the airport, widely believed by Iraqi and U.S. officials to be a top target of ISIS.
The fighters are members of the Badr Brigade, the Iranian-trained militia of the Supreme Council for the Islamic Revolution in Iraq, a powerful Shiite political party in Iraq.
And they are officially taking up arms for the first time in more than a decade, reinforcing Iraq's military.
It was just one of the signs Monday of stepped-up security in and around Baghdad amid fears that ISIS fighters and allied Sunni insurgents already inside the city will launch attacks, such as a bombing campaign.
READ: Does video show ISIS leader? Iraq works to find out
READ: Al-Maliki hints at another try for Iraqi PM
READ: Group: ISIS takes major Syrian oil field
CNN's Ali Younes contributed to this report.