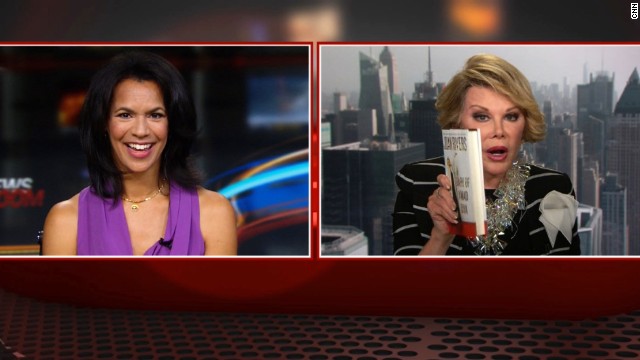 Joan Rivers had quite the July Fourth weekend. Not only did she stir things up by calling
first lady Michelle Obama transgender,
but she also
stormed off set during an interview with CNN's Fredricka Whitfield.
Click through to see other stars who understand where Joan's coming from:
rowdy the crowd
was at Dave Chappelle's August 2013 show in Hartford, Connecticut, his abrupt exit speech was remarkably polite. "I like some of you, I hate some of you. I forgive some of you, but I don't forgive all of you." And then, amid escalating boos, the comedian dropped the mic and cued Kanye West's "New Slaves." Chappelle is seen here at an earlier performance.
Given how
grew so irritated
with the ceaselessly chattering audience that she shouted "Predictable! Predictable fashion, what the f***?" before storming off. It wasn't as
epic
as her 2000 disruption, but still quotable.
Fiona Apple is not a fan of predictability -- or maybe fashion, we can't be sure. What is clear is that the singer, pictured in 2012, won't tolerate a noisy audience during a show. While performing at a Louis Vuitton-hosted party in Tokyo on August 29, 2013, the singer
40 people who were there
, she reportedly "sulked" after two songs and walked off.
In August 2013, Brandy was all set to perform in front of a stadium of 90,000 in Johannesburg, South Africa. The only problem is, her gig to close the tribute to Nelson Mandela's life had been kept a secret. So when the singer showed up on stage, most of the crowd had left. Rather than do a full show in front of the
learned as much
in May 2013 when the 68-year-old dynamo stormed out of a theater where she was portraying Queen Elizabeth II and used "a few thespian words" to tell the crew where they could place their drumsticks. She is seen here in March.
If you're given the option between sitting perfectly still or drumming loudly during a Helen Mirren stage performance, you'd be wise to choose the former. A troupe in London
walked off stage
. Later, Jon tweeted a simple apology to his fans: "I'm sorry......"
Fans are usually ticked when a performer pulls out of a gig, but when Jonathan Knight did it in April 2013, concertgoers were just concerned. The New Kids on the Block member, seen in July, was performing in New York with his reunited bandmates when some of the audience began to notice that Jon was "visibly out of sync" with the rest of the group. When the other members tried to encourage him to sing, he lost his nerve and
jumped off stage to confront the cameraman
, and security had to be called to hold him back. He stormed off to his trailer, but luckily for fans, did return to the show.
Glenn Danzig isn't into having his picture taken, but the Bonnaroo organizers failed to mention that to a photographer covering his 2012 set. The rocker
tweeted reactions of attendees
, he picked the wrong fans to walk out on. He is seen here at a performance later that year.
Maybe there's something about New York crowds. When Jack White was performing at Radio City Music Hall in 2012, he decided to abruptly conclude the show after an hour on stage. Judging from the
ruined some instruments and dragged Justin Bieber into it along the way
. Angry that his band was given one minute left to wrap, Armstrong cut off his own song with a profane tirade, reminding everyone that he's not "f*****g Justin Bieber, you mother******s."
At the iHeartRadio festival in September 2012, Billie Joe Armstrong didn't just storm off stage -- he
plastic beer bottle as a projectile
. The Smiths singer had barely made his entrance on stage in Liverpool when he was pelted by his fan/assailant, and promptly decided to end the show then and there.
In 2009, Morrissey, too, vacated the stage after an audience member used a
Vancouver, don't smoke weed
." She is seen at an earlier show on the tour.
While in Vancouver in 2009, Britney Spears strongly wished her audience had said no to drugs. The pop star was so aggravated by the smell of cigarette and other kinds of smoke that she cut the concert short 15 minutes in. Spears did eventually come back to the stage, but she didn't sound too happy about it -- she ended the concert by saying, "
a half-hour of dodging the bottles
being thrown at them and weathering the chants of "F*** Fred Durst." Durst is seen performing earlier that year.
The Windy City turned cold on Fred Durst and Limp Bizkit when they performed in the area in 2003. The band was forced to vacate the Summer Sanitarium show after
Best mic drops: Celebrities storm off stage
Best mic drops: Celebrities storm off stage
Best mic drops: Celebrities storm off stage
Best mic drops: Celebrities storm off stage
Best mic drops: Celebrities storm off stage
Best mic drops: Celebrities storm off stage
Best mic drops: Celebrities storm off stage
Best mic drops: Celebrities storm off stage
Best mic drops: Celebrities storm off stage
Best mic drops: Celebrities storm off stage
Best mic drops: Celebrities storm off stage
Best mic drops: Celebrities storm off stage
Best mic drops: Celebrities storm off stage