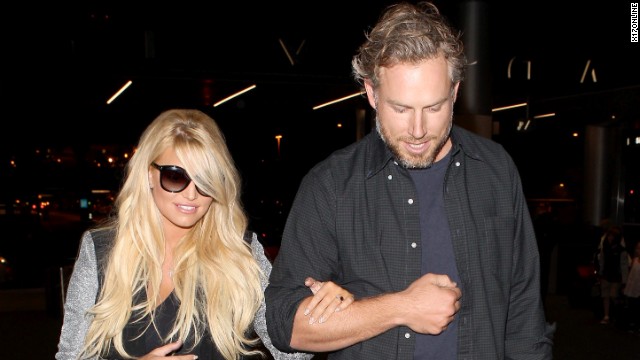 Jessica Simpson married fiance Eric Johnson on July 5 in Santa Barbara, California. The couple are the parents of two young children and it's the next chapter in the life of Simpson, who has been in the public eye since she was a teen.
tweeted
. Like many women, Simpson has found her weight fluctuating over the years; unlike most women, she's had to deal with public criticism about her curves.
Jessica Simpson announced on Instagram in March that she has reached her goal weight after giving birth to son Ace in June 2013. "First time rocking a white dress this year ... but not the last!!Thanks @weightwatchers!" the paid spokeswoman
Simpson was a fit 19-year-old when she released her first album, "Sweet Kisses," in 1999. But it wasn't until she and then-husband Nick Lachey starred in an MTV reality show, "Newlyweds," that Simpson became a household name.
Simpson told People magazine
. The singer hired trainer Michael Alexander and worked out six days a week before the shoot and three to four times a week during filming. "Any character that has a pair of shorts named after her, you've gotta at least try to make the shorts look as good as you possibly can."
In 2005, Simpson starred as Daisy Duke in "The Dukes of Hazzard" movie. "When I found out I got the role, I went straight to the gym,"
In January 2009, Simpson performed at the 99.9 Kiss Country 24th annual Chili Cookoff in Pembroke Pines, Florida, in, wait for it ... high-waisted jeans. Oh, the horror. Celebrity tabloids went nuts, touting her "mom jeans" as the fashion faux pas of the century.
In 2010, VH1 aired a documentary reality series called "The Price of Beauty" starring Simpson and two friends as they traveled the world seeking the true meaning of beauty in different cultures. Here she is in Morocco.
After the show premiered, the actress launched a new initiative with Operation Smile called "A Beautiful Me." To protest retouching in magazines, she appeared in Marie Claire with air-dried hair and no makeup. "I don't have anything to prove anymore," Simpson told the magazine. "What other people think of me is not my business."
she told ET Online
. "I was not expecting to see the number that I saw, because it's just never a number that I could fathom weighing. ... Standing on the scale, and faced with a severe truth -- and I didn't know if I could do it."
Simpson gained 70 pounds during her first pregnancy with daughter Maxwell. She signed a deal with Weight Watchers shortly afterward. Stepping on the scale at the first meeting, "I thought my life was completely over,"
Less than seven months after giving birth, Simpson had lost 50 pounds on Weight Watchers. But she still had 20 pounds to go when she found out she was pregnant again. Here she is with Katie Couric.
she told US Weekly
. "We are creating a human life: I think we get every excuse in the world to eat a doughnut!" Here she is with her sister, Ashlee.
Simpson gained less weight during her second pregnancy but wasn't obsessive about her diet. "I will never understand why people give pregnant women such a hard time,"
she told ABC News
in October. "If I had a long-term goal, and that's all I thought about it, I think it would set me back more. So I really, every week, try to make sure I stick with my points and get four workouts in. ... If not, I'm going to keep on going and try it the next week."
To lose the pregnancy weight, Simpson followed Weight Watchers' plan and made sure to take 12,000 steps each day. "I'm taking it week by week so I don't get frustrated with myself,"
Jessica Simpson through the years
Jessica Simpson through the years
Jessica Simpson through the years
Jessica Simpson through the years
Jessica Simpson through the years
Jessica Simpson through the years
Jessica Simpson through the years
Jessica Simpson through the years
Jessica Simpson through the years
Jessica Simpson through the years
Jessica Simpson through the years