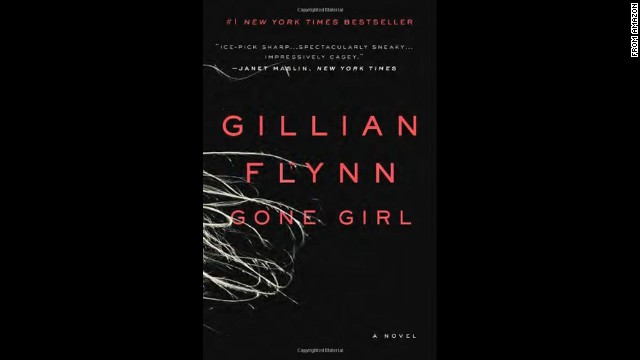 "Gone Girl," by Gillian Flynn:
Finally, the blockbuster mystery is out in paperback. If you haven't read it yet, read it now, before the film version (out on October 3) reveals all of its fiendishly clever twists and turns.
"The Engagements," by J. Courtney Sullivan: Sullivan delivers a sparkling novel of modern relationships, intertwining four stories inspired by a singularly brilliant advertising slogan -- "A diamond is forever" -- and the real-life, never-wed ad woman who wrote it.
"Let's Explore Diabetes With Owls," by David Sedaris: If you like to dip in and out of a book between dips in the water, you can't go wrong with this collection of essays from the sardonic, entertaining Sedaris.
"The Cuckoo's Calling," by Robert Galbraith: The buzz around this top-notch detective novel reached fever-pitch when its unknown author was unmasked as the creator of a series about a certain boy wizard.
"The Fault in Our Stars," by John Green: You want to talk about buzz? We're sneaking this into a roundup of new paperbacks using the "reprint with an updated cover to tie in with a movie" loophole because you don't want to miss this pop-culture phenom. NB: Pack tissues in your beach bag.
"The Boys in the Boat," by Daniel James Brown: Much like "Unbroken" and "Seabiscuit," this true story of beating the odds -- here, the young men from working-class American families who bested Hitler's squad of rowers at the 1936 Berlin Games -- is nothing short of gripping.
"The Girls of Atomic City," by Denise Kiernan: More real-life inspiration from the era: the little-known story of a mystery-shrouded town in Tennessee and its role in ending World World II, as told by the then-young women who were recruited to work there.
"Longbourn," by Jo Baker: Take a Jane Austen classic and skew it through the eyes of the family housemaid and you have Longbourn, Baker's imaginative retelling of "Pride and Prejudice."
"The Burgess Boys," by Elizabeth Strout: In the latest from Pulitzer Prize winner Strout ("Olive Kitteridge"), two brothers flee their tragic past and small Maine hometown for divergent lives in New York City. Then a family crisis -- a nephew in serious trouble -- calls them back home.
"And the Mountains Echoed," by Khaled Hosseini: Following "The Kite Runner" and "A Thousand Splendid Suns," Hosseini opens his third novel in prewar Afghanistan, but moves it westward from there (to Greece, France, and the United States), in a generation-spanning story of siblings separated by tragedy and hardship but bound by love.
"Lawrence in Arabia," by Scott Anderson: Get swept up in the fascinating life of T.E. Lawrence -- Lawrence of Arabia of cinematic fame. History told in the most compelling way for anyone interested in the complex development of the modern Middle East.
"The Interestings," by Meg Wolitzer: Long after the summer of 1974 ends, a group of teens who bond at artsy Camp Spirit-in-the-Woods enter and exit one another's lives in Wolitzer's beautifully crafted, epic novel of friendship and all its joys and heartaches.
"The Rosie Project," by Graeme Simsion: Can love be a science? Socially bumbling genetics professor Don Tillman hopes so, as he sets out to find a wife in an orderly, evidence-based fashion. What he doesn't count on is chemistry with a totally unlikely candidate. Charming, funny, and endearing.
"Dad Is Fat," by Jim Gaffigan: "Charming, funny, and endearing" could also be the mantra of stand-up comic Gaffigan, who muses on life as the father of five young children in short pieces made to be read between fielding requests for beach snacks and breaking up water-splash fights.
"Z: A Novel of Zelda Fitzgerald," by Therese Anne Fowler: Beautiful and witty, as glittering and fast-living as any of her husband's famous Jazz Age characters, Zelda Fitgerald was equally as doomed. But when she wasn't Mrs. Scott Fitzgerald, half of one of the most notorious couples in the literary world, who was she? If you love historical fiction, this is for you.
15 best new paperback beach reads
15 best new paperback beach reads
15 best new paperback beach reads
15 best new paperback beach reads
15 best new paperback beach reads
15 best new paperback beach reads
15 best new paperback beach reads
15 best new paperback beach reads
15 best new paperback beach reads
15 best new paperback beach reads
15 best new paperback beach reads
15 best new paperback beach reads
15 best new paperback beach reads
15 best new paperback beach reads
15 best new paperback beach reads