5 militants, 1 Pakistani soldier killed in North Waziristan
updated 12:09 PM EDT, Sat July 5, 2014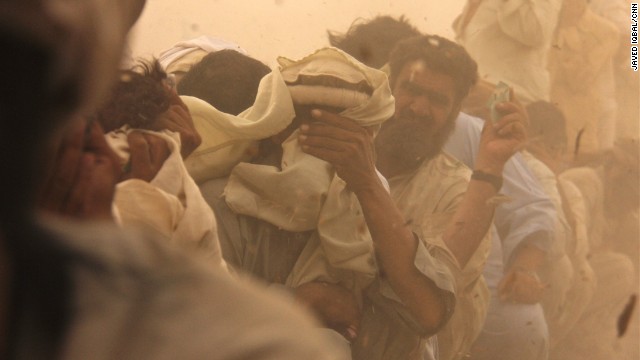 Hundreds of thousands of Pakistanis fled their homes in North Waziristan to Bannu, and other neighboring regions, after the Pakistani army launched a full scale offensive against militants on June 15. These images were taken in Bannu 10 days later, on June 25.
In Bannu, a dust storm raised havoc at the city's largest food distribution point for people displaced by regional fighting.
Hundreds of men, young and old, queued up outside on the streets to receive rations, shielding their eyes from the grit.
Displaced Pakistani residents queued to receive rations of fortified wheat, iodized salt, pulses and cooking oil.
The mass exodus of the region's population has fast accelerated into a humanitarian crisis. Nearly 455,000 people have sought shelter in towns and villages beyond North Waziristan.
June is a season of oppressive heat in this part of the country. Illnesses such as diarrhea and typhoid are common,along with the ever-looming specter of polio.
Sacks of wheat are heaped in mounds in the center of the distribution point.
A strong army presence is overseeing the distribution that has been organized by the World Food Program.
The number of families arriving has exceeded the number estimated by the WFP.
WFP had expected the families to be an average size of six, but some families fleeing out of North Waziristan are made up of 14 people.
Until recently, this was the only food distribution point for the thousands of displaced people in Bannu.
Because of the high demand, rations are being distributed on a biweekly basis instead of the usual monthly schedule.
Dust and desperation
Dust and desperation
Dust and desperation
Dust and desperation
Dust and desperation
Dust and desperation
Dust and desperation
Dust and desperation
Dust and desperation
Dust and desperation
Dust and desperation
Dust and desperation
STORY HIGHLIGHTS
Pakistani military launched airstrikes to "flush out terrorists" in the area
One Pakistani soldier was killed by an IED
The operation in Northern Waziristan began on June 15
Islamabad, Pakistan (CNN) -- Five militants were killed in an airstrike in Pakistan's North Waziristan region on Saturday, according to the Pakistani military.
The military says it launched the strikes in order to "flush out terrorists" in the area's capital, Miranshah, and the village of Boya.
One Pakistani soldier was was killed in the same region by an explosive device, the military said.
The military launched a ground offensive in the region on June 15 in order to "finish off" militants in the area near the Afghanistan border "once and for all," Pakistani Defense Minister Khawaja Asif told CNN. Hundreds of thousands of Pakistanis have fled their homes as a result of the fighting, prompting what appears to be a humanitarian crisis in the nearby city of Bannu.
The region is known as a base for anti-government fighters -- including those affiliated with the Islamist Haqqani movement.
At least 19 militants killed in Pakistan offensive
How ISIS is overshadowing al Qaeda
Pakistani newlyweds decapitated by bride's family in honor killing
CNN's Joshua Berlinger contributed to this report.