Arthur, no longer a hurricane, keeps losing strength
updated 9:00 AM EDT, Sat July 5, 2014
STORY HIGHLIGHTS
Arthur weakens to a post-tropical storm early Saturday
Tropical storm warnings for parts of the Northeast are dropped
Parts of New England can expect heavy rain Saturday
(CNN) -- Arthur was downgraded from a hurricane to a post-tropical storm on Saturday, as its sustained winds dropped to 85 mph, according to CNN meteorologists.
Tropical storm warnings previously issued for Nantucket and Cape Cod have been discontinued.
The first named storm of this hurricane season caused street flooding and knocked out power along the North Carolina coast. The area appears to have been spared from large-scale damage.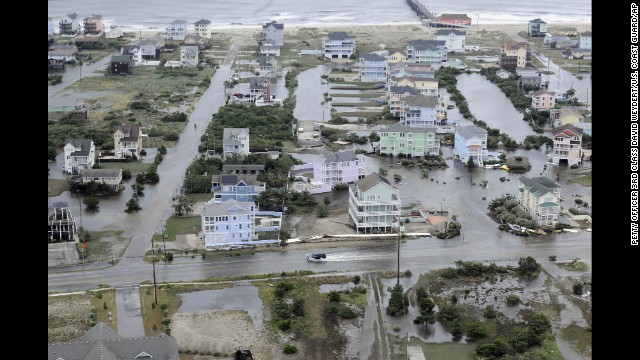 An aerial photo provided by the U.S. Coast Guard shows flooding caused by Hurricane Arthur on the Outer Banks of North Carolina on Friday, July 4. Arthur struck North Carolina as a Category 2 storm with winds of 100 mph late Thursday, taking about five hours to move across the far eastern part of the state.
Water from Hurricane Arthur buckled a section of North Carolina Highway 12 on Hatteras Island, seen July 4 in a photo provided by the North Carolina Department of Transportation. It is the same spot on Hatteras Island that was breached in Hurricane Irene in 2011. Proving far less damaging than feared, Hurricane Arthur left tens of thousands of people without power Friday in a swipe at North Carolina's exposed Outer Banks.
Bryan Wilson, owner of Miller's Waterfront restaurant, braves floodwaters to check the damage to his property as wind from Hurricane Arthur pushes water to his parking lot in Nags Head, North Carolina, on July 4.
Power company trucks travel along Highway 64 after flooding caused by Hurricane Arthur on July 4 in Nags Head, North Carolina.
People walk along a flooded street in Manteo, North Carolina, on July 4. Hurricane Arthur made landfall between Cape Lookout and Beaufort, North Carolina, the National Hurricane Center said. It was a Category 2 when it came ashore, but it soon weakened to a Category 1 as it made its way north.
Johanna Bender, left, helps Katie Bender dump water from her boot in Manteo on July 4.
A worker repairs power lines July 4 along Highway 58 in Emerald Isle, North Carolina.
Vehicles drive through a flooded highway in Nags Head, North Carolina on July 4.
A car sits in rising waters in Nags Head on July 4.
Traffic moves down a partially flooded road in Garden City Beach, South Carolina, on Thursday, July 3.
Bodi Duncan surfs the waves at Garden City Beach as Arthur passes off the South Carolina coast on July 3.
Waves kicked up by the storm are seen July 3 at the pier in Cherry Grove Beach, South Carolina.
Astronaut Reid Wiseman, aboard the International Space Station, posted this photo of the storm to Twitter on July 3.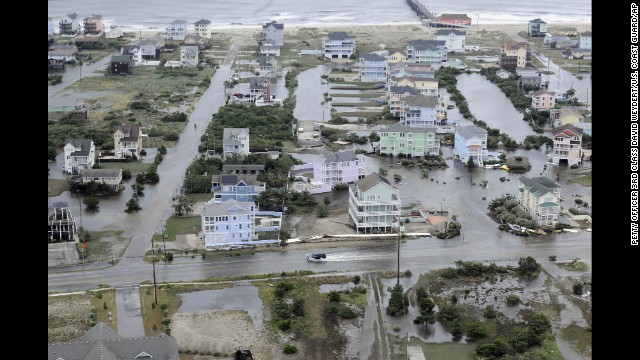 Photos: Hurricane Arthur hits East Coast
The center of Arthur is forecast to pass over or near western Nova Scotia on Saturday while also bringing heavy rain to New England, CNN meteorologists said.
The coast of Maine can expect 40 mph winds as Arthur passes.
The hurricane center warns that potentially deadly rip currents can still form at beaches from the mid-Atlantic northward, even though Arthur may be far away.
See Images as CNN crews cover Hurricane Arthur
CNN's Greg Botelho contributed to this report.