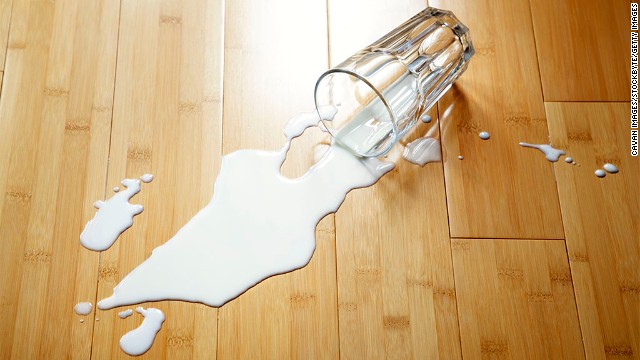 Each year one out of every six Americans is sickened by a foodborne illness, according to the Centers for Disease Control and Prevention. Here are some of the biggest foodborne illness outbreaks since 2001.
Click here
for tips on how to keep your food safe.
CDC
. Of the 634 cases, 38% involved hospitalization.
In 2013, Foster Farms chicken infected 634 people in 29 states with a multidrug-resistant strain of Salmonella, according to the
631 people
with the parasite Cyclospora cayetanensis in summer 2013. The parasite triggers watery diarrhea, nausea, bloating and cramping.
A salad mix and fresh cilantro from Mexico ended up infecting
162 cases
were reported, and 71 people were hospitalized, according to the CDC. Severe hepatitis cases can cause liver damage. The blend's pomegranate seeds came from a company in Turkey, which was the source of contamination.
A hepatitis A outbreak was attributed to Townsend Farms Organic Antioxidant Blend frozen berries in September 2013. A total of
Cantaloupes tainted with salmonella infected more than 260 people across 24 states in October 2012. Three people in Kentucky died and 94 were hospitalized. Investigators determined Chamberlain Farms Produce Inc. of Owensville, Indiana, was the source of this outbreak.
Salmonella in a frozen raw yellowfin tuna product, known as Nakaochi Scrape, sickened 425 people and hospitalized 55 in the spring and summer of 2012. The product was used most often to make "spicy tuna" sushi, according to the CDC.
Twenty-two cases were reported of a Listeria monocytogenes infection from the Frescolina Marte brand of ricotta salata cheese in 2012, but 90% of those people were hospitalized, and four people died, according to the
In September 2011, listeria in cantaloupes left 30 people dead in what was the deadliest U.S. outbreak of a food borne illness since the CDC started keeping track of listeria cases in 1973, according to the agency.
more than 36 million pounds of ground turkey
after tests revealed a strain of salmonella. The outbreak killed one person and sickened more than 130.
Between February and August 2011, the Cargill Meat Solutions Corp. recalled
were reportedly sickened by salmonella found in eggs produced by
Iowa's Hillandale Farms
, which voluntarily recalled about a half-billion eggs nationwide.
In summer 2010, more than 1,900 people
SanGar Fresh Cut Produce
to recall all products shipped from its San Antonio plant.
Authorities shut down a processing plant in Texas in October 2010 after four deaths were tied to listeria-infected celery produced at the site. The Texas Department of State Health Services ordered
infected with salmonella from Mexico-grown jalapeño and serrano peppers
. At least 300 people were hospitalized, and the infection may have contributed to two deaths, according to the CDC. Walmart stores in four states recalled jars of serrano peppers as a result.
Between April and August 2008, 1,442 people in 43 states were
Nine people died from salmonella-infected peanut butter between September 2008 and April 2009. The Peanut Corp. of America had sold the tainted peanut butter in bulk to King Nut, which recalled its products. More than 700 people were infected and 166 hospitalized.
more than 200 people
became infected with E. coli from spinach grown on a single California field. Investigators traced the prepackaged spinach back to Natural Selection Foods and baby spinach
sold under the Dole brand name
. Five deaths were linked to the outbreak.
In the summer of 2006,
four large outbreaks of salmonella
infections hit 21 states in the United States. Tainted tomatoes being served in restaurants were found to be the cause. Investigators linked the produce to fields in Florida, Ohio and Virginia.
During 2005 and 2006,
Sheetz gas stations
infected
more than 400 people
in the summer of 2004. Two other smaller outbreaks in the United States and Canada also occurred that summer and were linked back to a tomato-packing house in Florida.
Pre-sliced Roma tomatoes purchased at deli counters in
Listeria-infected sliced turkey
killed eight and infected 46 others in 2002. Three pregnant women had fetal deaths. Two processing plants recalled 30 million pounds of meat following the outbreak.
again the culprit
. Salmonella tainted the fruit that killed two, hospitalized nine and infected 50 in an outbreak that started in Mexico.
In 2001, cantaloupe was
Worst foodborne illness outbreaks
Chicken
Salad mix
Frozen berries
Cantaloupe
Tuna
Ricotta cheese
Cantaloupe
Ground turkey
Eggs
Celery
Peppers
Peanut butter
Spinach
Tomatoes
Roma tomatoes
Deli meats
Cantaloupe
STORY HIGHLIGHTS
NEW: A health safety advocate says recall is too limited, "consumers deserve better"
Foster Farms produced the chicken in March
Agency: Chicken may no longer be available for purchase but may be in consumers' freezers
About 42,000 cases of acute salmonellosis are reported in U.S. annually, CDC says
(CNN) -- A California company is recalling an unknown amount of boneless chicken sold in eight states over salmonella fears, federal officials said.
Foster Farms, based in Fresno, produced the chicken on March 8, 10 and 11, according to the U.S. Department of Agriculture's Food Safety and Inspection Service.
It said the company shipped the products to Costco, FoodMaxx, Kroger, Safeway and other stores. The chicken ended up in Arizona, California, Colorado, Idaho, Montana, New Mexico, Nevada and Utah.
"The products are mostly likely no longer available for purchase, but may be in consumers' freezers," the federal agency said.
Not safe to eat: Three foods to avoid
Last month, the Centers for Disease Control and Prevention notified the food safety agency about the salmonella Heidelberg illness linked to the consumption of boneless skinless chicken.
The USDA's Food Safety and Inspection Service said it determined a link between the illness and the boneless skinless chicken breast products from Foster Farms.
"One case-patient has been identified in California with an illness onset date of May 5, 2014," the agency said.
One health safety advocate criticized the government, claiming there are more related illnesses and that the recall should go beyond a few days in March.
"We do not believe the current action taken to recall Foster Farms contaminated chicken goes far enough to protect the public's health," said Dr. Urvashi Rangan, the head of Consumer Reports Food Safety and Sustainability Center.
"Consumers deserve better."
Salmonella lives in the intestinal tracts of people, animals and birds. People become infected by eating foods contaminated with animal feces.
Food safety: Take matters into your own hands
About 42,000 cases of salmonellosis are reported in the United States every year, according to the CDC. It estimates the number of cases is much higher -- about 1.2 million -- due to many cases not being diagnosed.
About 400 to 450 people die each year with acute salmonellosis, the CDC says.
Typical symptoms include diarrhea, abdominal pain, nausea, vomiting and fever. Most people experience symptoms within eight to 72 hours after contaminated food is ingested.
Infections usually are resolved in three to seven days, and mild cases often do not require professional treatment. More severe cases require antibiotics.
Salmonella infections can be life-threatening, especially for young children, pregnant women and their fetuses, the elderly, and those with weakened immune systems.
If not treated early, infections can spread from the intestines to the bloodstream and cause death.
A brief history of chicken washing
Don't get sick from your picnic
Food poisoning: What you need to know
CNN's Greg Botelho contributed to this report.