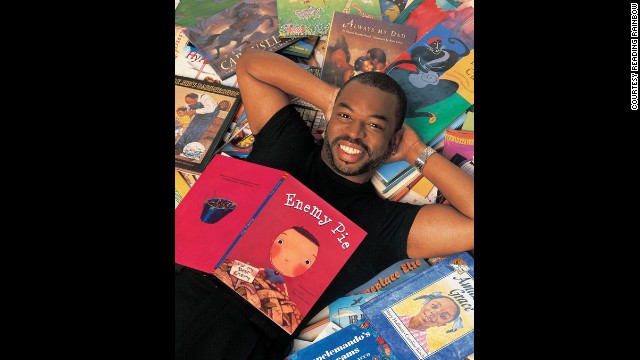 Actor LeVar Burton has devoted 30 years to promoting literacy and encouraging children to read with his TV show -- and now the app -- "Reading Rainbow." Here are some of his thoughts on the importance of reading:
On "Reading Rainbow," Burton often took viewers on "field trips" based books. " 'Reading Rainbow' was a matter of introducing the idea that books can be a terrific way to entertain and inform yourself, and that picking up a book will introduce you to the myriad wonders of the world in which we live," he says.
The TV show, which aired from 1983 to 2009, often drew celebrities such as Whoopi Goldberg. Here, Goldberg and Burton promote "Amazing Grace" by Mary Hoffman as well as the actress' own book "Alice."
It was a beautiful day in the neighborhood when the "Reading Rainbow's" Burton and Fred Rogers met. Rogers hosted the public television show "Mister Rogers' Neighborhood" from 1966 to 2001.
Kwame, the character Burton voiced on the '90s children's cartoon "Captain Planet and the Planeteers," could often be found with his nose in a book.
Burton signs his sci-fi novel, "Aftermath," at a Los Angeles bookstore in 1997.
Burton reads to elementary school students in Land O' Lakes, Florida, in 2005.
"There is no system that can imprison you or dominate you with darkness or ignorance if you have the capacity to read in at least one language," Burton said. "It's a very serious idea to me, freedom through literacy." The actor appears here at the TV Land Awards in 2007.
Burton first appeared as himself on the TV show "Community" in 2010. The character Troy, played by Donald Glover, was such a fan that he couldn't speak while in Burton's presence -- and cried when the actor sang the "Reading Rainbow" theme song.
"In a children's book, you combine the visual and the written word. It is made whole by the storyteller," Burton told CNN. "You bring the human element into it, and it makes that two-dimensional object a three-dimensional object of magic." Here, Burton reads during a "Let's Read. Let's Move" summer reading event in Washington in 2012.
When a new film version of "The Great Gatsby" arrived in 2013, "The Colbert Report" featured a comedy sketch in which neither host Stephen Colbert nor actress Carey Mulligan, who played Daisy in the film, had read the F. Scott Fitzgerald book. The solution? Burton gave them the "Reading Rainbow" version.
Burton reads to children during the "Reading Rainbow's" 30th anniversary celebration in Los Angeles in June 2013.
"What I've learned from 'Reading Rainbow' is that everybody's got a story," Burton said. "People are infinitely interesting. We are entertainment, information, insight and inspiration." Here, Burton speaks from the children's stage at the Los Angeles Times Festival of Books in April.
LeVar Burton's 'Reading Rainbow'
LeVar Burton's 'Reading Rainbow'
LeVar Burton's 'Reading Rainbow'
LeVar Burton's 'Reading Rainbow'
LeVar Burton's 'Reading Rainbow'
LeVar Burton's 'Reading Rainbow'
LeVar Burton's 'Reading Rainbow'
LeVar Burton's 'Reading Rainbow'
LeVar Burton's 'Reading Rainbow'
LeVar Burton's 'Reading Rainbow'
LeVar Burton's 'Reading Rainbow'
LeVar Burton's 'Reading Rainbow'
LeVar Burton's 'Reading Rainbow'
STORY HIGHLIGHTS
More than 105,000 people donated over $5.4 million
Comedian Seth McFarland pledged another $1 million
Actor LeVar Burton's goal was to collect $1 million to spread Reading Rainbow's digitally
The goal was met 11 hours after the campaign kicked off
(CNN) -- For more than 30 years, "Reading Rainbow" has taught children in America to love books. By Wednesday, that love had come back in the form of $6.4 million in donations.
The funds raised in a Kickstarter campaign to expand the digital presence of what started as an educational public television show burst the seams, broke the dam and went through the roof.
Actor LeVar Burton had hoped to raise just $1 million in five weeks' time to create a Web version of Reading Rainbow's popular tablet app, then give access to it for free to underprivileged classrooms.
It took 11 hours to meet that goal, when he launched the campaign on May 28. And the donations kept gushing in.
"It was humbling, stunning and a good story," Burton has said.
When the fundraiser closed out Wednesday, more than 105,000 people had given $5.4 million, and whopping generosity by another celebrity added a chunk to that pile.
Last week, comedian and "Family Guy" creator Seth MacFarlane pledged to match donations in the last five days of the campaign up to $1 million.
Donors made sure he ponied up the whole sum.
Born on TV
"Reading Rainbow" made its debut in 1983 on public television with a simple idea: Use the medium to keep kids reading during summer by urging them to "take a look" in a book.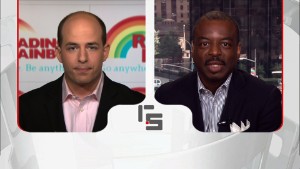 Web Exclusive: 'Reading Rainbow' returns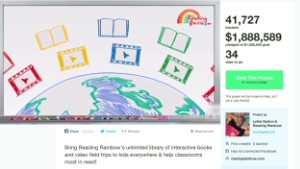 Next billion dollar idea?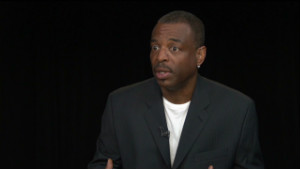 Reading Rainbow app helps educate kids
The popular public television show ended its run in 2009, but Burton, the host, stuck with child literacy and the ideas behind the beloved show.
Viewers moved to digital media. The Rainbow joined them, and the app was born.
Burton has said the new tools funded by the campaign will allow more children and educators to use "Reading Rainbow" materials.
The Web version will be accessible through a paid subscription, but Burton aims to provide it for free to disadvantaged classrooms and hopes the Web-based version will meet the needs of teachers and homeschoolers.
It will include lesson plans and tools to track students' reading progress.
What makes a good story hasn't changed much since "Reading Rainbow's" debut, Burton has said. Technology has.
So, Burton also plans to use part of the donations to spread digital offerings to mobile phones and video game consoles.
Inspired by 'Roots'
Burton said he realized the power of TV as a medium for educating and informing viewers when he played Kunta Kinte on the "Roots" miniseries, based on Alex Haley's novel about slavery.
The story captured the nation as millions tuned in to watch the miniseries that during the late 1970s gave dignity to the experience of African-Americans.
Decades later, after reading a book on an iPad for the first time, he saw the potential to create an interactive reading experience. Burton acquired the rights to the "Reading Rainbow" brand and created his company, RRKidz.
He envisioned an app that could interact with the audience in ways the show never could.
He launched it in 2012, and in its first 18 months, users read 10 million books, making it the No. 1 free educational app in the iTunes store for two years.
"I wanted to put in the hands of kids a library of books and videos, like the TV show did, all in the service of inspiring a love of literature and exploring the world -- connecting the real world to the literature that kids are reading," said Burton, who received the Impact Award for his efforts to instill "a lifelong love of reading in children" during Children's Book Week.
Burton has said that he would like underserved children to have access to more diverse books. He believes that they should be able to see themselves in characters that appear in literature they read.
Dire need
Reading Rainbow expands into a growing literary desert among youths in the United States. In the last 30 years, children and adolescents say they have spent markedly less of their recreational time with books, according to research by advocacy group Common Sense Media.
On his TV show, Burton became a trusted friend to children, parents and educators, recommending a variety of books and taking viewers on book-related field trips. He invited kids to recommend books in a segment, using the famous line, "but you don't have to take my word for it."
It was his cue to children to pick up a book themselves. Burton hopes more of them who should read more often will be able to soon.