STORY HIGHLIGHTS
NEW: Tim Howard: "Watching some of the scenes back home has been incredible"
NEW: U.S. player: "Heroic display makes young Michael Jordans choose soccer over bball"
NEW: Pro athletes from other sports show their support for the American team
The U.S. is ousted from the World Cup after loss to Belgium, but manages to win over fans
(CNN) -- They watched by the tens, if not hundreds of thousands. In cozy sports bars and cavernous sports stadiums. In living rooms and in public spaces. In front of computer screens and in front of big screens in downtown plazas.
To echo the national team's mantra: They believed the Americans could win.
Their team did not, however, exiting the World Cup in the knockout round after losing 2-1 to Belgium.
But if anything can salve the wound of the U.S. team's elimination in the World Cup, it's how many in the country opened their eyes to soccer, as if for the first time.
"Our heroic display makes young Michael Jordans choose soccer over bball in High School now!" tweeted Terrence Boyd, a late cut from the U.S. National Team. "@ussoccer will be a real force."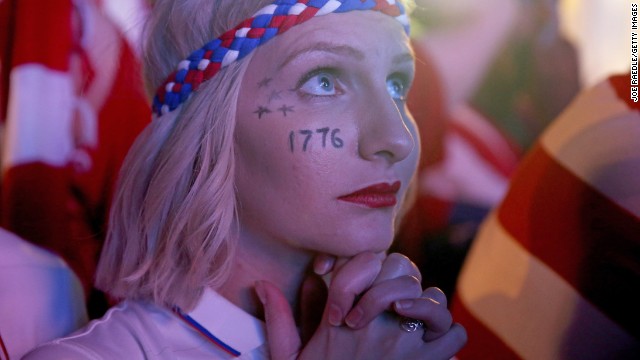 A U.S. fan watches nervously as the Americans surprisingly emerge from the group stage despite a nail-biting defeat against Germany.
The American and English captains, Ed McIlvenny and Billy Wright exchange souvenirs prior to their game at the Brazil World Cup in 1950. Their first success at the World Cup came in this game with a surprise 1-0 victory over England. USA fans will be hoping for the same success at this year's World Cup finals.
U.S. centre forward Joe Gaetjens is carried off by cheering fans after he scored the winning goal at Belohorizonte, Brazil.
U.S. coach Jurgen Klinsmann has gone a long way to building a side that can compete at the highest level, and his team have proved this at the 2014 World Cup in Brazil.
The U.S. players stand tall and proud as their anthem rings out at the Estadio das Dunas before their opening group win against Ghana.
It took Clint Dempsey just 32 seconds to score the USA's first goal of the tournament.
Klinsmann pleads with the fourth official on the touchline during the 2-1 victory over Ghana.
Halftime substitute John Brooks scored the USA's winner in the final minutes against Ghana. The 21-year-old celebrated his goal by collapsing to the turf almost in disbelief.
Even the Los Angeles Dodgers took a break from training to watch the U.S. play Ghana. American TV audiences have increased almost 50% from the previous World Cup in South Africa, from 2.8 million in 2010 to 4.3 million in 2014.
This U.S. fan shows his pride in the achievements of his team by wandering around the beaches of Brazil in stars and stripes-themed cowboy boots.
Captain Dempsey is known to be a hard worker on and off the pitch. Here he trains with the squad prior to their second game of the tournament against Portugal.
Taking time out of training, Jermaine Jones tries to catch a butterfly in the Arena Amazonia in Manaus.
Fans gather in Chicago to watch the Group G game between the U.S. and Portugal. It became the most-watched soccer match in American history, attracting over 25 million television viewers according to the Nielsen figures.
Team USA huddles before kickoff against Portugal.
Tim Howard makes a sensational save to deny Portugal. The Everton goalkeeper was one of the key performers for the U.S. during the group stage.
Jones celebrates after scoring a stunning equalizer to make it 1-1 against Portugal.
Fans in the Fan Fest zones celebrate Jones' equalizing strike against Portugal. U.S. supporters were second-only to Brazil when it came to the amount of tickets bought for games, with over 196,000 sold to American fans.
Matt Besler gives his teammate a thumbs up as Ballon D'Or winner Cristiano Ronaldo scratches his head after Portugal are held 2-2 by the U.S.
U.S. fans braved the weather conditions to watch their team play Germany in the final Group G game in Recife. A 1-0 loss wasn't enough to dampen their spirits as Klinsmann's team still qualified for the last 16.
This U.S. fan takes on the spirit of the well-known comic character "Captain America" to support the team.
The American flag flies proudly at the Arena Pernambuco in Recife during the USA's 1-0 defeat by Germany.
Michael Bradley battles for the ball with Germany's match-winner Thomas Muller.
Howard's football boots worn by the American goalkeeper against Germany. The game broke online audience records as over 1.5 million people streamed the game live via WatchESPN.
A fan sheds tears of joy after the U.S. reached the knockout stages of the World Cup.
American fans have had a lot to be proud of, with their team performing well above expectations.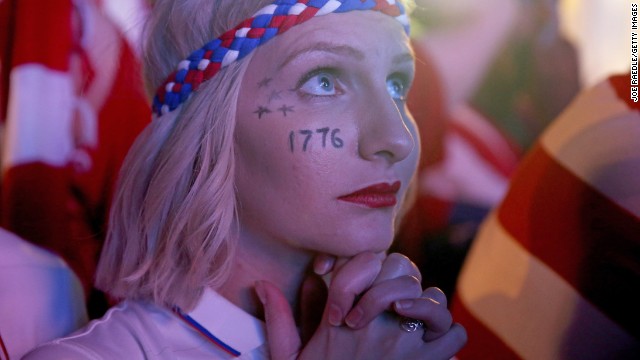 Americans take over Brazil 2014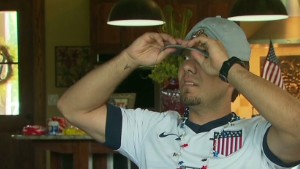 Dempsey family shares in U.S. soccer loss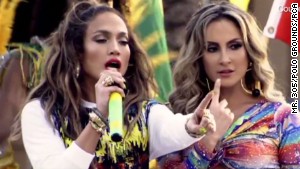 Hollywood gets World Cup fever
Time will tell if more American athletes turn to soccer -- or football as it's known most everywhere else in the world -- over basketball, football or baseball thanks to the 2014 team.
Still, over the past few weeks, there's no denying that the Americans' performance has galvanized and, quite likely, created legions of fans.
While ratings weren't immediately available for Tuesday's match with Belgium, the Americans' first-round match against Ghana set a viewership record for ESPN's coverage of World Cup matches. Their game last week versus Germany was the network's second-highest rated World Cup match.
It's not just that people watched, it's how they watched. Social media buzzed every game, with people seemingly living and dying by every goal-scoring chance and save by stalwart U.S. goalkeeper Tim Howard. And then there were the thousands who ventured down to Brazil in their red, white and blue -- in their clothing as well as their faces -- to cheer on their team.
The U.S. players repeatedly said they had noticed the groundswell of support, both in Brazil and back in the United States. It helped propel the team -- and, they hoped, will help contribute to their sport's growing popularity stateside.
"Watching some of the scenes back home has been incredible," said Howard, who was named "man of the match" after his tremendous, although losing, performance. "It fills us with pride and inspired us to push forward and feel like we could actually could do something, special because the feeling, the passion back home, was second to none."
The growth of soccer in the U.S.
On the world stage -- in economics, politics or whatever else -- Americans are rarely underdogs.
Yet that was the case in the world's biggest sporting event, especially after the team was put in what many called "the group of death."
The United States was one of two teams to advance from that group, leading up to its game with Belgium. The Red Devils prevailed thanks to two goals in extra time -- after 90 minutes of scoreless regulation -- in what U.S. head coach Jurgen Klinsmann described as both "a thriller" and "a bummer."
"The whole country and the fans that came down to Brazil; they can be proud of their team," the German-born coach said on ESPN. "We take a lot, a tremendous amount away from this experience. We grew up a lot."
The same could be said of the U.S. soccer program, generally.
In many ways, this growth has been a long time coming. U.S. Youth Soccer notes that there are more than 3 million registered youth players, compared to just over 100,000 in the mid-1970s. That's out of about 24 million players total, ranking the country second only to China in terms of participation by a single nation, according to FIFA.
Major League Soccer has also seen a relative boom of late, with passionate fan bases in places like Seattle and Portland, Oregon, and games often attended by upwards of 20,000 people.
Still, some see soccer as a niche sport -- followed passionately, yes, but not by mainstream Americans.
The World Cup, though, may have changed that.
Fans -- both new ones and diehards -- energized
You could see the support at Chicago's Soldier Field, where thousands, some of whom admitted that they'd played hooky from work, gathered to watch the game.
The lakefront stadium is better known as home to the other game of football -- the NFL and its Chicago Bears -- but on Tuesday, its gates were opened to the public. Thousands of fans sat in the stands or stood on the gridiron, which was covered with a protective matting.
"National Watch Soccer Day," one fan said.
Similar scenes played out in AT&T Stadium, home to the Dallas Cowboys of American football lore.
Freedom Plaza in Washington was also packed with American fans. So was the South Court Auditorium of the Eisenhower Executive Office Building, where the attendees included President Barack Obama, who even started a cheer of "I believe that we will win!"
Rival sports leagues and stars, like the NFL, also offered their support.
Major League Baseball tweeted out pictures of Phillies, Astros and Twins players watching the U.S.-Belgium game. The Red Sox's Johnny Gomes rocked a tank top and shorts that doubled as American flags while taking batting practice.
Los Angeles Laker Kobe Bryant tweeted his congratulations on Twitter, saying, "Well done #USMNT mde our country proud. #USsoccerOntheRISE #WorldBWarned."
Bryant has made his love for "football" known for some time. But what got many in the U.S. soccer world so excited this summer was all those who usually don't care about the sport following the game -- like one man who posted to CNN.com's match blog, "I hate soccer and yet here I find myself hanging on every post about the game."
A patron at Nevada Smiths sports bar in New York, John Paul Ovadia, remarked how soccer was once a marginalized sport in the United States, but not any more.
"I think every four years there's more and more interest," Ovadia said. "And the further the U.S. goes, the more people are paying attention."
U.S. vs. Belgium preview: There's no room for error now
FIFA: U.S. World Cup fans most active online
Glossary for the budding American World Cup fan
CNN's Sean Farrell and Richard Roth contributed from New York; George Howell and Jennifer Goelz from Chicago. Michael Martinez wrote from Los Angeles.